By Mike Latronic
Photo: Joli
Most sports enthusiasts have little concept of the dedication, work, preparation and determination required to be a winner – much less a world champion.
Former World Champion surfer Sunny Garcia has spent more than two thirds of his 45 years of life putting on jerseys, and battling the time clock in all kinds of ocean and weather conditions. For literal decades he has employed everything in his arsenal to overcome any competitor who might get in the way of his ultimate mission: winning.
"I think I won my first event at ten years old. And I was hooked," says Sunny. And why?
"I hate losing. Card games, driving somewhere with someone in a different car, just wanting to get there first, I don't know. It's one of those things. Wanting to surf better than the next guy, wanting to do better off the lip, wanting to get a better barrel. I think that keeps us young. It really does."
The use of the word "retirement" for any high-level competitor carries deeper implications for individuals who devote their lives to performing and winning. In the case of Sunny Garcia, the word makes little or absolutely no sense.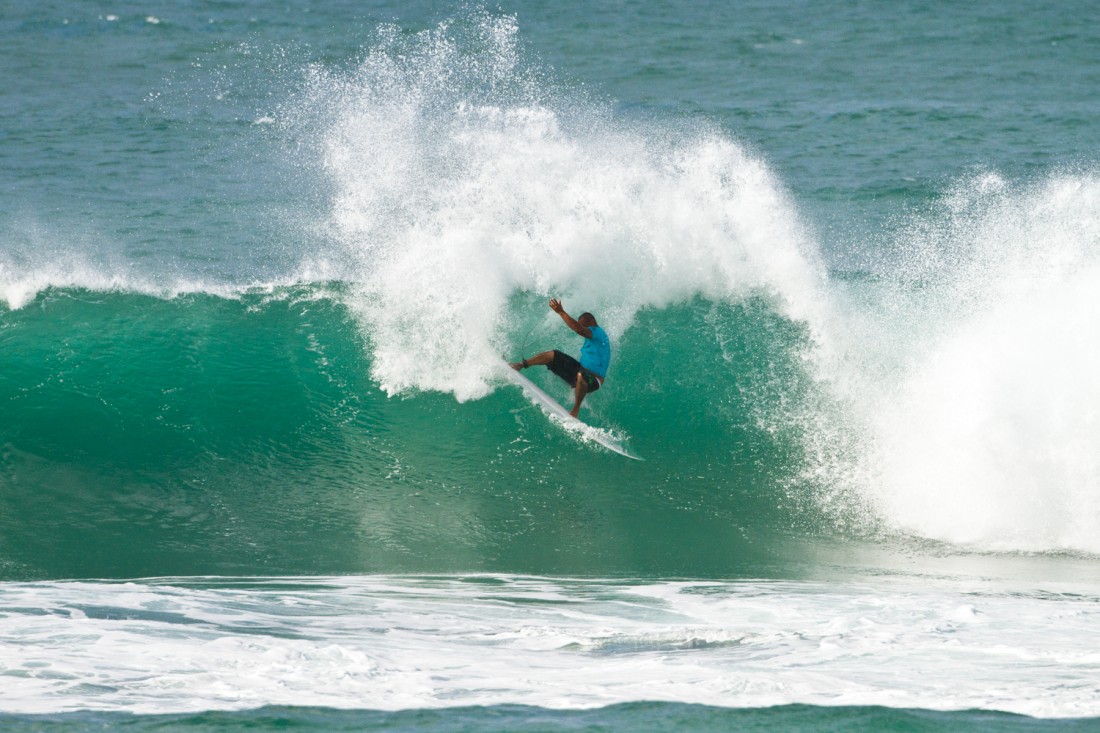 Lets get real. Sunny Garcia has indeed accepted a mentoring position with WSL to help guide the youth coming out of the Hawai'i region. It would indeed be a conflict of interest of sorts for Garcia to paddle out and spank those up and comers he coaches.
But you know he wants to. The man is admittedly in the best shape of his life (via a rigorous new training campaign for doing marathons, yes marathons, and more recently the Ironman.) So let's just call it an evolution, as we all must evolve.
"For me, the last couple years have been all about giving it back to the kids, also helping out Mauli Ola. Every year, give back a little more, a little more. I'm not sure at this point how much I have to offer to the surf world in terms of competing myself. The next step would be give my full time and attention to the kids and give back that way.
But that1s not coming without some reservation…
"It's always a hard decision, because the competitor in me still has that 'never say die' attitude and I still feel like I have that competitive fire. It is a tough pill for me swallow."
Sunny Vincent Garcia is the winningest surfer Hawai'i has ever known. His accolades began at age 10 and went on to add to a record 6
Vans Triple Crown of Surfing titles, an ASP World Title in 2000, and most recently the HIC Pro at Sunset Beach in 2012. He is also the current Grand Masters World Champion in the International Surfing Association. Successes like these fuel a certain level of adrenaline rush and burning desire that few on this planet will ever experience.
Ultimately, Sunny has evolved and realized that giving back to the next generation in his territory is the best menu item. Does that mean he will NEVER put on a jersey again? We all doubt it.
"It would be a retirement from the WSL and retirement from serious competitive surfing … but really can there ever be retirement for a competitive surfer? There really never is, right?" (Laughs).