By Cash Lambert
Try to speak with Cole Alves before a surf heat and chances are you're going to have to compete with Robert Plant, Jimmy Page and company for the Maui native's attention. Why? Led Zeppelin's Dazed and Confused is part of Cole's pre-heat jam, whether that's near home in Lahaina Harbor or at the Rip Curl Grom Search at Uppers in California. As Cole begins his stretches, the band's crowing lyrics typically slip into his ears: You hurt and abuse tellin' all of your lies/ Run around sweet baby, Lord how you hypnotize.
And my how the 14-year-old hypnotizes during his heats and freesurfs: cranking turns. Blowing tail. Roundhouse cutbacks with ease, threading tight barrels, putting turn after turn on long rights…Which is why the 8th grader has a laundry list of sponsors: Rip Curl, Futures, Glenn Minami Shapes, Dakine, Watermans sunscreen and Hi-Tech Surf.
We recently caught up with the regular footer to find out his plans for the winter season, only to find out that a throat injury had sidelined him for the previous two weeks. It's the most time he's ever been out of the water.
Like a musician without his instrument, Cole may be in a daze, but he's not confused. His goals and ambitions are clear, and we expect to see him in the water any day and in full preparation mode for upcoming contests and challenges.
And when the grom does get in the water for the first time since like, forever? His favorite song seems to know the feeling: Sweet little baby, I don't know where you've been/ Gonna love you baby, here I come again.
What's your first surfing memory?
When I was like 3. I was on my dad's board in Waikiki; I think I was at Queens. He took me out into the shorebreak, super small. I never really stood up. And then I didn't surf when
I was 5 or 6, I really started when I was 7 or 8. There was a Menehune Mayhem contest on Maui, and I did really bad, but I started surfing a lot more and my dad really pushed me. He fully supported me wanting to do it, and so the next year I won the Menehune Mayhem. That was around 2010. Then really started doing NSSA, and did both NSSA Nationals and Surfing America the next year.
Any particular surfer that you are mimicking?
John John! He's the best surfer in the world to me. Super sick style…he makes everything look easy, like when he gets barreled and does turns. Just super unique and yeah I'd like to surf like him. I'd like to be like any pro. John John…he's super cool.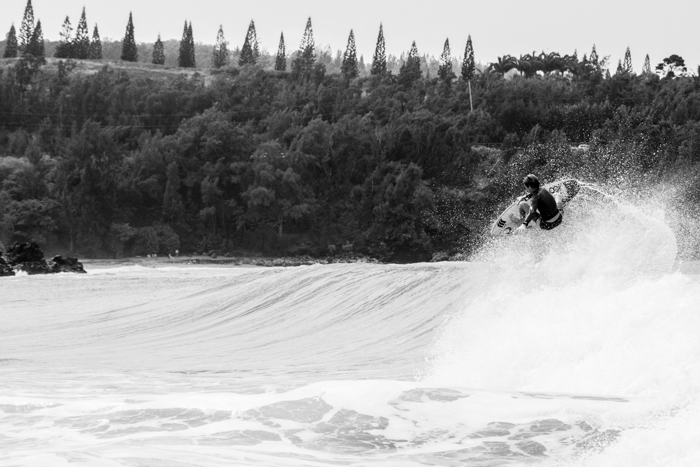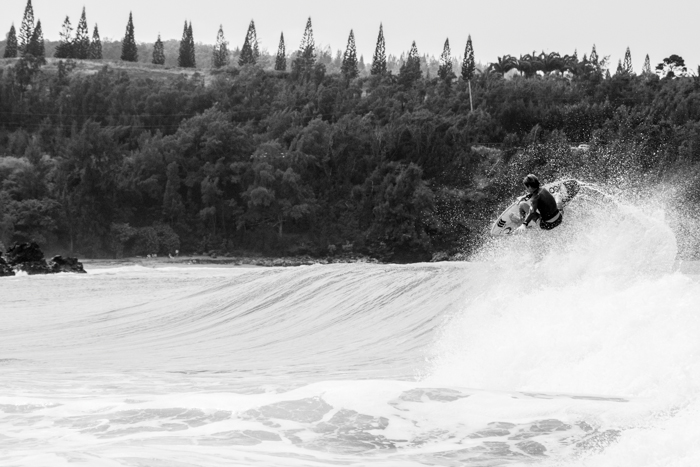 How are you balancing school with surfing?
I go to a private school, so they let me take off and they give me the work before I go on trips. My parents, they like me to get good grades and they want me to do good in school.
What kind of training are you doing to prepare for upcoming competitions?
Last year I trained with Pancho Sullivan, and he helps me when I go to the North Shore. He fully helps with those types of bigger waves, working on carves and all that, turns, even barrels. I train every Tuesday, and we do a lot of leg stuff. Just loosening everything up, then a full training session.
Tell us about your worst wipeout.
I got really worked at Pipe. I nose dove, fell and the lip landed on me. It was a pretty good sized day. Or when I went to Bali this summer. We were surfing at a right with a dry reef in front of it. I fell and more sets came by and dragged me on the reef. That was at Bingin, and that one was worse because I got all cut up. But at Pipe I got pretty worked too.
And your biggest supporters?
My dad. He's been supporting me since day one because he's a surfer and he likes it and I like it too. When he was younger he moved from Japan to Oahu and he grew up at Kaiser's. Now he gives me tips. He usually just says go big, do bigger hits, talks about wave selection.
What are you currently preparing for at the moment?
The Rip Curl grom search National Final and it's at Uppers in October. I've just been trying to surf a lot and get stronger but for the past two weeks or so I haven't surfed because of neck problems. But I should be back in the water in a few days. So I've just been stretching and keeping loose.
Now we're going to do a bit more rapid fire questions. Ready?
Pre-surf song? I like Dazed and Confused by Led Zeppelin before I go in heats
Saying/quote to live by? Go big
Leash/no leash? Leash
Dream trip? I'd like to go to Tahiti
Cheeseburger or Chicken fingers? Cheeseburger
Favorite lay day activity? When I went to Bali, they had a pool there and I really got into it.
Favorite person to follow on social media? Kook slams
Air or Turn? Turn
Town or country? Country
Skiis or snowboard? Snowboard
Pushups or Situps? Pushups
Fruit or Vegetables? Fruits
Last concert you attended? None…we don't have much on Maui
What do you want your first car to be? A Toyota Tacoma, cause it's a truck and you can put your board in the back
Any last words for the Freesurf audience?
Um….have a nice day!
pau