By Lauren Rolland
Warm ocean waters have lasted into the fall and winter months in Hawai'i and residents have been relishing in consistent waves sans springsuits. Currently in the midst of what looks to be one of the strongest El Niños in recorded history, the season kicked off with a bang. Hurricanes, tropical storms, warm weather and steady swell are a few of the results the island archipelago has experienced thus far, but researchers predict we'll likely see more El Niño effects with a 95% chance it will last till spring 2016.
What is El Niño exactly? It's not, as Chris Farley's '97 SNL skit might portray, one particular storm, and it's not a hurricane like Guillermo, Kilo or Hilda – it doesn't even get a fancy proper name. In fact, research shows that an El Niño system can last anywhere between 9 to 12 months, some even as long as 3 to 4 years, and each one is uniquely different from another.
El Niño is an outcome of sea-surface temperatures rising, which explains Hawai'i's unusually warm water during this time of year. This rise in ocean temperatures begins when the trade winds that usually blow from east to west weakens, thus setting off a chain reaction of weather impacts. Forecasters declare an official El Niño based on three things: ocean temperatures rising (NOAA requires temps to be at least 0.9 degrees Fahrenheit above average for three straight months), weakening of prevailing trade winds, and storm rainfall veering to the east (due to lack of trade winds.)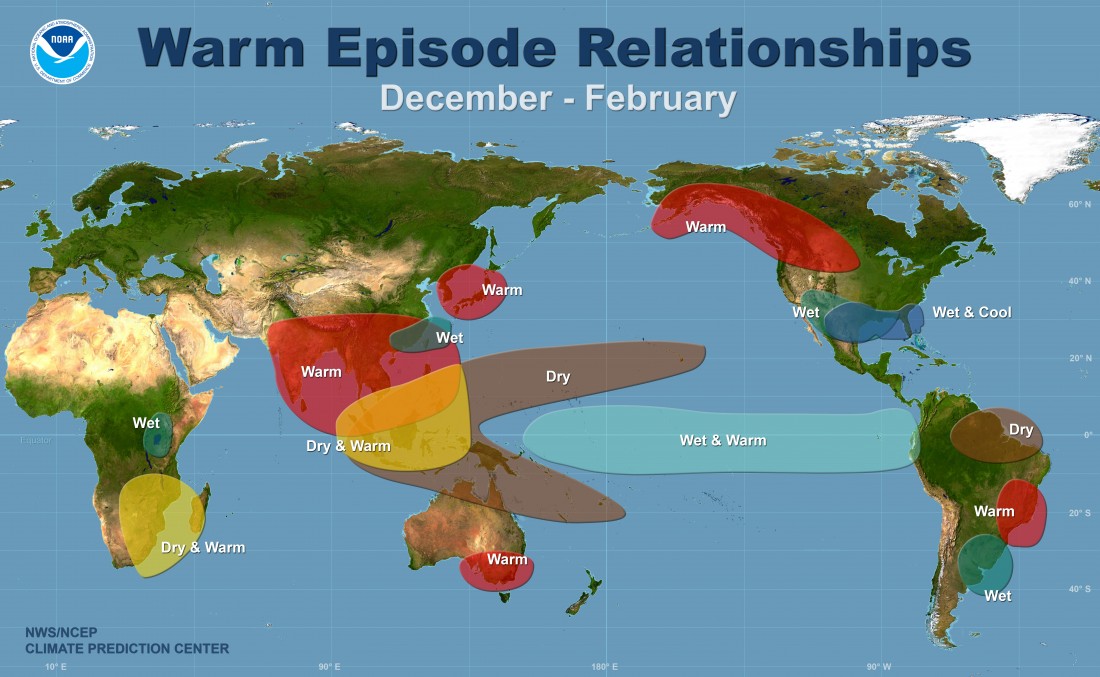 While it looks like the peak of El Niño won't occur until late winter (January-March), the Pacific waters surrounding the islands have already seen a record-breaking 15 tropical cyclones (previous record was set at 11 in both 1994 and 1992.) After keeping a close watch on the ocean, climate and atmosphere patterns, weather forecasters announced that El Niño is officially upon us. Not to mention hurricane season doesn't officially end until November 30. NOAA and National Weather Service (NWS) surf forecaster Pat Caldwell explains why we should stay prepared even past the hurricane end date.
"With warmer than normal ocean waters around the islands, tropical cyclone activity odds remain above average into early December," Caldwell says. "It's true the odds get less with each passing day into fall, but there is still a chance."
Not only have the islands seen record-breaking cyclones this season, we also experienced an interesting phenomenon with three hurricanes passing through Pacific waters this summer. For the first time ever, three Category 4 hurricanes were spiraling at the same time in the central and eastern Pacific Ocean. Kilo, Ignacio and Jimena occurred in late August and early September, and the satellite image that went viral showed the three massive storms – with wind speeds exceeding 130mph – churning within only a few hundred miles of the Hawaiian Islands.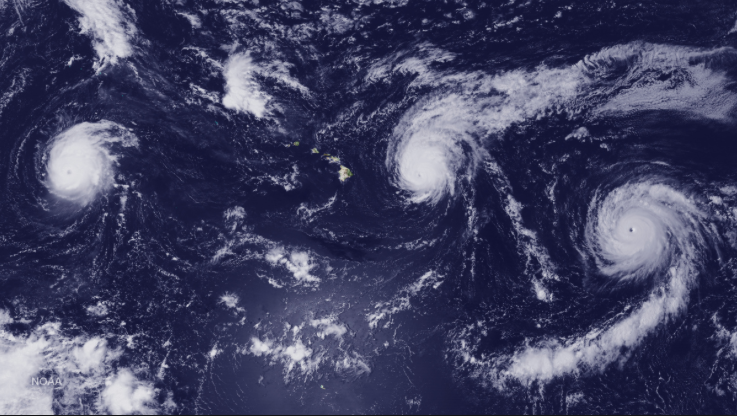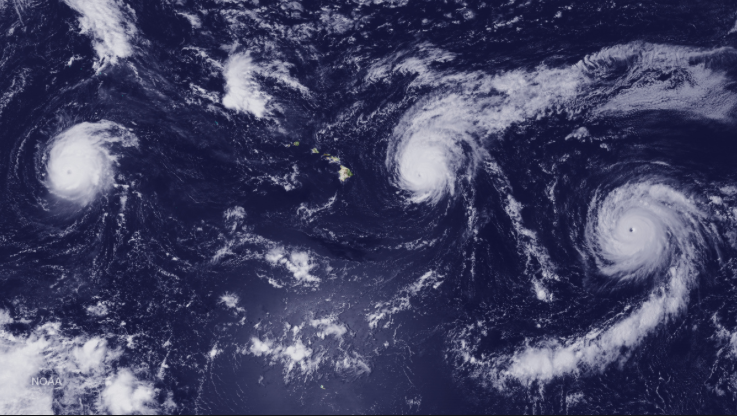 This year's strong El Niño is being compared to the granddaddy of all El Niños, which occurred the winter of 1997-98 and caused flooding in California and the southeast, an ice storm in the northeast, and tornadoes in Florida, among other global destruction. For Hawai'i, the '97 El Niño brought heavy vog, warm winter weather and drought, not to mention 30-40 ft. surf on Oahu. Depending on where in the world you live, El Niño will affect the weather, wind and water differently, so it's hard to say whether El Niños are necessarily "good" or "bad." While it may provide much needed rain to California, it won't be enough to end the 4-year-long drought. And in other parts of the world, like Peru, El Niño is expected to bring devastating floods whereas India and Australia foresee severe drought.
While science can't be 100 percent certain on predictions, research does show that no two El Niños are alike. So what exactly stands out this year to make this one so unique? Caldwell says it's the massive warmer than normal pool of water in the NE quadrant of the Pacific (from Dateline to Americas,
and tropics to Alaska). "The warm pool is unprecedented in size and duration … and influences the jet stream, which in turn steers the storms," Caldwell says.
Prior to '97, strong El Niño years were also recorded in 1991-92, 1982-83 and 1972-73. While the most recent strong El Niño caused dry weather in Hawai'i, the event of '82 brought Hurricane Ewa right in time for Thanksgiving.
For most of us, the big question has everything to do with the waves. We live in Hawai'i after all, and the North Shore of Oahu has turned its attention to the Vans Triple Crown – the most anticipated surf event of the year – and everyone is hoping for something big. Yet Caldwell says the Triple Crown waiting period (November 12 – December 20) is a bit early for the primary El Niño effect, which focuses on mid December to March.
But don't forget, this year we're looking at a STRONG El Niño. "For Triple Crown period (fall), strong El Niños can give Hawai'i a few whopper swells from central and western Pacific tropical cyclones." If you were around during Typhoon Ivey in the fall of 1991, you witnessed a good example of this phenomenon, when Pipe was at an all-time high in late September. It might well end up being a year of the Quiksilver In Memory of Eddie Aikau, which has been eagerly anticipated since it was last held in December of 2009.
So where does this leave us in terms of looking ahead to what El Niño might bring this winter?
"Four out of the five most recent strong El Niño winters had above average number of days of giant surf – 20'+ Hawai'i scale, or 40'+ peak face, top spots," says Caldwell. "Those are good odds for ample outer reef activity this winter. All five strong El Niños had above average number of days of high surf – 8'+ Hawai'i scale, or 16'+ peak face – odds do not get any better. Local weather during strong El Niño winters is drier (sunnier) and winds favor light/variable or gentle to moderate W-component winds (from SW to NW), which would mean abundant glassy dawns with sloppy conditions filling in mid morning and holding to near dusk along the seven-mile miracle."
We find ourselves now in November, facing one of the strongest El Niños in history, and Hawai'i is looking forward to big surf, warm, dry weather and warmer ocean temperatures. If our islands can evade hurricanes, typhoons and tropical storms for the remainder of the season, we may be of the lucky ones to boast El Niño 2015-16 as a favorable phenomenon.
pau