TONY MONIZ, DA PATRIARCH
Tony Moniz is one fearless Hawaiian who never gives up or says he can't do something. Tony's whole career is a testament to the powerful yet easy going natural footer who was born and raised in Honolulu. Someone who sincerely never gives 'no' for an answer, even when asked to do the most outrageous of tasks – he might give you a first glance of surprise (like seeing a big fresh set on the horizon) – but he'll immediately tap into this beautiful graciousness and Aloha spirit to try and decipher a helpful solution to the problem. Tony is a doer, leaving all the talk for later or sometimes never. The epitome of hard work and dedication of what it means to follow your dreams and passions, Tony is a father, husband, uncle, brother, friend, hero and more. The Moniz Legacy starts with this man.
"I followed my passion. Day one in Waikiki I surfed, youngest of 4 kids. I think I was 5 years old. Surfing was always sacred to me, it was my quiet place."
Tony excelled quickly in the early stages of competition surfing, winning a boys division state title at the age of 14 (much like his sons' achievements today). But surfing wasn't a top priority in his family at that time, and the concept of making a living as a professional surfer wasn't in Tony's vocabulary.
"Right out of high school I did odd jobs. Did work for City and County, for the honey wagon."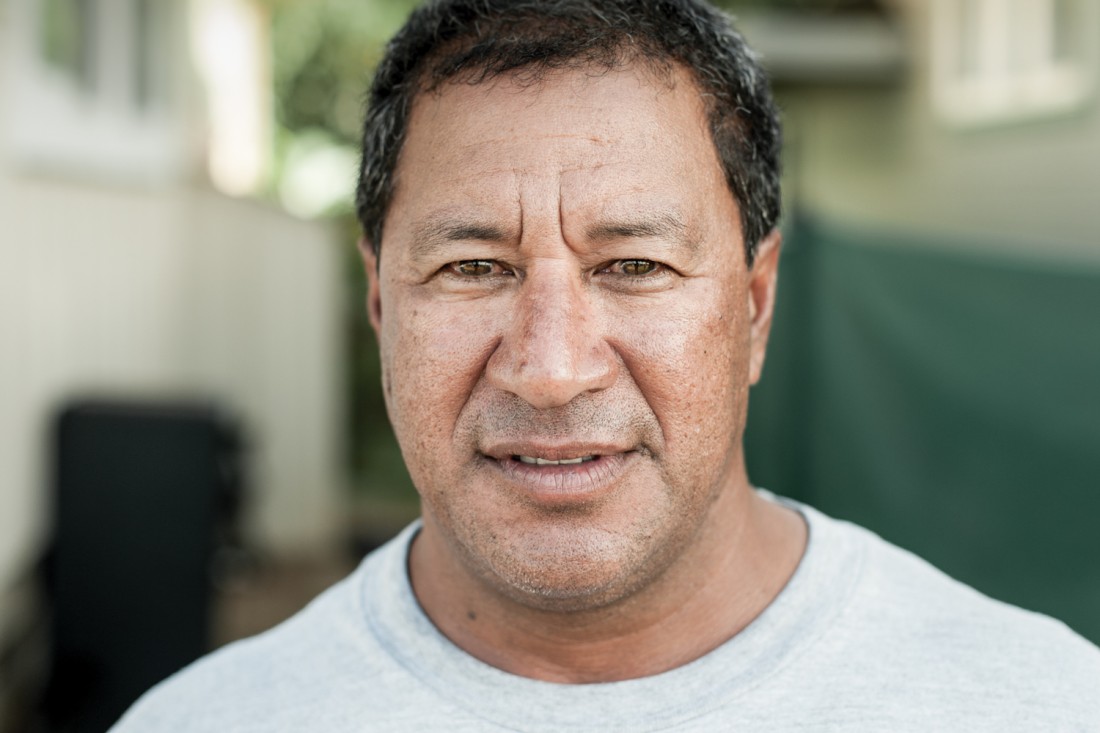 One day Tony Moniz had a dream, woke up and pursued it.
"I gave my dad a call from the job site working for City and County and said, 'I'm thinking
of taking a leave of absence for 3 years. I want to surf.' I thought dad would have snapped and thought I was crazy, because with City and State I had security, and if I did stay there I would have a retirement check right now, although retirement isn't in my vocabulary. Pops said follow your passion, your dreams."
Thus the real pursuit began.
"I gave my 2 weeks and had a few bucks saved. Sold my truck and bought a ticket to Australia and never returned back to work again."
"Through my junior years I watched Michael (Ho), Derek (Ho), Bobby Owens, all da
guys in the '70s and '80s. I was competing against these guys that were on the tour and it looked fascinating, all the light and magazines, so I just went for it. It's incredible, I got to travel around the world."
One thing led to another, sponsors came along the way with results. Although success abroad was good, surfing at home was where Tony shined. The Triple Crown started in 1983 as a small, grass roots event. At the time, it was still overshadowed by the Duke Kahanamoku Classic, which was an ultimate goal for Tony.
"I remember the first time they announced the Triple Crown  it wasn't such a big deal. Personally to me the big deal was the Duke Classic, getting into the Duke classic was my dream as a child."
But Tony also became involved in the Triple Crown during its beginning stages. Recalling the old judging criteria for a moment, it was a grueling process for both athletes and organizers, and Tony was on the forefront of its attrition. But the young Hawaiian sucked it up and never stopped battling.
"We would have to surf trials, there weren't just two rounds either. It was like 4, maybe 5 rounds of trials. No money until you got to the top 16. All the seeded guys would be sitting and waiting for us. Making it from trials to finals, I did it several times… no paycheck.
"6-man heats the first time, then 4-man heats. There was no priority. And here's the heaviest thing in 4-man heats; top 4 waves. Some were top 5 waves. It was crazy just getting there. Talk about conditioning. No jet ski assist either. You would surf 5 times and by the time you got to the final, you're hammered, cramping up in your arms … it was like the Ironman."
Although the formats were taxing, Tony was a very consistent competition surfer and always found a way to break out with a positive result. Earning enough prize money from each contest to travel and move on to the next venue comfortably, Tony lived a lifestyle with surfing at its forefront.
"It was my dream to compete, earn a little buck. I got 2nd in the Billabong Pro, made $3,500. If I won, it would have been $10k! That was a lot of money back then. Of course,  the judges had pieces of paper and pencils back then, they didn't use pens in case they needed to change the score. Didn't need whiteout, probably didn't have whiteout. We were the guinea pigs of professional surfing."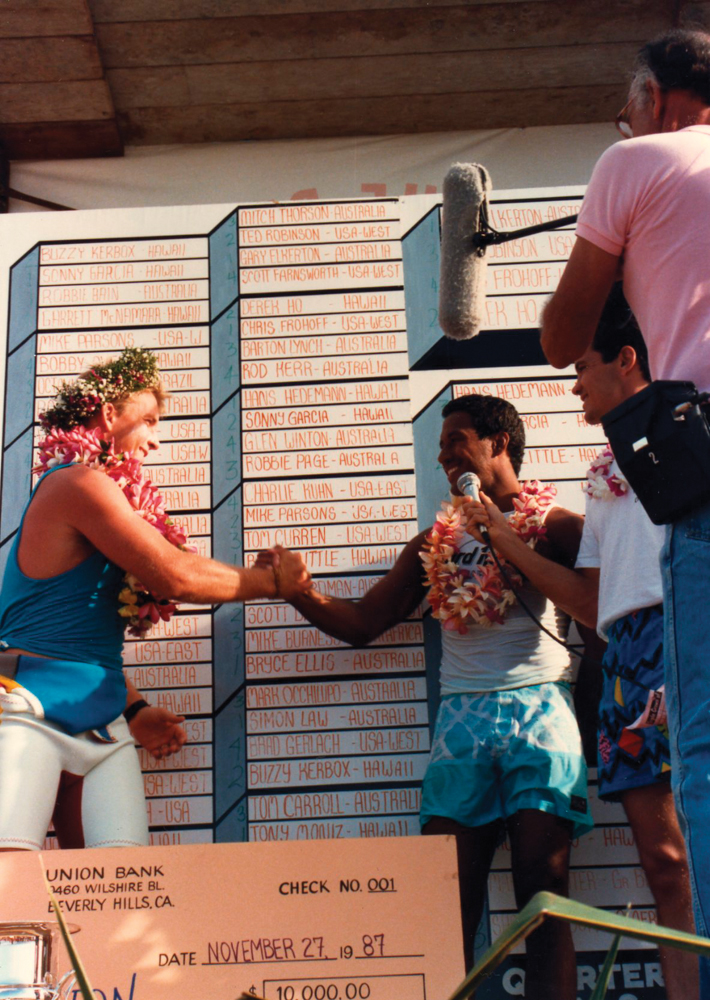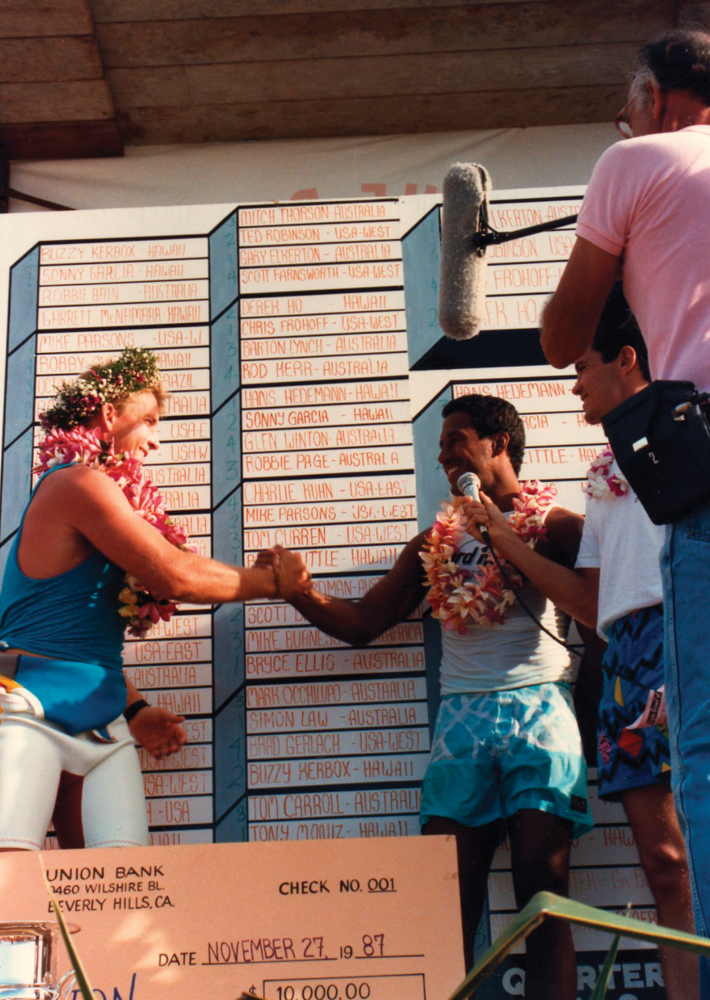 The Triple Crown helped Tony travel around the world. Budding sponsors such as Local Motion came to the table, recognizing the potential of this Hawaiian powerhouse.
Fast forward to the Vans Triple Crown Of Surfing now. It's one of the most prestigious events in the world and the closest thing to winning a real world title.
"Hawai'i's the proving grounds, it always has been and always will be," says Tony. "Stoked to have the Triple Crown and see how it transpires to people's careers. If you do good there, you put your name on the map. You will prolong your inheritance of sponsorship."
After taking a break from surfing professionally for 13 years, Tony is now back in the mix of competition travel, as his sons, Josh and Seth embark on their on version of his past life with dad by their side as guide, coach and mentor.
"I love being in this part of their lives," says Tony. "I never really taught them anything about surfing until they wanted to compete. Now they're in it for the long haul and being where they are now I'm thankful they chose their own path. It was never about my dream, I've always told them that if there was any time you want to pull out it's up to you go to school and find a job.
"When I'm watching I love every moment, cheering, coaching… just the nerves. There are so many ups and downs. It's such a tough rollercoaster ride for me."
Now that Josh and Seth have graduated from high school, Josh is on the Qualifying Series grind, trying to qualify for the WSL tour. Seth, 15 months Josh's junior, graduated from high school early to also focus time on being a professional surfer.
"It's a life they love. They get to meet people all over the world, and they get to bring their glory back to Hawai'i," Tony says. "Getting some Hawaiian blood on tour would be huge for us. If they can find themselves on the World Tour one day… that would put a big smile on my face." (He's already smiling.)
JOSHUA MONIZ, DA QS GRINDA
Josh's first Vans Triple Crown of Surfing experience happened by accident (he says). We call it fate. Josh entered the HIC Pro, 4 star at Sunset with guidance from his dad and sponsors and the rest is history.
"They told me to enter the Triple Crown in case you make heats in the HIC Pro. I was 16 and wasn't expecting much, just happy to get into the 4 star event. The next thing I know I'm making the semis and I'm into the Triple Crown starting the next week. I was tripping out!"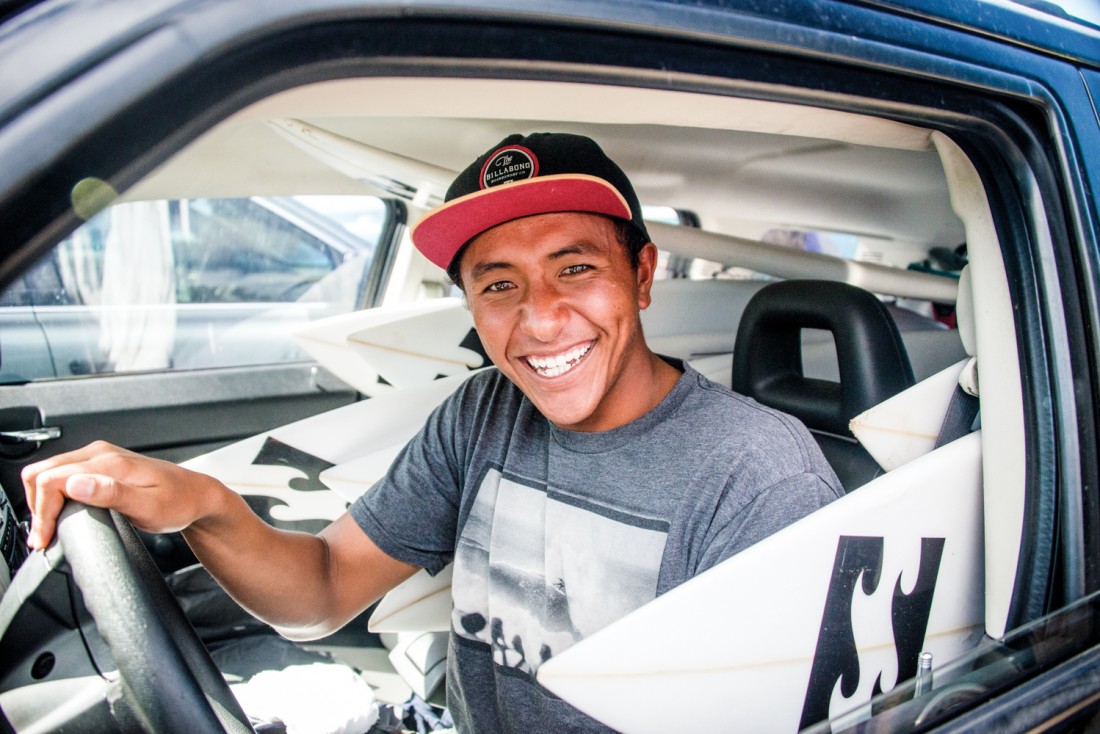 The first event was at Haleiwa with 6 feet solid surf during Josh's stacked first heat. The young surfer learned quickly that competition in the Triple Crown is next level.
"I was so nervous, my first wave I got an 8 and I was tripping out. I thought I'd make the heat when I got the score. The next thing I knew I was in 4th and everyone else got 8s. That's when I realized how good everyone surfs in these pro events. I got a 4 and was super lucky to have made it through. When you're surfing with pros they don't care what the scores are, they never give up and the level of confidence in their head is so much higher than anything I had surfed before that. It was a super cool experience.
"Same thing happened at Sunset. I told myself I wasn't going to think like that. I remember getting a pretty good score in tough conditions that day. No one was making any scores for the last couple heats and I was feeling confident. But then I didn't catch another wave. I was stuck with a 2 and everyone else had gotten big scores. I paddled in pretty shocked. Now I definitely know what not do. Huge learning experience, again."
This Vans Triple Crown, Josh is looking to draw from his confidence and learn from his past mistakes.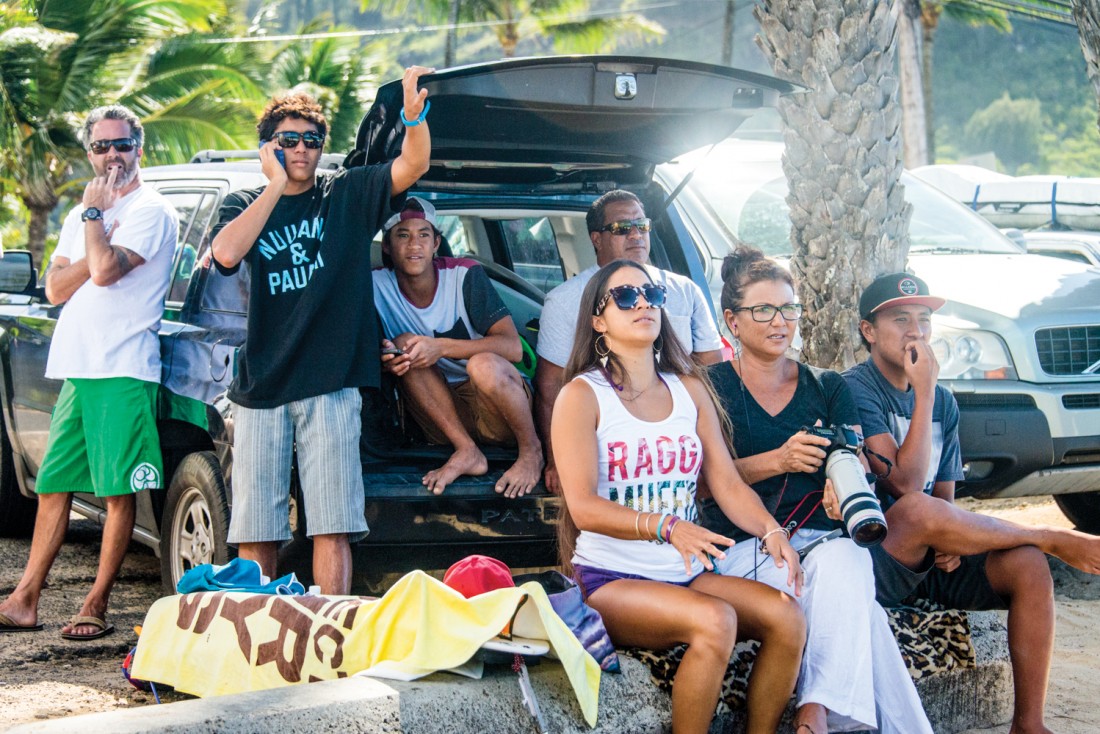 "I'm finally comfortable. The last few years it's been uncomfortable for me surfing with pros. I've been watching all these guys and surfing with them, and being in the Triple Crown has helped me plenty and now I'm ready."
Looking back, Josh had to give thanks to the newly implicated Junior events and its plethora of opportunities that, indeed, boosted him to the Prime-Qualified status he retains.
"The junior pro at Pipe and Sunset do so much for us. Once you put a jersey on and it's 8-10 feet it's a completely different thing. You have pressure to get two waves in 25 to 30 minutes at Sunset! It's the hardest thing ever. We surf there for two hours and if you're lucky you get 5 waves. Having a jersey and needing two waves is super difficult. It helps get the juniors ready for the HIC Pro and the Triple Crown cause everyone's goal from Hawai'i is to get into the Triple Crown, and that's what the junior circuit does. I think if you win the overall rankings you get into the Triple Crown, which could get you onto the prime series or even the QS 6,000s. That's a big boost we get from the Hawai'i region.
"That's the best part of Hawai'i. I only surfed three events in three months and that put
me into 6 star events. It's my first year on the primes! It benefits us so much with getting seeds. It usually takes a full year of competing on the lower rated QS to get into the prime series. We have a huge advantage, and so do the younger kids coming up."
Josh and Seth have been battling and pushing each other since birth. With both of them now chasing the WSL tour, their family bond and combined work ethic could prove lethal for all who stand in their way.
"It's pretty cool being able to travel and do the QS with Seth. This back half of the year has been my first real QS quest traveling by myself. Next year Seth is jumping on, traveling around the world with him and seeing new things, new waves, meeting new people, it's going to be cool. We push each other to surf better. We don't get crazy in heats but we push each other more. When I see him win something it fires me up and same when he sees me do well. If I see him do something progressive, I think I can do it too, and we push each other a lot in and out of the water."
SETH MONIZ, DA SPROUT IS READY
Going into his third year competing in the Vans Triple Crown Of Surfing, Seth Moniz is the youngest of the Moniz clan at the tender age of 18 yet already seems like a seasoned veteran. But the young gun will always remember the valuable insight his father taught him growing up.
"When I was young we'd have amateur events, my dad was always coaching us, telling us where to sit when it was west or north swell. Experiences, hearing his stories, it's good to have a dad that has experienced those events… someone who has won some and lost some. And it's good for him to share, it helps a lot."
Up until the last few years, there was not much of a junior pro circuit to enter in Hawai'i. With the addition of WSL sanctioned Junior Pro events at Sunset and Pipeline, young surfers were able to gain valuable points close to home and potentially qualify for the Vans Triple Crown.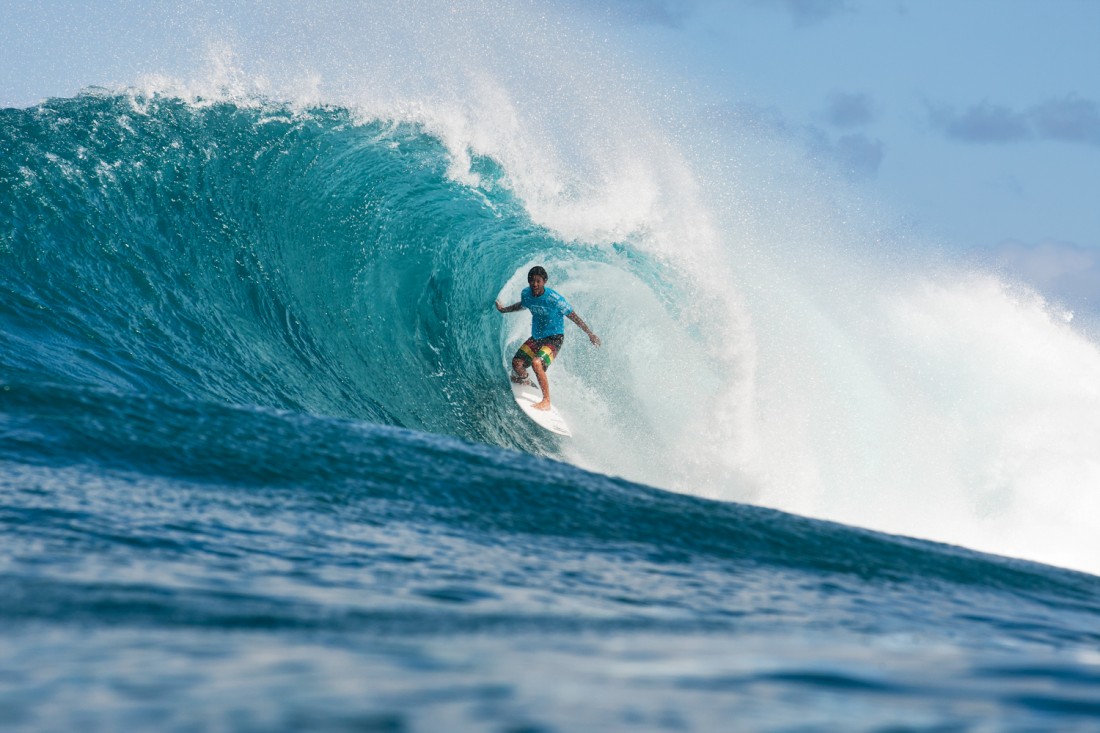 "I'm getting into the Triple Crown Of Surfing from the WSL junior ratings because I'm in the lead in Hawai'i and that's great to have. It's good experience and the WSL gives us that opportunity in these big events at Triple Crown spots. When I was little, my older brothers were surfing events abroad because there were no junior events in Hawai'i and as soon as we started slowly getting into the junior division, they brought junior events to Hawai'i. First at Pipe, then Sunset and hopefully it keeps growing. Stoked we have that and I get to stay home and do some contests.
"My first year was 2013, I was 15 years old. It was a great experience. For me I was super nervous, this was my first real big event in the pros. Just surfing with guys at a level like that is pretty tough at a young age. I went out there with no expectations, like I had nothing to lose. I tried to surf it like a free surf and back then there was no priority. It was so hard to surf against those guys. They could out paddle me really well so I just went with the flow, I knew the spot better than some of those guys and I stuck with what I knew. Knowing the spot in the back of my head helped a lot."
Seth had a couple of great heats at Haleiwa and Sunset. Not to mention the junior surfer looked to be on really good boards and was feeling comfortable in the lineup. Earning 8's and 9's against some of his older role models, Seth was feeling strong and confident.
"On the waves I thought it'd be a 6 and then it was a 9 and I was thinking, holy crap. I
was pretty surprised with all the scores and I looked at the clips and realized, 'oh I can do this.' This year I hope I can do better. I made round 3 and hopefully I can top that."
Much like brother Josh, Seth was surprised by the level of surfing in the big leagues while encountering some of his childhood heroes.
"Josh Kerr was in my heat that I lost against, and that was pretty cool. He was my favorite surfer since I was little kid. I had a left and pulled in and I should have came out. If I made that, I would have got the score for sure. But just being out there with them and trading off waves… I was going from 1st to 4th, 1st to 4th and back and forth. I'll always remember that heat.
"Approaching this Triple Crown, I've been surfing and training and trying out new boards. I'm seeing how it goes heat by heat and wave by wave. I was having too much fun surfing in those heats, sometimes catch too many little waves and making a few more mistakes then a should have. I've learned from that. I'm going to be selecting good waves. I know that all I have to do is surf and I can make heats."
Watch the Moniz boys take on the world's best. Coming soon to the Vans Triple Crown Of Surfing.
pau