Ehukai Beach Park
Dec 8 – 20
The culmination of the Vans Triple Crown of Surfing and the final World Title-deciding event of the WSL Championship Tour, the Billabong Pipe Masters In Memory of Andy Irons runs at one of the most intense surf locations in the world: the Banzai Pipeline. In the name of glory, surfers throw caution into the wind and drop off towering, watery ledges and slide through blue barrels that break atop razor-sharp reef, all a mere 30 yards away from the crowded sand. The first day of action sees the Pipe Invitational run, where 32 of Hawaii's best surfers battle it out for entry into the main event, with the winner and runner up both obtaining the golden ticket. Last year, Tahitian Michel Bourez bested World Tour rookie Kanoa Igarashi for his first Billabong Pipe Masters win, and this year, a 2017 World Champion will be crowned in the area's hallowed sands.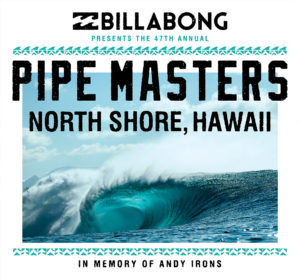 Wave Breakdown
A predominant left hander, Pipeline also includes a barreling right hander called Backdoor.
Waves are best on a west or northwest swell, and swell sizes can range from 2-15 feet.
Pipeline is made of three reefs: first reef, second reef and third reef.
Spectator Notes
Spectators can park at Ehukai Beach Park, across from Sunset Elementary. If the lot is full, there are multiple places to park on the side of Kamehameha Highway. Heed all 'no parking' signs and use good judgement on where to park along the highway to avoid being ticketed (i.e don't block driveways, stop signs or crosswalks).
Restrooms and showers are available at Ehukai Beach Park.
Avoid approaching the shorebreak and stay on dry sand. With strong swell, event structures have been known to get pulled into the ocean.