Q&A with Haunani Kane & Jason Patterson
The Hōkūle'a is one of Hawai'i's most regal symbols of ancient culture. With its triangular shaped sails and traditional double hull, the voyaging canoe is a source of pride, appreciation and dignity for the indigenous Hawaiian people.
The nostalgic sailing vessel is 62 feet long by 20 feet wide and was designed by the late Herb Kawainui Kāne, an artist, historian and one of the founders of the Polynesian Voyaging Society. The Hōkūle'a, which is the Hawaiian name for the star Arcturus, was built in 1975 and first launched on the east side of Oahu off the sands of Kualoa. In its wake sparked a revival of culture, navigation, tradition, language and art for the native people and has today become a figure of cultural perpetuation.
Carrying anywhere from 10-13 crew members during a deep sea voyage, the Hōkūle'a provides a training ground for young navigators to learn the voyaging techniques of the early Polynesians, plus gain experiences on the open sea like no other. Guided by the stars, the Hōkūle'a has traveled between the North Pacific and South Pacific Oceans and beyond to Tahiti, New Zealand, Easter Island, Tonga, the Marquesas Islands, the Cook Islands, Micronesia and Japan.
Traveling as crew members aboard the Hōkūle'a, Haunani Kane and Jason Patterson gave Freesurf some interesting insight about what it's like to voyage the deep sea in the traditional sailing canoe.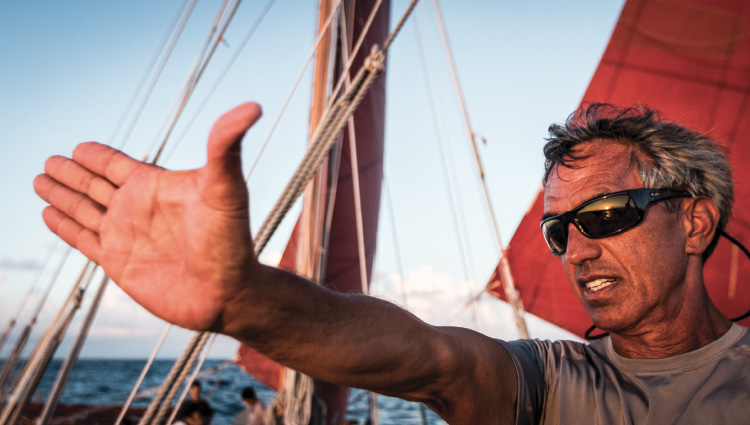 How long does a voyager prepare before their first journey on the Hōkūleʻa? What is this process like?
Jason: It really doesn't matter how much time a crew member is given to prepare for their first deep sea voyage aboard Hōkūle'a, no one is ever fully prepared for how much they will grow on that trip and how Hōkūle'a will change them through that journey. My first ever sail on Hōkūle'a wasn't a deep sea trek, it was an inter island sail to Ni'ihau. We planned and studied and prepped for six weeks and at the end of the trip I was fundamentally a different person. It changed the way I viewed myself and the way I viewed the world around me. You can't prepare for that, because you can't anticipate the profound affect the canoe, voyage and crew will have on you, especially if it's your first time. And that profound impact happens on each voyage.
Haunani: Some people may say that they've trained their entire lives for their deep sea voyage. Each person has a different kuleana or responsibility on the canoe. There are certain things you can "train for" but a lot of the actual learning and growing occurs while at sea. Before we left for Tahiti last summer we went over safety training, fitness training, and sailing. During dry dock we were able to learn about the canoes from the inside out as we helped to rebuild them.
What typical things does a voyager bring on board?
Haunani: Each crew member is limited to bringing only what can fit within a 50 quart cooler. Foul weather gear (water proof jackets and pants) is a must as well as a pair of good sunglasses, sunscreen, water bottle and thermos, knife, a few surfshorts, t-shirts, a warm jacket and long pants. We also like to bring snacks.
What type of food does the crew eat during the voyage?
Haunani: The fisherman and the cook are some of the most important people on canoe. Fresh fish always makes everyone happy. We also pack canned and dried fruits, veggies, and meats. Our logistics team is awesome and they've come up with a six-day rotation of meals and depending upon the cook they may supplement things here or there. Typical meals include poke, sashimi, fried fish, fish pasta, spaghetti, curry, saimin, bean salad, etc… We cook all of our meals using propane stove so the cooks can get pretty creative.
Jason: We eat all kinds of food that doesn't need to be refrigerated, I like to joke that we're on a "see" food diet. If we see it we eat it, we're always constantly snacking. And for that reason crew members bring a lot of personal snacks from home. A deep sea voyage is a very physically demanding endeavor and because of that our logistics team has done a great job creating and supplying us with a meal plan that rotates as many times as necessary for the planned duration of the voyage. Also we're always looking forward to catching a fish. We troll from sunrise to sunset, and if we're lucky enough to get one or two, we will supplement that in for our meal.
What type of modern day tools/items are onboard?
Both: We have an array of modern tools. In alignment with Malama Honua, we have solar panels on the back of the canoe that powers all of our electronic equipment, most of which is for safety. These include the running lights that allow other vessels to see us, VHF radios to communicate with our escort vessel or any other vessels in the area and an Automated Identification System (AIS) to see the size, heading and speed of those vessels if they're not communicating by radio. We also have documentation equipment onboard: camera, laptop, microphone, iPad and mini satellite to keep us connected to the schools back home and around the world.
What type of ancient tools/items/methods is used for travel?
Both: One of the main objectives of this world wide voyage is to graduate a group of young navigators with the competency to carry on the traditional art of non-instrumental celestial navigation. The main ancient tool that we are using is our mind and memory. We need to memorize a lot and we're constantly reviewing and quizzing each other before the voyage, because even after all of that sometimes it still feels like we haven't memorized enough for the sail. The navigator helps the crew steer the canoe using known directional clues like the stars, the sun, swells, wind, etc. We also determine speed by counting how long it takes for the bubbles in the water to travel a measured distance along the canoe.
What are the most important things to remember when traveling aboard the Hōkūleʻa?
Both: Your fellow crew member's safety is your top priority. You're there with family and it is your responsibility to take care of them. You represent much more than just yourself and things much greater than you. You are voyaging for those who have come before you, for those who have worked so that you could sail and the next generations that are yet to come.
What type of modern day creature comforts do you miss most during long days at sea?
Jason: Refrigeration and constant water pressure.
Haunani: For a lot of us we miss our families back home. There's also the small comforts like hot, freshwater showers, cold or fresh food like ice cream etc.
What are the biggest differences between Hōkūleʻa style travel and modern day travel?
Jason: With Hōkūle'a style travel you are totally immersed in the journey and that's the real adventure, you are never completely out of the elements, and if you're navigating you're responsible for getting everyone to the destination. Modern day travel you are totally removed from the journey and the adventure usually begins at the destination. For many crew members, spotting the island is bitter sweet, because they know that for the most part their journey has come to an end.
Haunani: The biggest difference is probably the concept of time. The fastest voyage to Tahiti on Hōkūle'a took nearly 17 days. Also for the voyagers, the most exciting parts of the voyage usually happen while at sea. The voyage is about both the destination and the things you learned and experienced while getting there.
In your opinion, what is the most impressive part about the crew and their journey?
Both: The most impressive part about the crew would be the way they treat each other. Everyone on the canoe is family and you get to watch and help each other grow, even be surprised by it. And it's through this that you create really strong bonds with your crew members. You get to watch your friends ascend to new levels in leadership and help them get there and in doing that you can't help but feel extremely proud for them and for the canoe, because you know that their success is ultimately everyone's success.
What is the most fulfilling part about traveling on the Hōkūleʻa?
Both: One of the most fulfilling parts about traveling on Hōkūle'a is knowing that you are able to share the canoe with people from all over the world. It's pretty amazing to see how excited and curious people get when they see the canoe for the first time. For many island people, canoes are representative of their first people. It's really special to be a part of that.
pau