The Triple Crown Evolution of the Modern Surfboard
By Chris Latronic
There is no one in the world more versed in surf history than shaper and Triple Crown of Surfing godfather, Randy Rarick. Having traveled the world a few times over, Randy always came home to Sunset Beach on the North Shore of Oahu to shape boards and surf the winter season at the same house he's lived in since 1975. Witnessing the evolution of the surfboard first-hand from its humble origins, Randy was graciously available to sit down and share with us a Triple Crown Board Story. 
What was the state of surfboards during the inception era of the Triple Crown of Surfing?
Before the Triple Crown was conceived, everyone was riding predominantly single fins, with some exceptions to riding twin fins, but only in smaller waves. The single fin surfboard technology included the wide tip forward with a more tear drop shape and with the rails pulled back to a narrow pintail. Heavy everything.
Where did the real technological game changer come in to play?
Simon Anderson introduced the 3-fin thruster, changing the nature of surfboards from that point on. He won competitions at Bells and Pipeline and that was it! Everyone jumped on the bandwagon. This focus shift plumed the emergence of a new young crop of surfers who really embraced the thruster.
Adding 2 outer fins, now you got more bite on the wave. You can put more area into your tail, more width in the middle and less volume in the nose, allowing for more maneuverability, more speed and more dynamic progressive surfing.
The Ho brothers, Michael and Derek, went on to win back and forth Triple Crown titles for the next 6 years by really showing the thrusters' full potential at that time.
What came next?
In the early to mid '80s, Sunset Beach was the dominate spot for the Triple Crown competitions. Gary Elkerton emerged by using a little bit bigger and meatier surfboards, allowing him to really muscle through the strong surf at big Sunset. He was successful in winning two Triple Crown Championships doing that.
The early '90s brought Kelly Slater. Kelly was this new fresh faced kid who just came out of the blocks firing. His surfboards were thin with lots of rocker and worked very well at Pipeline and OTW, but not so much at Sunset. Kelly has never won at Sunset, his boards worked terrible out there. That's when Sunny Garcia came along. Sunny used the advantage of bigger and thicker boards to enhance and progress his power surfing, leading him to 6 Triple Crown championships.
After that we had a few other local guys follow Sunny's path for success, like Kaipo Jaquias and Myles Padaca. They used their experience and power surfing to do the talking on a little bit more combined Sunny G and Kelly Slater board technology.
Then the era of the Irons brothers came along. Following in the footsteps of Kelly and Sunny, Andy and Bruce Irons exploded onto the surf scene with evolutionary progressive Hawaiian power. Andy became the Icon of Hawaiian surfing- being happy, local grown and shredding like no ones business.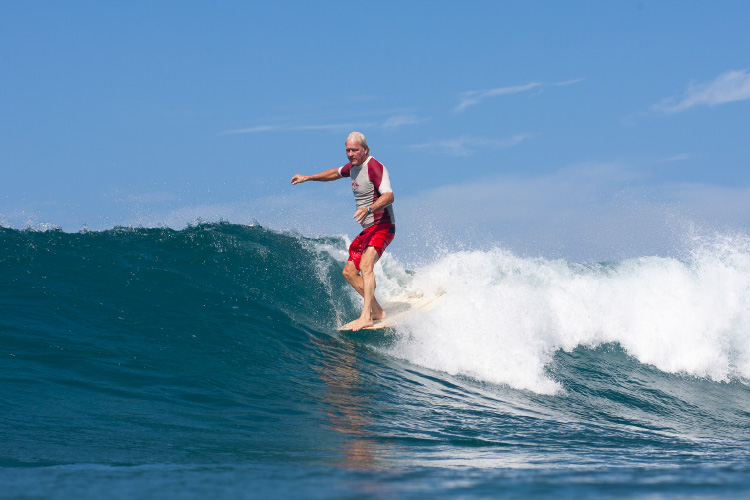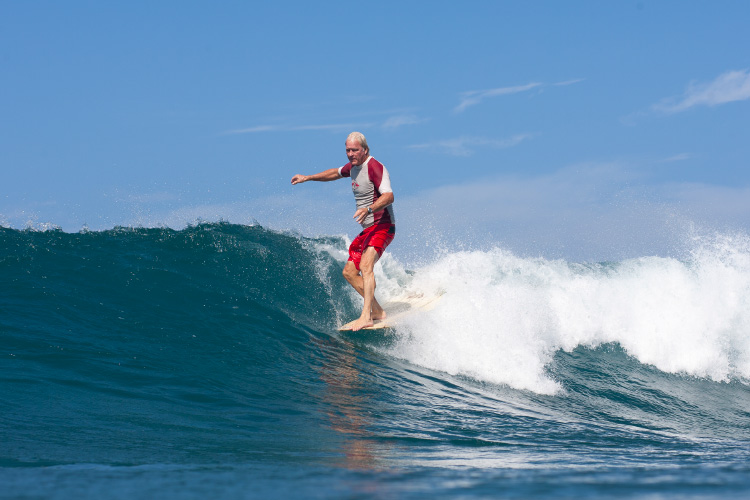 So it seems like Kelly Slater has been a part of the technological renaissance for the most part, to present day no less.  Who came next in the evolutionary tale of the Triple Crown surfboard?
Then John John came along and changed high performance surfing at Sunset Beach forever. Instead of having the traditional thick, meaty, rhino chaser gun, John went for a shorter, stronger and lighter board. Usually you take off on the outside peak, fade into it, pull around to the inside section… He (JJF) forgot about the outside peak and moved to the inside because his boards were smaller and thinner. But his boards were also made for Hawai'i, so even though they were smaller, they were designed for Hawaiian power. He was able to take off later, pull under the lip quicker and redefine Sunset surfing. I was blown away at how the old school approach to Sunset was totally disregarded by this new school technique.
What's a typical day at Sunset look like nowadays? What kind of boards are surfers riding?
On a typical day at Sunset you can observe the full spectrum of surfboard/surfer evolution. You'll see Owl Chapman and his crew with thick old school big boards… Get in late, fade fade fade, set it up, straight line it and make the wave all the way to the channel. Then you got younger guys on shorter boards sitting on the inside bowl surfing the modern style. Some guys are really good, like Parko and Jordy Smith. The bigger guys do really well at Sunset especially.
Let's focus more on Pipeline. How was surfboard evolution critical to riding what is now one of the most famous waves in the world?
For Pipeline back in the day, the guy who really took it to the next level was Gerry Lopez. He became known as Mr. Pipeline and has attributed his success at the notorious surf spot to the design innovation of 'down rails'. The lower rail line allowed him to put his edge in earlier, allowing him to pull up into the barrel and successfully make it out of the wave.
The renowned Tom Carroll snap was a result of the directional changes brought on by the new innovations in surfboard technology… literally.   
From your experience, what designs are most of the Pipeline successors riding now?
Nowadays we have seen a real renaissance of guys trying old designs again with a newer twist to them. Going a lot shorter with a lot less volume. Kelly Slater is leading the way in that respect… again. Just a few years ago he rode a board at Pipeline that wasn't dreamed of being used before. Eliminating the volume in the front and concentrating in the middle and in the width, making it thicker.
This new design made him able to maneuver easier in and out of the barrel. John John Florence, being small in stature at the early stretches of his professional career, rode really small boards. Working closely with shaper Jon Pyzel, JJF had boards specifically shaped for him at an early age and with his continued success has inspired a new generation of frothing groms ripping on high performance boards.
Where have 'aerials' come into play in Triple Crown surfboard evolution?
Aerial surfing became a big factor in the progression of the surfboard. Aerials have never been a big factor in Hawaiian surf competition, but have been in the free surfing aspect. So this is where a lot of the old school Hawaiian power guys got left behind. But a new crop of progressive Hawaiians are knocking at the World Tour doorstep. Look out for guys like Ezekiel Lau and Keanu Asing to make a powerful impact. Haleiwa, on one of those smaller days, would probably be the best scenario for a surfer's aerial game to be the most lethal. Sunset and Pipeline, not so much.
What is the future of surfboard technology?
Composition. What they are made out of. Realistically, we've been making boards the same way for 50 years… Basically a foam blank with fiberglass on top. There have been a lot of things like epoxies and other components you can put into a surfboard, and I think the more shapers that embrace and adapt those materials into their designs, then you're going to see more stronger, lighter and faster boards, which will allow for more mind-blowing maneuvers.
Eventually we'll have powered surfboards. We already got WaveJet surfboards, which can propel a surfer into waves without paddling. The problem is that it's too heavy for a professional surfer to progress surfing. But the concept is there. The motors and batteries will get lighter and it will be professionally functional one day.
For big wave surfing, the guys are back to 4-inch boards because they need paddle power. They'll develop a new foam that will be super light and super buoyant so they can bring the volume of the board down from a 4-inch thick beast to a more big performance board that they can manage much better.
pau