VINTAGE SURF HAPPENING IN HONOLULU
Saturday, July 26 ~ 9am-3pm at Hawaiian South Shore
Presented by Vissla
Randy Rarick is keeping things classic. Reviving the Hawaii vintage surf enthusiast community, the aficionado is helping host the inaugural Vintage Surf Happening in Honolulu Presented by Vissla this July. On Saturday the 26th, Hawaiian South Shore will play host to the classic event from 9am to 3pm, with surfers from all over the Hawaiian Islands gathering to buy, sell and trade surfboards, vintage collections, memorabilia and more.
Similar to the retired Hawaiian Island Vintage Surf Auction that Randy put on for ten years, the Vintage Surf Happening will also combine wood boards from the '30s and '40s, balsa boards from the '50s and '60s tankers and guns. However, Randy says the new Happening will definitely be different than the old Auction. "It's a lot more casual, more simple," Randy describes.
For one thing, the event is free and open to the public. Collectors and vintage surf enthusiasts are encouraged to bring their boards, posters, trophies, photographs and other memorabilia to either sell or trade with other collectors. There will also be specialists on hand to assess the value and history of items, brining an 'Antiques Road Show' feel to the event.
If you're interested in knowing what your old school surf memorabilia is worth, be sure to bring it down for a free appraisal by onsite collector specialists. All items must be pre '90s- meaning 25 years or older- to ensure the classic quality of this vintage event.
Vissla, the Vintage Surf Happening's presenting sponsor, will be putting on the 'Vissla Short Board Experience' throughout the day, which features an array of retro short boards. From '70s single fins, Lightning Bolts and Aipa Stings to '80s Twins, first generation Thrusters and more, Vissla will be displaying the designs that made up the late 60's short board revolution, a pre cursor to today's modern day designs.
Legendary surfers Fred Hemmings, Jock Sutherland and Ben Aipa will be signing autographs during a special session of the day, and guests have the chance to meet and groove with some of the biggest names in the classic surfing community. The Vintage Surf Happening is featuring collections from names like Mark Fargale, Greg Lui-Kwan and Andy Tam. Even a few of Randy's own works will be up for purchase, including complete restorations of classic boards.
The Vintage Surf Happening will be casual and relaxed, where collectors, surfers and vintage surf enthusiasts can get together to mingle and talk story. "For me, this event is just what the name implies, a vintage surf happening, where the goal is to get all the collectors together to jive and have fun," explains Randy.
Classic tunes by the surf band Tiki Taboo will begin at 12:00 noon, and Thomas Naylor's 'Ke Nui Catering' will be offering up local and fresh dishes. Sample North Shore flavors from this food truck as they cook up tasty meals for both breakfast and lunch. This Happening is happening Saturday, July 26th from 9am to 3pm.
Look for the old school woodies parked out front and tents set up in Hawaiian South Shore's mauka parking lot. Located at 320 Ward Avenue across from Sports Authority, the Vintage Surf Happening is free to all to attend.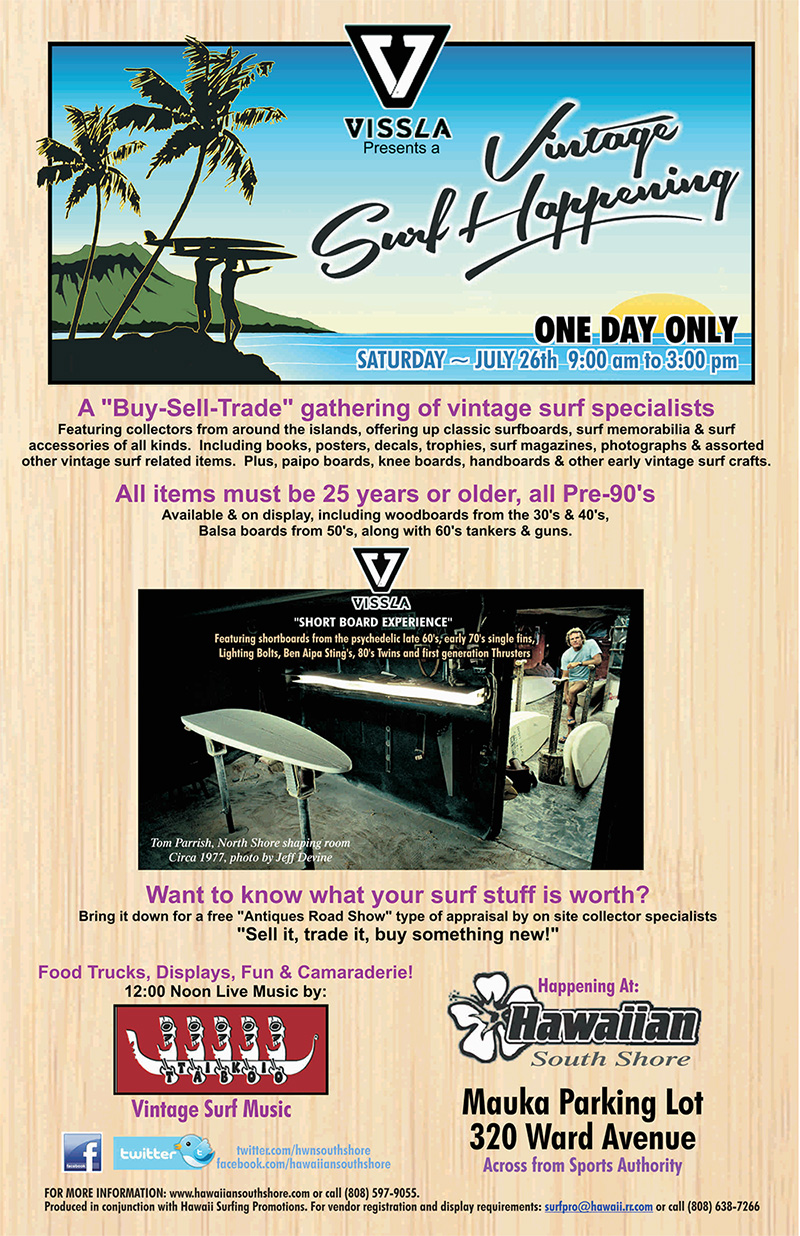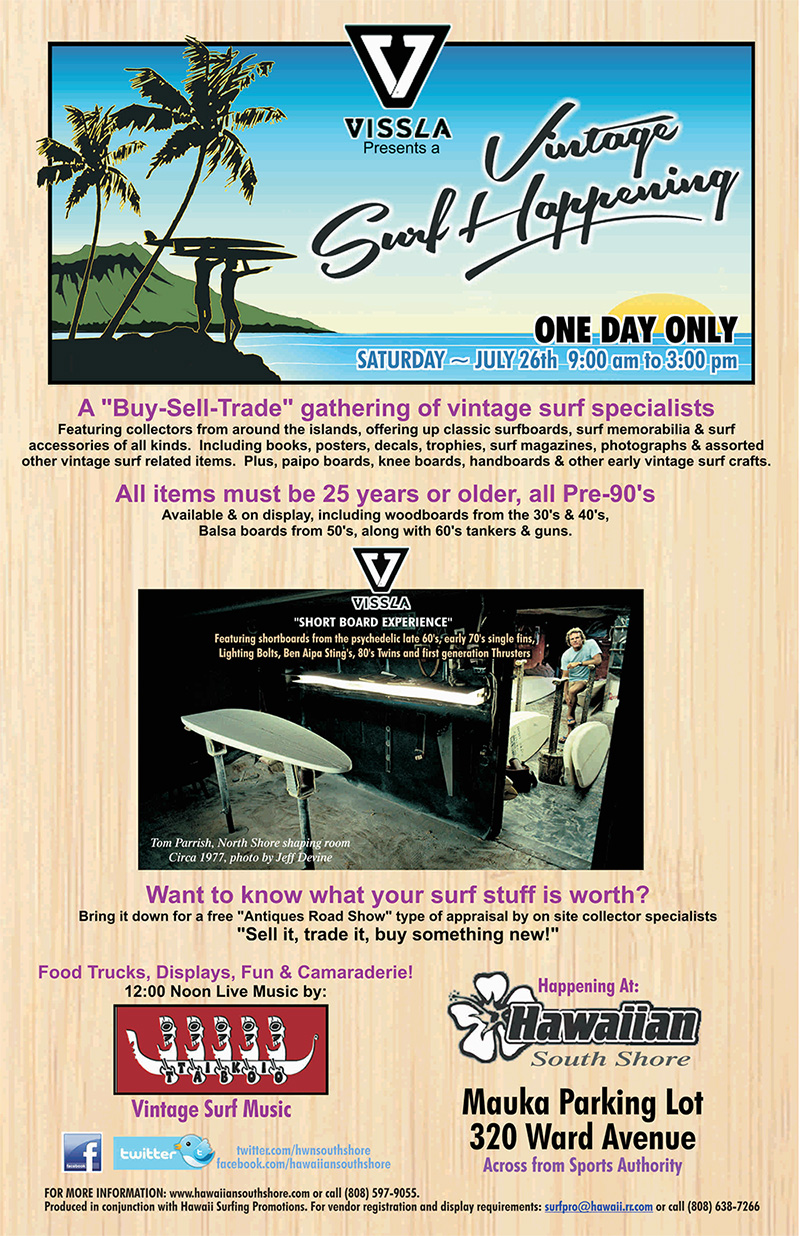 Media
vintage_surf_happening_poster_FF