HONOLUA BAY, Maui, Hawaii/USA (Monday, December 2, 2019) – Today, Carissa Moore (HAW) won the 2019 World Surf League (WSL) Title at the lululemon Maui Pro, the final stop on the WSL Women's Championship Tour (CT). Moore's victory comes following her provisional qualification for the Tokyo 2020 Olympic Games. Although she defeated her closest opponent, 17-year-old Caroline Marks (USA), to clinch her fourth World Title, the two will represent America together as surfing makes its Olympic debut in Tokyo next year.
"That was crazy and I was trying to keep my focus and emotions in check," said Moore. "This is incredible! It's been years of work and years of growing and learning. It's been a journey and I've been really looking forward to this moment, but it hasn't sunk in yet. So many of my family and friends are here and I'm so excited to share this with them."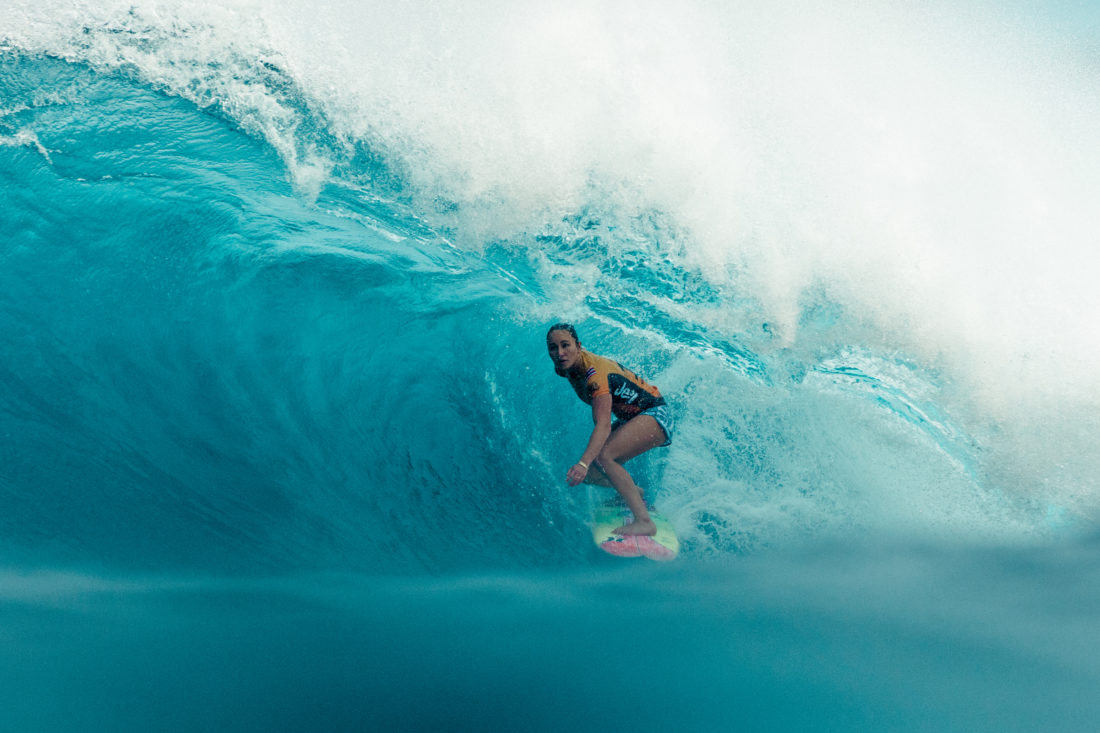 By clinching a fourth WSL Title, the 27-year-old from Honolulu joins the likes of Lisa Andersen (USA), Wendy Botha (ZAF) and Freida Zamba (USA), Layne Beachley (AUS), and Stephanie Gilmore (AUS), further cementing her name in professional surfing's history books. Moore also becomes Hawaii's most-successful surfer ever on the world stage surpassing Andy Irons' three World Titles and John John Florence's two titles.
"I dreamed of this moment for a really long time," continued Moore. "Each world title has been a little different and this one was definitely the hardest. Being in the Title race with Caroline and Lakey has been incredible and they've both really pushed me. I wouldn't be here without my amazing support team. I felt so much love on this journey this year and it really pushed me through. This year I wanted to do things a little differently and my non-profit Moore Aloha has really given me that sense of purpose. It feels like things have come full circle and following in Duke's footsteps in the Olympics gives me chills just to think about it. I hope to go to Tokyo and spread the aloha spirit and I'm really proud and honored to represent the USA and in particular Hawaii."
Moore's 2019 season is a remarkable example of consistency. In the season's ten events, Moore hasn't lost before the Quarterfinals, racking up three wins (South Africa, France, Portugal), two runner-up finishes, three equal 3rds and two equal 5ths to seal the deal on her fourth World Title. She is the only Top 17 surfer who managed to advance into the Quarters or better at all the events this year. Moore was stopped in the Semifinals by Stephanie Gilmore (AUS) who went on to defeat Tyler Wright (AUS) in the Final.
Moore's achievement comes following the elimination of opponents Lakey Peterson (USA) and Marks at the lululemon Maui Pro. After Peterson's elimination yesterday, Marks was the last contender standing to stop Moore. Unfortunately for Marks, she fell to seven-time WSL Champion Gilmore in the Quarterfinals.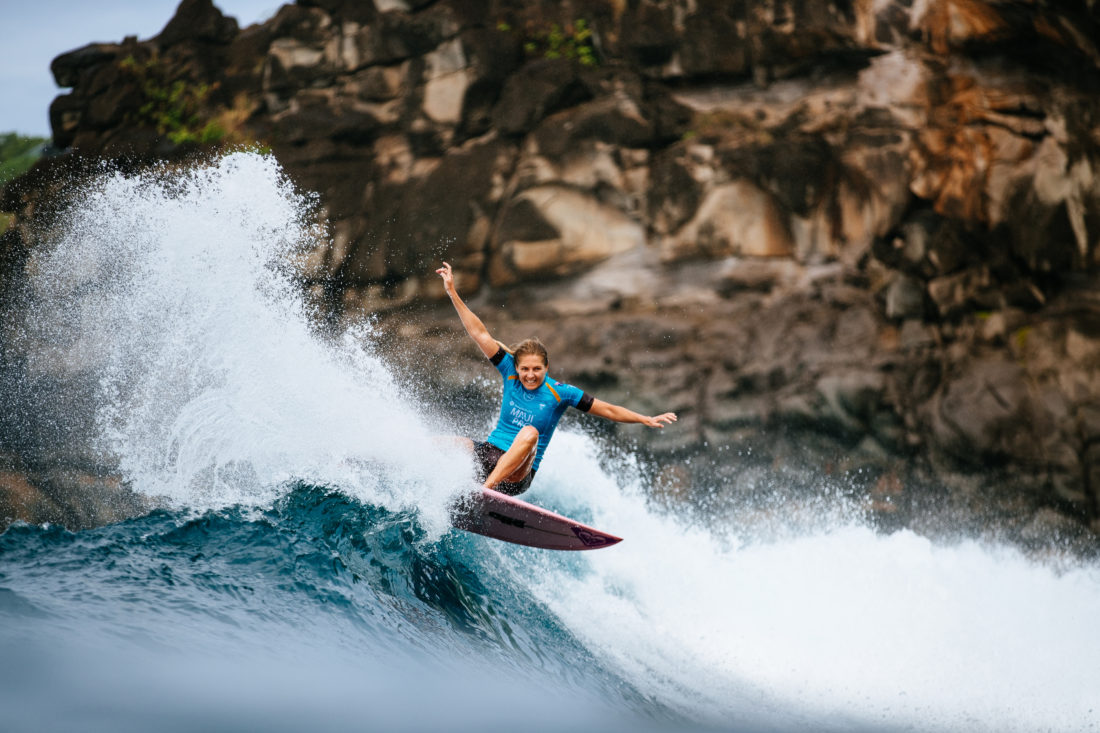 "This year has been so amazing and I just want to thank everyone in my corner, I wouldn't be here without them," said Marks. "That heat was pretty tricky and I think my first wave was the difference, maybe if I had made that turn I would've made the heat, but Mike (Parsons) said if you don't go for it you're not going to win. The way you win Titles and events is going for it so I was stoked I went for it. Steph is such a hard competitor and so good at competing. Unfortunately, it didn't go my way but congratulations to Carissa. She's so inspiring and this year's just been amazing so I'm really stoked to be a part of it."
Marks and Gilmore have matched up four times this season in the Quarterfinals. Today was Marks' first loss to Gilmore, who went on to win the entire event. The loss has not dampened Marks' outlook after an incredible run in 2019 that witnessed her first CT win, the first with equal pay, a runner-up in Portugal and provisional qualification for the Tokyo 2020 Olympic Games.
"I think the highlight of my year was winning the first event with equal pay, that was incredible," continued Marks. "Then Portugal was amazing, it's just been so fun traveling with Lakey and Mike and all the girls. Everyone's been pushing me so much and my whole family is here at this event and it's just such a special moment. I've made the Olympics which is probably one of, if not the biggest moments of my career and I'm just going to enjoy that and soak it all in."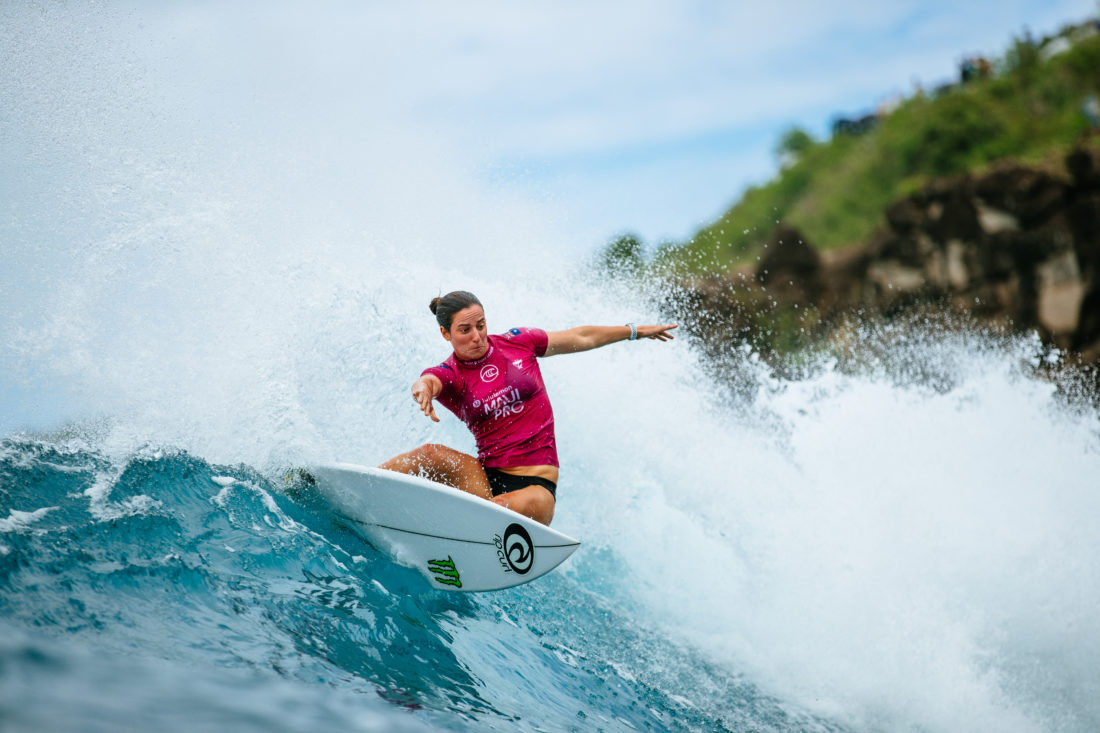 Gilmore's event win marks her fifth victory in Maui (2007, 2008, 2009, 2017, 2019) and the 31st CT win of her career, besting her own record today. The Australian took down the now four-time WSL Champion Moore in the Semifinals, Marks in Quarterfinals, and Wright in the Final.
"I found myself sitting there in good positions in the lead next to these girls and it just brought back these thrilling feelings and memories of being in World Title races," said Gilmore. "There is so much on the line and I think I just kicked into a new gear. Amazing event and year for everybody. And, of course, it is so good to have Tyler back. I could not have thought of a better person to share the Final with. She is surfing better than ever so I cannot wait to see her next year and sure you will be as dangerous as ever."
Gilmore's success today sees her finish the season in fourth place on the Jeep Leaderboard. Although not in Title contention at this event, Gilmore is ready for battle in the upcoming year with the new CT season and the Tokyo 2020 Olympic Games.
"Congratulations to Carissa and to Caroline," continued Gilmore. "Caroline is an incredible asset to our sport and has so many future years and multiple World Titles to come, I can see it already. Congratulations to all the girls and to all the Olympians. See you in Tokyo. This has been a monumental year for us with equal prize money. It has done so much more for women in sport, and women in all kinds of industries in the workplace around the world, to show people what should be normal, that equality should be normal. I am really proud to be a part of that and to have the WSL lead the way in that way. That is really special."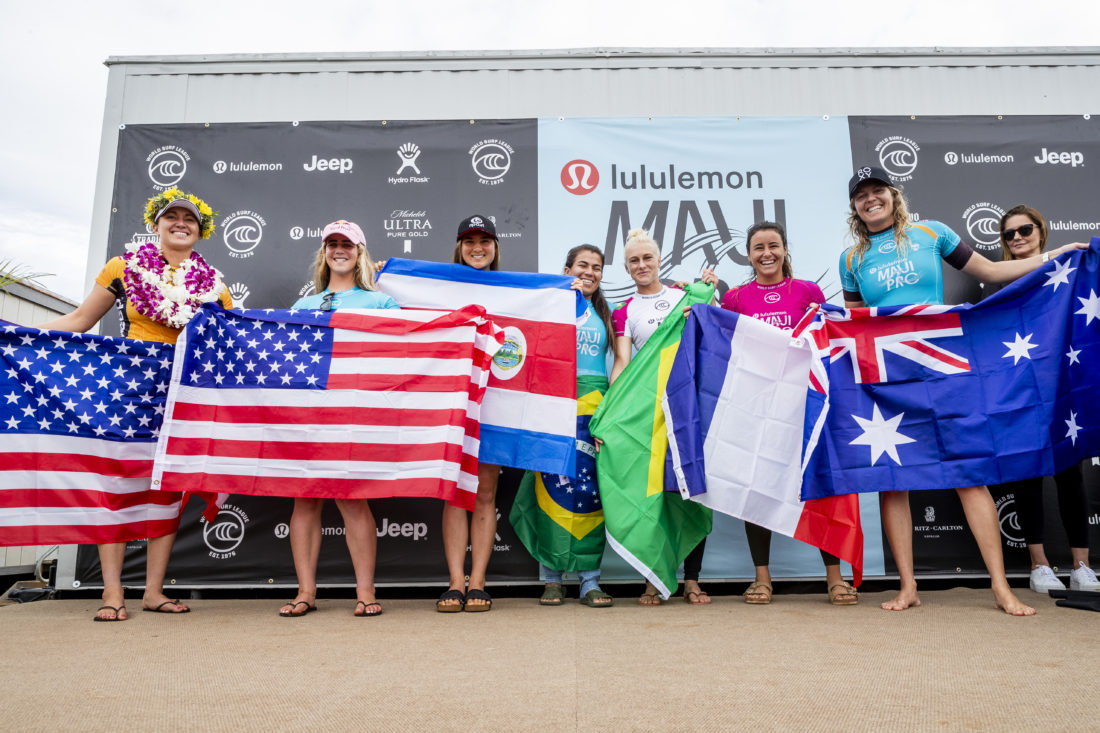 This was Wright's first CT event after a 17-month recovery from illness. In her competitive return, the two-time WSL Champion upset the World Title race by eliminating Peterson. Today, Wright took down Tatiana Weston-Webb (BRA) in the Semifinals and Johanne Defay (FRA) in the Quarterfinals. Falling one score shy of the win over Gilmore, Wright showcased her incredible power-surfing and will be the one to beat in the coming year.
"I feel very lucky and grateful to be here today," said Wright. "It was only a couple of months ago that I was still in a rough place. I would love to thank the people who have helped me get here today. A lot of that is my girlfriend, Alex. She has been there the entire time for me. She saw it all. She saw the worst of the worst and to be here today, to be surfing, and to be happy and healthy, it was a rough one and I am so enjoying this moment. To see all the girls qualify for the Olympics and to see the first year full year of equal pay, that is a huge moment in our sport. To sit on the sidelines and watch that, I became a huge fan of this sport. I want to thank everyone that has taken part in that."
First Eight Provisional Olympic Qualifiers Are Set: Moore, Marks, Lima, Weston-Webb, Fitzgibbons, Gilmore, Hennessy and Defay
Surfing will make its Olympic debut in Tokyo in 2020 and the 2019 WSL CT was a crucial qualification pathway for the world's best surfers. Following the season finale in Maui, the WSL rankings have determined the first eight eligible women to qualify for the Tokyo 2020 Olympic Games, subject to all qualified surfers meeting the ISA's and IOC's eligibility requirements and being selected by their respective National Olympic Committee.
The eight provisional qualifiers are:
USA – Carissa Moore and Caroline Marks
Australia – Stephanie Gilmore and Sally Fitzgibbons
Brasil – Tatiana Weston-Webb and Silvana Lima
France – Johanne Defay
Costa Rica – Brisa Hennessy
For highlights from the lululemon Maui Pro, please visit WorldSurfLeague.com.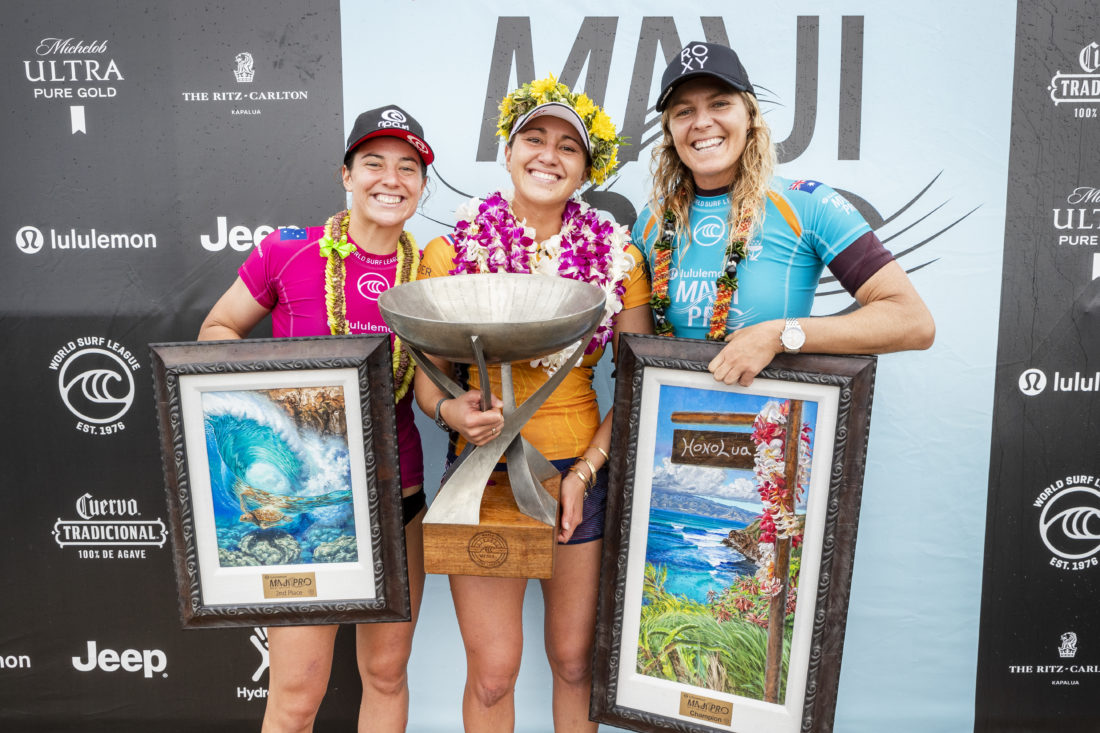 lululemon Maui Pro Final Results:
1 – Stephanie Gilmore (AUS) 14.16
2 – Tyler Wright (AUS) 9.67
lululemon Maui Pro Semifinal Results:
SF 1: Tyler Wright (AUS) 13.00 DEF. Tatiana Weston-Webb (BRA) 7.33
SF 2: Stephanie Gilmore (AUS) 15.94 DEF. Carissa Moore (HAW) 15.07
lululemon Maui Pro Quarterfinal Results:
QF 1: Tatiana Weston-Webb (BRA) 15.07 def. Sally Fitzgibbons (AUS) 12.00
QF 2: Tyler Wright (AUS) 10.84 def. Johanne Defay (FRA) 10.74
QF 3: Carissa Moore (HAW) 16.00 def. Nikki Van Dijk (AUS) 10.90
QF 4:Stephanie Gilmore (AUS) 13.73 def. Caroline Marks (USA) 11.50
Women's 2019 Jeep Leaderboard (after lululemon Maui Pro):
1 – Carissa Moore (HAW) 59,940 points
2 – Caroline Marks (USA) 55,454 points
3 – Lakey Peterson (USA) 55,125 points
4 – Stephanie Gilmore (AUS) 49,810 points
5 – Sally Fitzgibbons (AUS) 48,950 points
6 – Tatiana Weston-Webb (BRA) 41,560 points
7 – Courtney Conlogue (USA) 41,080 points
8 – Johanne Defay (FRA) 38,085 points
9 – Malia Manuel (HAW) 35,155 points
10 – Nikki Van Dijk (AUS) 28,625 points
Carissa Moore's 2019 WSL Championship Tour Results:
Boost Mobile Pro Gold Coast: 2nd
Rip Curl Pro Bells Beach: 5th
Corona Bali Protected: 5th
Margaret River Pro: 3rd
Oi Rio Pro: 2nd
Corona Open J-Bay: 1st
Freshwater Pro pres. by Outerknown: 3rd
Roxy Pro France: 1st
MEO Rip Curl Pro Portugal: 3rd
Maui Pro: 3rd
Carissa Moore's Championship Tour Career Rankings:
2019: 1st
2018: 3rd
2017: 5th
2016: 3rd
2015: 1st
2014: 3rd
2013: 1st
2012: 3rd
2011: 1st
2010: 3rd
Next Stop: Men's World Title Battle at Billabong Pipe Masters
The final stop of the men's Championship Tour, the Billabong Pipe Masters in Memory of Andy Irons, will also witness a World Title showdown. The Billabong Pipe Masters opens on Sunday, December 8 and holds a competition window through December 20, 2019. The event will be broadcast LIVE on WorldSurfLeague.com and the free WSL app. Also, check local listings for coverage from the WSL's broadcast partners.