By Daniel Ikaika Ito
Photos: Keoki
There is a feeling of pono (righteousness) you experience when you see Ulualoha Napeahi on an Ahuna Hana alai'a. The 21-year-old pro surfer, affectionately called Ulu Boy, feels it, too.
"As a Native Hawaiian," explains Ulu Boy, "you know when it feels right, and when I'm riding the alai'a everything feels right; everything seems to be exactly what it needs to be; nothing could change to get any better."
According to Hawaiian cultural practitioner Tom Pohaku Stone, who has college degrees in Hawaiian Studies, Pacific Island Studies, American Studies, and Historic Preservation, the surfing industry has been mispronouncing the craft that Ulu is riding, for quite some time. In 2009, Surfing Magazine named Tom Wegener Shaper of the Year for starting the alai'a revolution, but Wegener and the mainstream surf industry called the finless wooden board an ah-lie-ah. This is not pono for two reasons: first off, 'alai'a' should be pronounced as ah–la–ee-ah because the ancient Hawaiians were describing the way the board moved on the wave, says Pohaku. In the Hawaiian language 'ala' means 'to rise up' and 'i'a' means 'fish', so the board was observed to be like 'a fish rising out of the water'. Secondly, Pohaku started making replicas of the ancient Hawaiians' surfboards years before Wegener had the idea, so the notion that the California transplant who moved to Australia revived a Hawaiian practice is also not pono.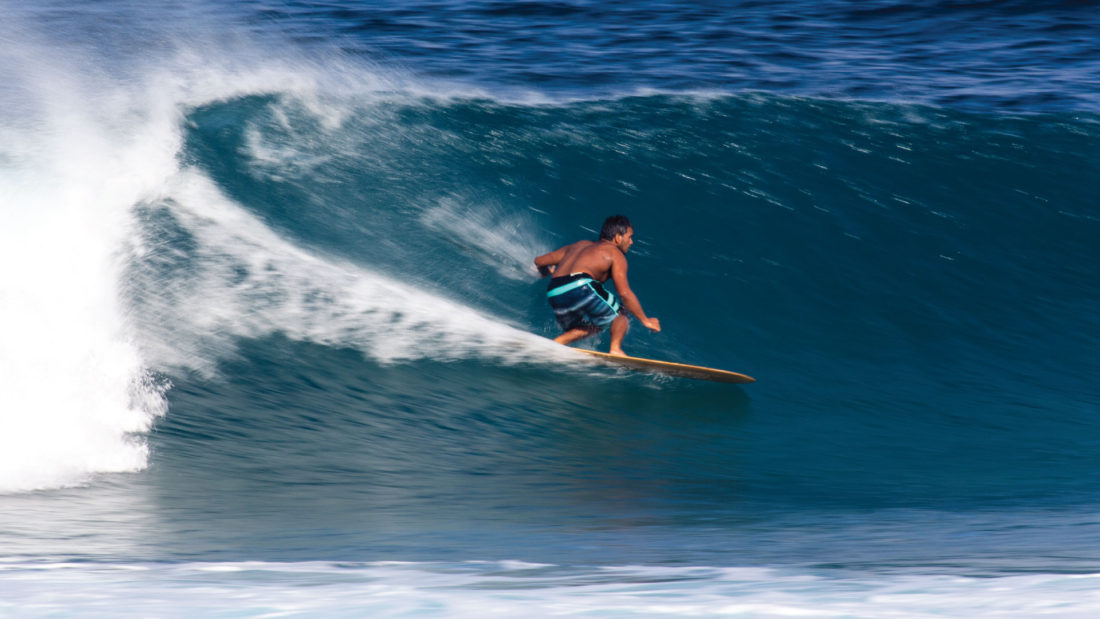 But when Ulu Boy is high-lining across an open face of a head high left at Rocky Point or pulling in to Pipe on the alai'a, cultural appropriateness feels like it's being restored. Perhaps the reason he looks so good on the traditional Hawaiian finless shortboard is because the goofy foot is a 'Kanaka Maoli' (Native Hawaiian). Surfing is in Ulu's DNA.
"For me, riding the alai'a is a more cultural and spiritual connection and that is where I feel most connected to my roots," says Ulu. "Particularly riding that [Ahuna Hana] board; I enjoy riding that board more than any other board."
Ulu's alai'a is 6'1" x 17" x ¾" with a single concave running through the back, beveled rails and nose rocker. It was made by Hawai'i County lifeguard Brandan Ahuna under his Ahuna Hana label and it's made of Paulownia and Ulu (Breadfruit) wood.
"Paulownia is really light and strong for how light it is. It flexes really good and it naturally doesn't absorb saltwater," says Ahuna. "I incorporated some ulu wood just for added strength on his tailblock and his inlay. Of course his name is Ulualoha so I figured ulu would be nice. I usually use koa."
Ahuna and Ulu Boy are both from Hawai'i Island and the shaper has known the pro surfer since he was a grom.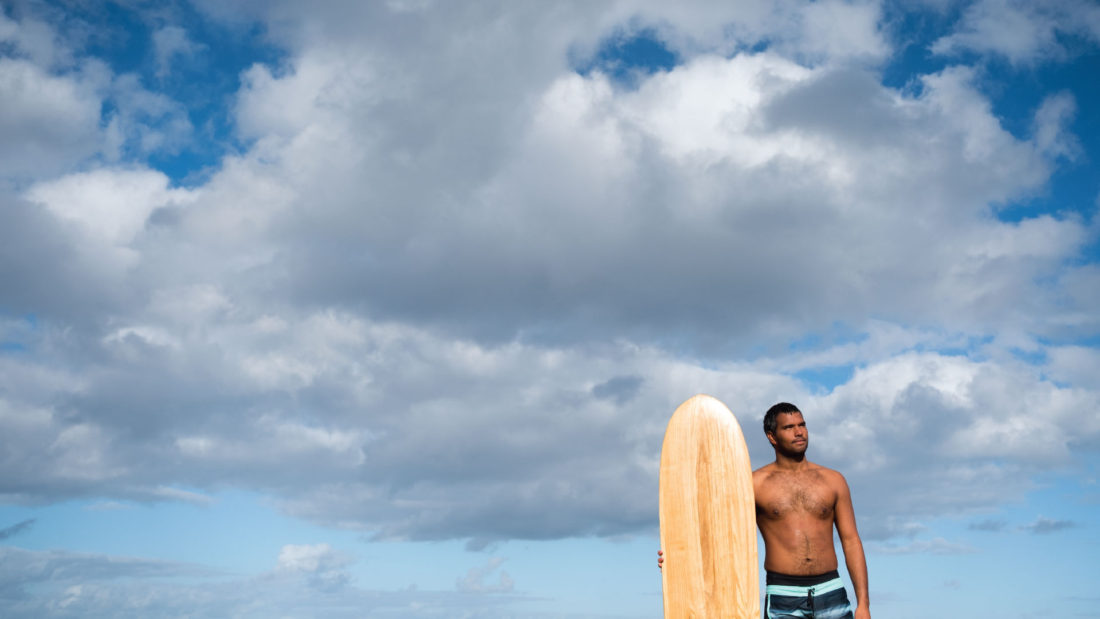 "The kid had a sparkle in him ever since he was small," reminisces Ahuna. "Good head on his shoulders and confident, but soft spoken. Watching him surf you know that if you follow your dreams you can make it happen."
For Ahuna, who is an excellent surfer in his own right, riding the alai'a is also a connection to his culture. It's a way for him to tap into the nature of surfing's ancestors.
pau