Duke's Waikiki celebrated its 8th annual Legacy of Aloha, with a $10,000 donation to the Searider Productions Foundation, a local nonprofit organization that aims to educate and develop Hawaii's youth to become storytellers, social advocates and entrepreneurs in the community. Funds were raised through the sale of a Duke's Waikiki's annual Legacy of Aloha t-shirt. To date, Duke's Waikiki has donated more than $65,000 to Hawai'i nonprofits through the program.
"We are so pleased with how this program has evolved over the years, thanks to the continued support from our customers," said General Manager Greg Ames. "It remains a core value of Duke's Waikiki to help Hawaii's community and we are thrilled to be able to provide funding to a passionate group of educators, students and storytellers."
Searider Productions Foundation (SPF), the non-profit arm of the Searider Productions media program based at Wai'anae High School, provides students of the Wai'anae coast with opportunities to explore, create and engage in all forms of media. SPF encourages young storytellers to honor and carry the values and traditions of Hawaii's storytelling past into the 21st century as they become tomorrow's leaders.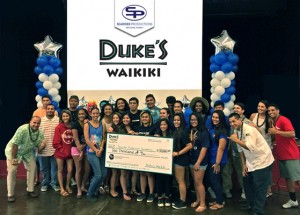 Each year, Duke's Waikiki designs a T-shirt as a fundraiser and donates a portion of the proceeds to organizations that Duke Kahanamoku would have supported in his day, including water-sport related or canoeing clubs, ocean and water environmental groups, youth and elderly organizations, cultural preservation societies and agencies providing support and aloha to those in need. Duke's Waikiki participates alongside these organizations throughout the year in partnership, donating hundreds of hours annually to beach clean ups and other community events.
Past recipient organizations in Duke's Legacy of Aloha program have included Partners in Development, Aloha Harvest, Hawai'i Food Bank, Surf Aid, Polynesian Voyage Society, Nā Kama Kai, Mālama Maunalua, the Honolulu City and County Lifeguards, Holomua Nā ʻOhana, Angel Network and Surfing the Nations.
To be considered as future beneficiaries of the Legacy of Aloha fund, interested organizations may contact Duke's Waikiki.
Twice named "Best Restaurant" by Hawaii Magazine in $30-$60 per person price range, "Best Place to Take Visitors" by Honolulu Magazine, "Best Place to Go on a Sunday" by Honolulu Weekly readers and "Best Nightlife Venue" in Hawaii by Zagat Survey, Duke's Waikiki pays tribute to famed waterman Duke Kahanamoku and provides an authentic and enjoyable Hawaiian-style dining experience. Duke's Waikiki is located at 2335 Kalakaua Avenue, beachside in the Outrigger Waikiki on the Beach Hotel. Validated parking is available at OHANA East Hotel. Reservations: (808) 922-2268 , website: www.dukeswaikiki.com