Leaving a flat Australian summer and flying into a forecast like they were laying out for February 25 on the North Shore this year is weird. It's not just a plane ride, it's a matter transporter. It dumps you out into another dimension, one where humans should fear to tread. But they tread anyway, because you have to.
My little brother and I had spent several wigged out days in Sydney watching that storm pull together and calling each other every few hours: "Whaddya reckon?" "They won't go, that last time spooked 'em."
"It won't be big enough!" "It'll be too big!"
Two days out, it turned into: "Which flight?"
It felt odd, this relaxed vibe. Last time the Eddie ran, in December 2009, the feeling in the air the day before was electric, expectant, twitchy, almost agitated. People were pretty much gate-crashing Foodland, if they weren't trying to sleep in other people's yards. Maybe it was the failed call a couple weeks back, taking the heat out of things this time. Maybe just too many waves.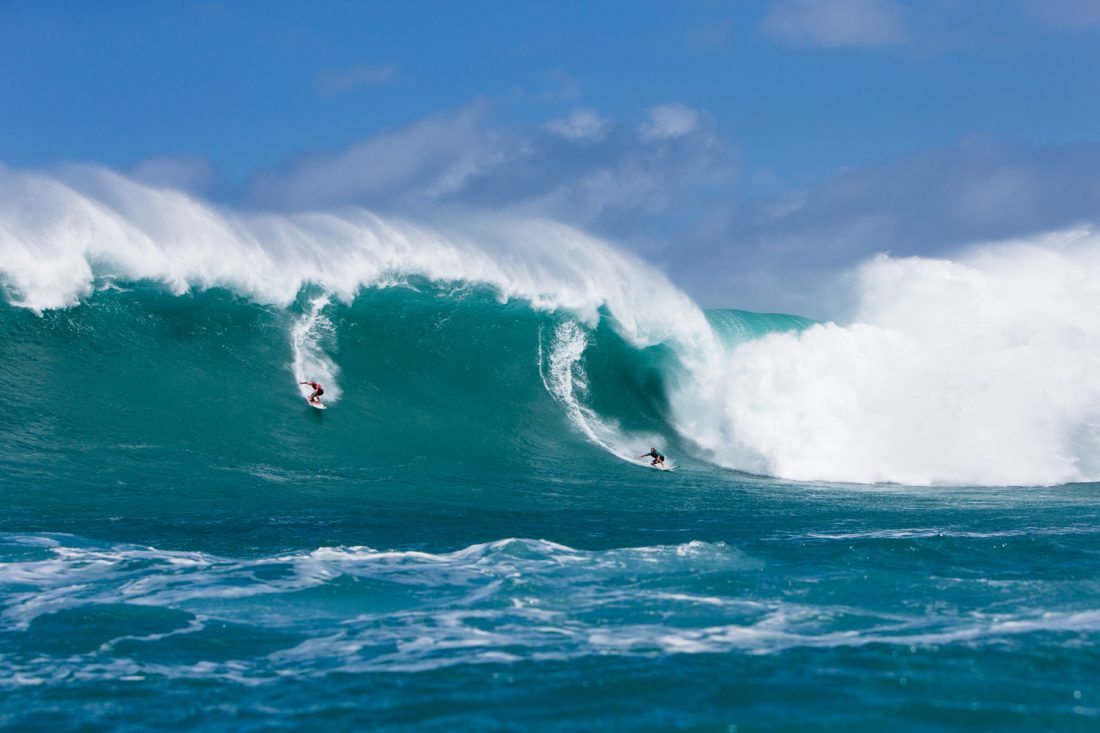 The Kauai buoy changed all that. Late afternoon, the swell hit it like a sledgehammer. 14 feet at 21 seconds. Then 18 feet. Then 21. The North Shore's numerous masseurs, chiropractors, sports medicine experts and alternative treatment practitioners were hard at work that evening, smoothing and tweaking invitee muscles back into shape. We saw Kelly Slater at one: "26 feet at 19," he said. Holy crap, that is too big.
Did people sleep that night? Not the people camped out around the rim of the Bay. That roaring darkness is not a restful sound. By 6 am, when we pulled into the Waimea Bay parking lot, people were everywhere: carrying blankets and coolers, flashlights and sunshades, but not jumpy — more awestruck by what the gray light was revealing before them.
Instantly it was obvious: This is ON.
I went up into the viewing scaffold and watched as guys jumped in for a quick free surf. The ocean looked dark; an occasional set reared way out, like a line drawn in black crayon, then pulled down and away to the west, exploding across Leftovers. For 30 minutes it didn't stretch the 20-foot mark. Then around 7:25 am, it did. Three or four major waves, then a brief gap, then two or three more. The rhythm of the day.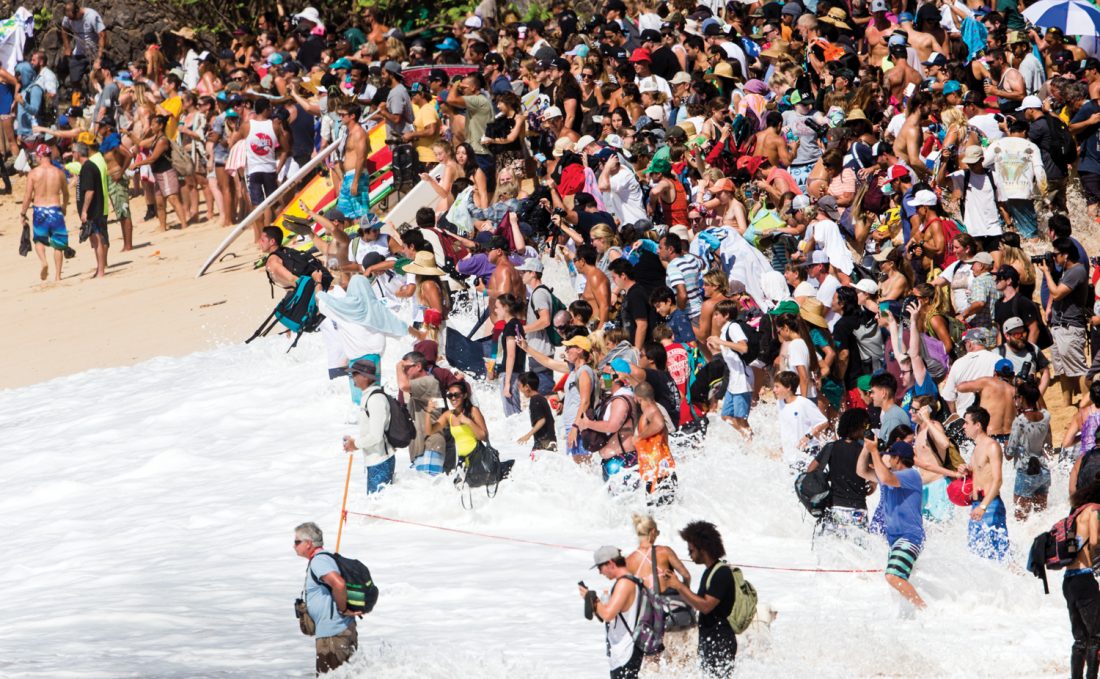 A guy got a great wave in that set, by the way. One of the waves of the day. He cruised and rolled it into the shorebreak and did the classic backside kamikaze pull-in and drove the crowd crazy. I still dunno who it was. Nice ride, mate.
We landed in Honolulu around midday Wednesday and wandered out to Sunset Beach, where lazy eight-foot surf crumbled under a light onshore. Everyone in the water seemed pretty chilled, if not completely worn out by the barrage of El Niño-inspired surf.
"Nobody's got any boards left!" a guy told me. "We're all fried… got sore backs, sore shoulders. Please, somebody turn of the surf tap!"
Everyone on the invite list seemed utterly relaxed about what they were about to do. Too much Jaws, I expect. I sat for a bit with Grant "Twiggy" Baker after that first big set hit; he scrolled through his phone to show me pics of his fresh little baby, one month old and on the other side of the world. "I was gonna go home, but my wife said, no, stay, I've got a feeling it'll be on," he said. Just over two hours later he was dangling from his leash halfway down the face of an absolute beast of a wave, maybe the thickest thing anyone tried to ride on February 25. I hope he shows his kid the photo one day.
Twig's wipeout ripped the day open further — showed people what was really happening. The crowd made an amazing noise, somewhere between a shriek and a groan. Here's what they didn't see, couldn't see: Clyde Aikau in the channel, looking straight in at what Twiggy had tried to do.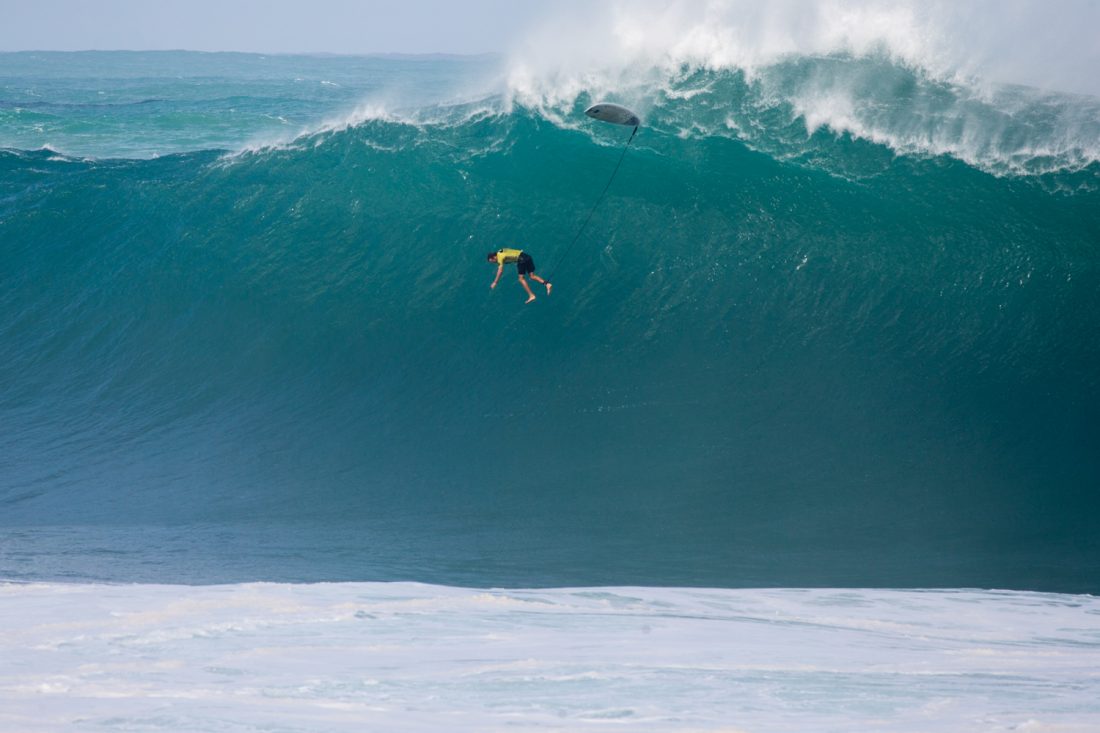 I know John John Florence won the contest, but Clyde was the biggest thing about February 25, other than maybe the swell itself. Tom Carroll and I had missed the safety briefing the day before at Waimea, when he'd laid down the law to a dozen or so of the best big wave riders in the world. They were bickering about this and that, when Clyde suddenly stepped in. "Everybody cut the bullshit," he growled, and boy did they shut up and listen. He's been the living heart of this event since the beginning, and he came down to the keyhole for his heats with a regal cool that I bet he was only partly feeling inside. Hell, it was 30 feet! But Clyde got out, took some gas, went out for the second time, and picked off a wave that looked like 25-foot Burleigh Heads. It took him hours to hug all the well-wishers.
That was an odd thing about the day — the way that mellow feeling perpetuated, despite all the crazy ferocity happening just offshore. It felt like a club contest, but in 30-foot surf and with 20,000 spectators. Shane Dorian, Mason Ho, the Rothman kids, Jamie O'Brien, all went out and took off on closeouts and were ragdolled into a state of wide-eyed adrenalin, came in, and shook hands with people on the beach like they were at a luau together. Tom Carroll got blown off the back of a colossal wave and felt like a doofus, until we watched the replay later; getting blown off that thing was the best thing that could've happened. Ross Clarke-Jones was calculated and superb.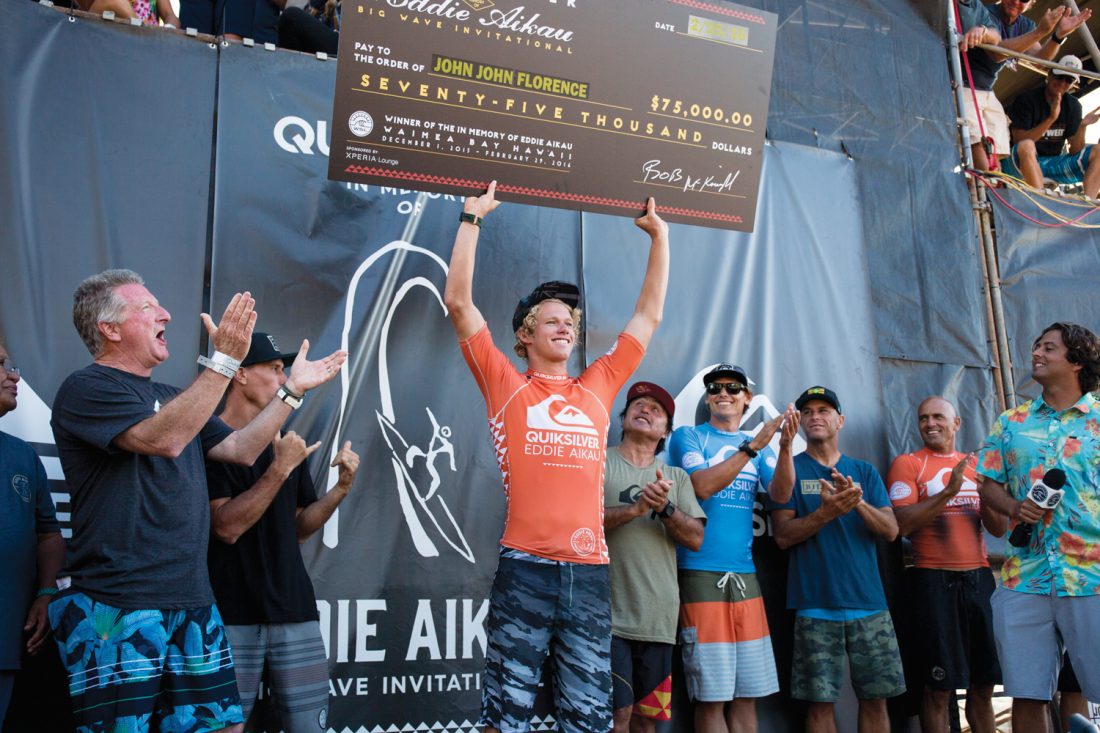 And amazingly, apart from a few sore and sorry humans next day, and Noah Johnson's knee coming into rather violent contact with Healey's rail under a cleanup set, nobody was hurt.
Late in the afternoon, the swell began to relax too, and a backlit near-tranquillity descended on the Bay, something you couldn't have imagined at 6am. In three days, we'd be stepping back through the matter transporter to the other, less fearsome dimension. Did all that amazing shit really just happen?
Aaron Gold, the quiet achiever, was standing next to me just behind the stage. I asked Aaron what he had planned next. "Going snowboarding," he grinned.
Final Results
1 -John John Florence (HAW) 301
2 – Ross Clarke-Jones (AUS) 278
3 – Jamie Mitchell (AUS) 249
4 – Kelly Slater (USA) 238
5 – Dave Wassel (HAW) 230