By Kahi Pacarro Photos Jeff Hawe
The chopper lifted off from the rocky coastline of northern Lanai with the doors off and an expediency to keep us on schedule. We buzzed past Kai Lenny as he paddled in from Maui.
Just the day before, he hydrofoiled from Hawaii Island through the Alenuihaha Channel to Maui, and was on a mission to travel between all the islands on human and wind power in less than a single week.
Our cheers were drowned out by the beating of the helicopter blades, but we yelled nonetheless. What he was doing was unprecedented and so was the task we were attempting: pulling off a statewide cleanup in less than a week meant a non-stop itinerary including planes, sailboats, powerboats, a ferry, and this helicopter.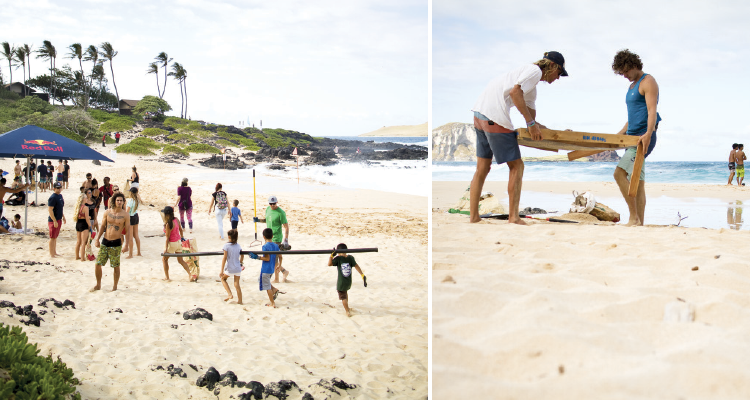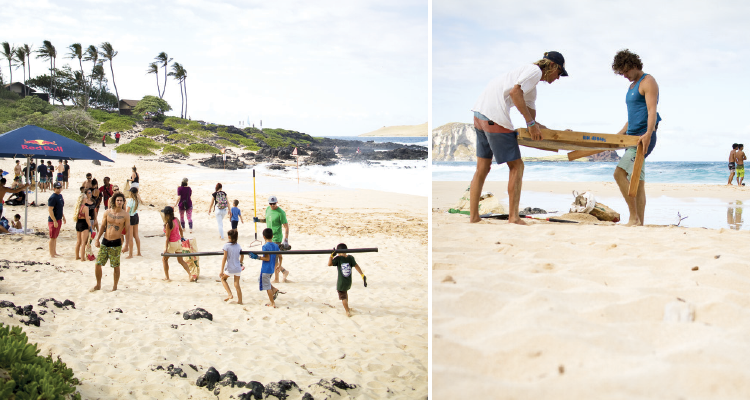 As Kai arrived to Lanai, half our crew remained to finish cleaning and to greet him while the other half were off to Molokai to set up the second cleanup that same day. Problem was, we weren't sure where we were going.
The flight was quick but the memory will last a lifetime. Screaming over the ocean at 80 mph and 30 feet above the surface is thrilling, but our landing was unforgettable. Time is money when flying a chopper and we had a schedule to keep.
When the pilot found a suitable landing spot he muttered over the static "this will work". Perhaps this was the mark on the map, but we were pretty sure it wasn't. He dive bombed towards an open pasture causing our eyes to bulge, jaws to clench, and few of us to touch cotton. Pulling up just before imminent danger, he gently placed us in an open field surrounded with NO TRESPASSING signs that we didn't see until later. The feeling of land temporarily allowed our hearts to calm down.
The helicopter lifted off as quickly as it had landed and headed back to Lanai to continue shuttling crew and clarify the actual landing spot. To the few locals nearby, the speed of the maneuver looked like we had crash landed and a big white pickup truck was speeding towards us blazing its own road through the grassy field with an SUV closely behind.
We stood there with our bags and beach cleanup signs, looking at each other and a member of our party said "This could go one of two ways." The driver didn't even wait for the SUV and as the giant tanned bruddah stepped out of the truck – in what seemed like slow motion – and our hearts were once again beating at full speed. Locking his eyes on us without a smile he says in a deep voice, "And you are?"
Our adventure started just a day and a half earlier and we had already hosted a cleanup in Pololu Valley on Hawaii Island, Kite Beach on Maui and Maunalei Bay on Lanai. The goal was to cleanup a dirty beach on every main Hawaiian Island in order to raise awareness about the global scale of plastic pollution.
We were also highlighting Kai Lenny's commitment to leading by example and spreading the message further than the shores of Hawaii. He would be doing this by hydrofoiling between every island and meeting us at the beach cleanup.
When Kai first set off from the remote beach of Pololu at the top of Hawai'i Island, the task ahead seemed daunting. Both from our side at Sustainable Coastlines Hawaii but also from his side tackling some of the world's most dangerous channels on nothing more than human and wind power. Luckily with both our experiences, although we'd never done it before, we knew we could.
But here we were, on Molokai at risk of taking some major lickings after landing unbeknownst on private property. To answer the man's question of "And you are?" We quickly responded in deadpan voices, "Uh, we're with Sustainable Coastlines Hawaii."
Every August, we visit Molokai to host a huge cleanup at Mo'omomi Beach. We also present at schools and even at the local watering hole about the detriments of plastic overuse and how we can keep our coastlines clean. Luckily for us, Molokai is a tight knit community and Uncle knew of us. His posture quickly changed and a smile revealed the reason why this awesome island is also known as the Friendly Isle.
As the SUV rolled up, he gave them a nod signifying all was good. We told him we were headed to Pu'u O Hoku Ranch to cleanup, to which Uncle had a bit of a chuckle. We were about 8 miles off course. He showed us a nice shady patch and the local store where we could relax and then bid us a warm "Aloha". We were still stranded, but like life tends to do when you allow it, everything worked out fine. We grabbed a ride to the Ranch, met up with the rest of the crew including Kai and removed roughly 6,000 lbs of debris off a coastline that according to the locals, had never been cleaned before.
The journey continued and we cleaned Oahu and Kauai. The whole project was a huge success with 326 people volunteering to remove 11,049 pounds of debris off of our coastlines.
Join us during our next adventure and learn more at sustainablecoasltineshawaii.org.
Kahi Pacarro is the Executive Director for Sustainable Coastlines Hawaii.