Defined by Redefinition
By Lauren Rolland
The Freesurf crew had the opportunity to meet Mr. Gerry Lopez himself during Wanderlust this year, which was a rich experience and noteworthy moment in life. The interview weaved through the icon's past, present and future, and Gerry shared intimate stories along with thoughts and opinions on the finer things.
Play a bit of word association with the name Gerry Lopez and likely the first thought that comes to mind is 'Mr. Pipeline'. For much of the 70's, Gerry graced the North Shore's most dangerous and untamed wave in a unique way- with a casual grace that emulated fearlessness. But as one of the first to push the Pipe envelope, Gerry says it began with anything but the absence of fear.
"I don't think there's any surfer, myself certainly included, that does not feel absolute and complete terror the first few years that they try to actively campaign The Pipeline," Gerry describes. Proving to be as deadly as it was terrifying, Pipeline had a specter about it that kept many surfers at bay. But over trial and error, many swims back to the beach and a lot of broken boards, eventually Gerry and the compact culture of surfers cultivated a relationship with the famed wave.
"It wasn't easy and there wasn't anything calm about it to begin with," the living legend explains in response to his calm demeanor while in the belly of Pipe. "But after a while, if you are able to develop a relationship with a surf spot, you begin to understand some of the things about a place, even a place like The Pipeline, that you really like and enjoy and look forward to on an ongoing basis. It's through that enjoyment that you soon develop maybe a little sense of calmness," Gerry smiles and his whole face softens, brightens. "Maybe it came across as being more calm than it actually really was."
'Shortboard revolutionist' is another word association for this Honolulu-born surfer. In 1971, Gerry Lopez and Jack Shipley founded Lightning Bolt, one of the first heavy hitter surf companies to lead the shortboard movement. "Making the boards shorter, even though they were ugly and flat and thick and had those super hard rails, they were a big step up from the longboard that we were trying to ride The Pipeline and Sunset on."
The vast improvement of the surfboard made it possible for surfers to not only ride but style their way through a barrel. "It took the level of surfing to a new height that hadn't been possible because of the equipment before that," Gerry recollects. And with a bit of nostalgia, the Pipeline master adds, "the thing about those boards is that they paddled much faster. Your top end speed was greater than with a multi-fin surfboard."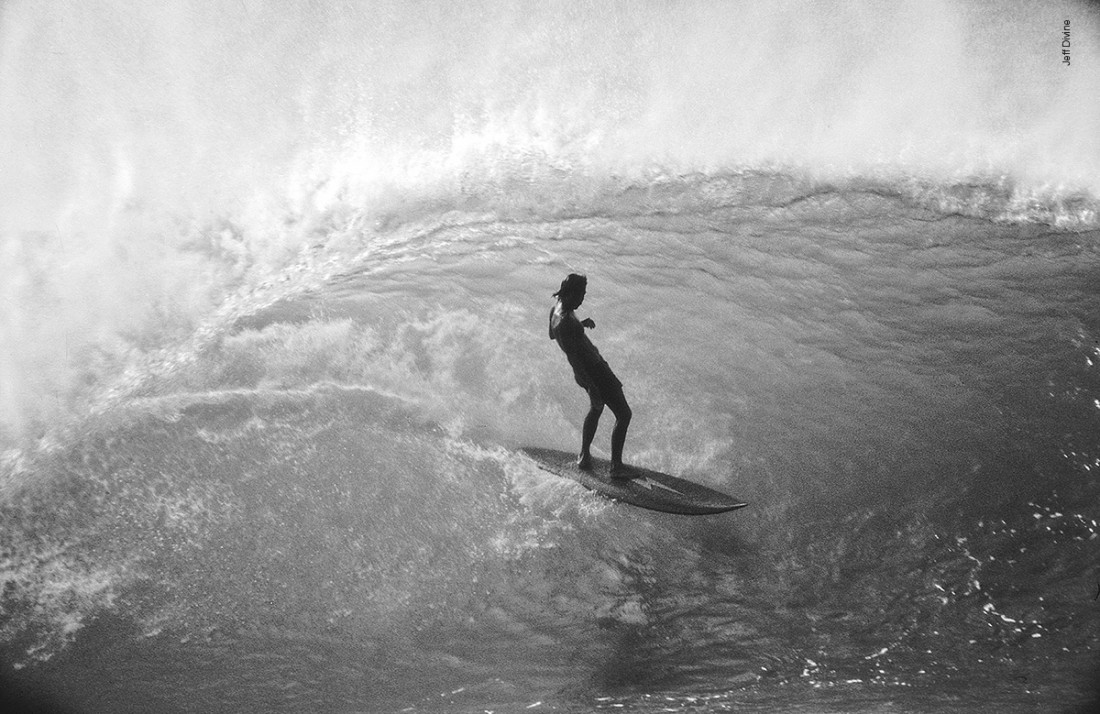 The goofy footer chuckles at the thought of surfers today riding replicas of the 70's Lightning Bolt boards. "Of course they didn't turn as quick, and being so flat you really had to be conscious of your trim because it was real easy to pearl. But if you just grooved on the speed and catching the wave early, then you could set up your ride." Classic was truly simpler, in both form and function.
The laid-back posture of this lithe, tanned surfer defined an era, and so much of Gerry's wave riding skill seems to pull from a groundedness and in-tune personality. Very much a yoga enthusiast, this meditative man took his first class in 1968 while in college at UH and from there, life changed. Gerry has practiced yoga ever since, and recognizes the profound benefits it's had on both surfing and life. "Yoga helps everything, but you could say that about surfing too," the yogi smiles.
A special guest at this year's Wanderlust event at Turtle Bay Resort on the North Shore of Oahu, the instructor mentions that he feels honored to come and be a small part of it all. "I encourage all my friends to come just for the experience of being able to take classes from such a vast variety of top level teachers." Traveling from his home in Bend, Oregon, Gerry has been to both Wanderlust events on the North Shore and also attends the ones at Squaw Valley in Tahoe.
"The lessons you learn from surfing and also from yoga have a lot more to do with life outside of either of those practices," Gerry knowledgeably explains. For example, mindfulness and mental health. "Most of us need to help ourselves before we really truly can help anything or anyone else," he explains in response to environmental issues. But as a Patagonia ocean ambassador, one issue that resonates is the plastics washing up along beaches…
The Indonesian waves of Uluwatu and G-Land might be more word triggers for Gerry's name. Credited for discovering these gems in the mid-1970's, the surfer sought out refuge from the ever-growing Pipeline lineup and found waves elsewhere. In retrospect however, Mr. Lopez connects the surfing drip and presence in Indo to the environmental corruptions that are now taking place.
During the Indo escapades, Gerry and crew were surfing a remote spot of the southeast end of Java known as G-Land. "We wanted to surf when the tide was low, but there was this really long, sharp reef to walk across," memories flood back and Gerry grins. "So at first we only surfed when the tide was high so that we could paddle out and paddle back in." At the time, only old fishing boat marine debris could be found on the beaches. The only other evidence of manmade rubbish was a random pile of rubber slippers that happened to wash ashore. It couldn't have been better timing.
The sandals made it possible for the guys to walk across the reef and surf the break at its best. They would tuck the slippers into their shorts after paddling out, hoping they stayed put for the near-future walk back across the reef. "And that was the only thing that was there, the only thing we found as we walked across this deserted beach… I mean you felt like Robinson Crusoe!"
While this is a fond memory for Gerry, it also stands as a turning point for the islands of Indonesia. "Over the years they started to use more plastic, wrapping their food in it and whatnot, and it all just really made a mess of the beach," the surfer recalls. "It was a problem that we brought to them."
This problem of plastics in the ocean is an environmental issue that resonates with this waterman, but Gerry believes that first "we have to come to a state of mind where we find some peace within ourselves." It's an issue he believes we need to work on as a race. "Because then we can understand how we need to share that peace with the world around us and the people in it." From surfing to yoga and everything in between, the momentum keeps transforming.
Trading Pipeline for powder in the early 90's, a new sport became a passion and continues to be a hobby. Learning to snowboard with fellow Hawaii surfers Derek Doerner, Michael Ho and Sunny Garcia, Gerry describes being hooked from the start. "We were hopeless trying to learn but we loved it right off the bat, snow was a totally new experience for us." Lopez loved the snow so much that he, his wife Toni and son Alex moved from their Maui home to the seasonal slopes of Oregon.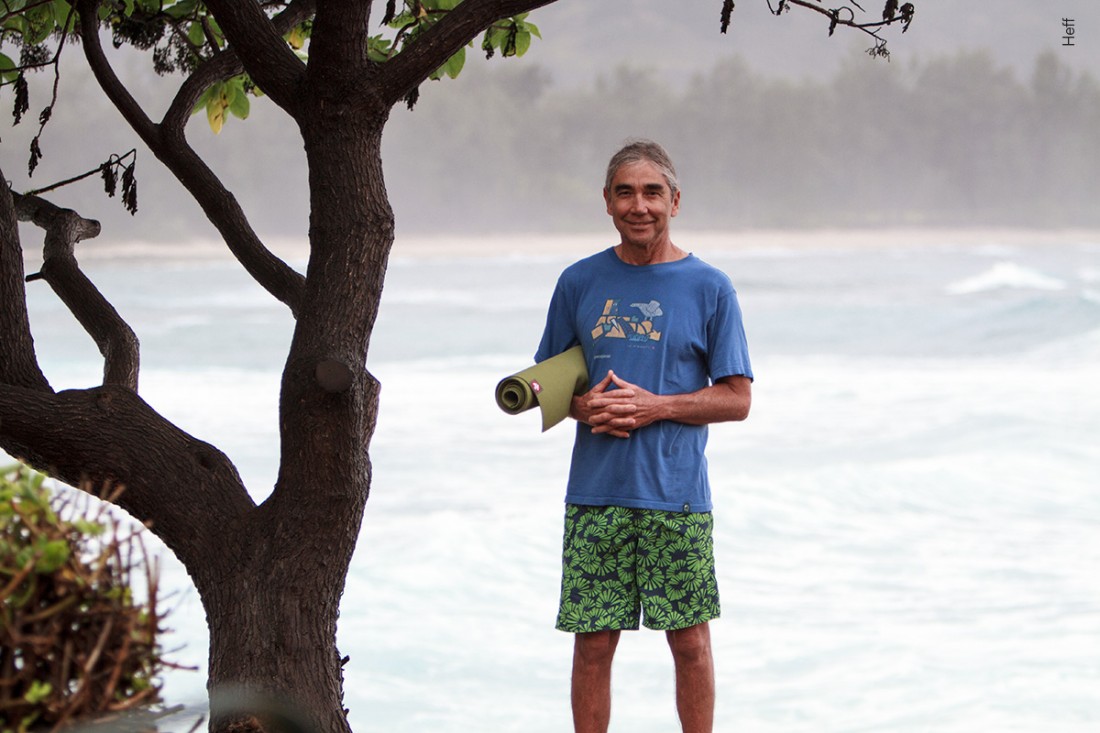 As if all this weren't enough, Gerry can also add 'Hollywood star' to the recap, featuring in films like Big Wednesday (1978), Conan the Barbarian (1982), North Shore (1987) and Farewell to the King (1989), plus features in a variety of surf documentaries. When asked if there were any more acting plans for the future, Gerry laughs and says, "that really wasn't the life for me. If you're an actor, imagine how many swells you would miss having to go to a casting call or a reading!"
It's pretty humbling to think that the man who pioneered tube riding, led the short board revolution and popularized Pipeline is in fact humble, grounded and strives to lead a balanced life. Extremely multi-talented, Gerry Lopez's life has coursed through many different phases- Surfing, traveling, shaping, acting, windsurfing, big wave tow-in surfing, snowboarding, yoga. But it's all come full circle.
"I've realized surfing is my foundation," Gerry resolves. "It's always my greatest passion, even though sometimes I go through periods in my life where I don't realize and understand that, it always comes back to surfing. I'm still a surfer."
pau