By John Ellis
"The best thing about life as a grom is that you don't worry about anything – no job, besides surfing."
Spend any time with Luke Swanson, a 13-year-old North Shore grom, and he'll speak of grom life, inspirations, lessons, and courage, all of which have shaped his competitive drive. The support from Luke's family has given him the confidence to splinter any wave touched. The gift of knowledge and strength from his father attributed Luke with a keen eye to read waves, his mother's undying support has prepared him for competition, and his brothers taught him how to properly froth when competitiveness kicks in.
Luke frequently talks about his two greatest loves: sushi and riding waves. He also admits that while the North Shore conditions can grow to terrifying levels, the best feature about living on the 7-mile-miracle is the trust developed through friendships. Luke and his friends have grown up together while chasing barrels, and like brothers, they keep an eye on each other in the lineup.
When conditions aren't perfect, he trains with friends, reviews video clips and pulls advice from local legends like Freddy Patacchia. Even at such a young age, Luke's style, dedication and natural ability has his future looking bright.
What's it like living on the North Shore, Luke?
I get to surf a lot! I lived in Mililani when I was young, like six or seven, and then we moved to Haleiwa. I really like Haleiwa. It's where I really worked on my surfing growing up. Eventually, we moved to Pupukea, where I live now – there are so many good spots around me.
Living on the North Shore, you're bound to meet pro surfers. Who are your favorites?
Oh yeah, tons. I've met Julian Wilson and John John Florence. I hang out with Freddy Patacchia quite a bit. He's been giving me advice on my surfing. My favorite is definitely John John, though.
Who's your biggest influence?
My dad. He's got a lot of knowledge in surfing, and my brothers help too. Freddy P, he has so much experience. He really helps me. My dad was the first one to push me into waves when I was young. My older brother helps out a lot, because he used to compete until he was like sixteen. I'm the only one that's really competitive.
Do you remember your first surfing experiences, having your dad push you into waves?
Yea! My dad and I were on the West side. He was pushing me into 1 foot white-wash double ups, and I was trying to slide down the line.
How do you balance school and surfing?
If I'm not surfing, then I'm doing school work. Also, I'm home schooled. My mom pushes me a lot in school, much like my dad pushing me in surfing. Sometimes I get behind and it takes a lot of work to catch up, like when I went to Maui recently.
Have you been on any surf trips, or plan to go?
I haven't been international yet, but I really want to soon. I've been to California – I really like Lower Trestles – and I've been on the other islands. Hopefully, when I'm old enough, I will be invited to do the Grom Games.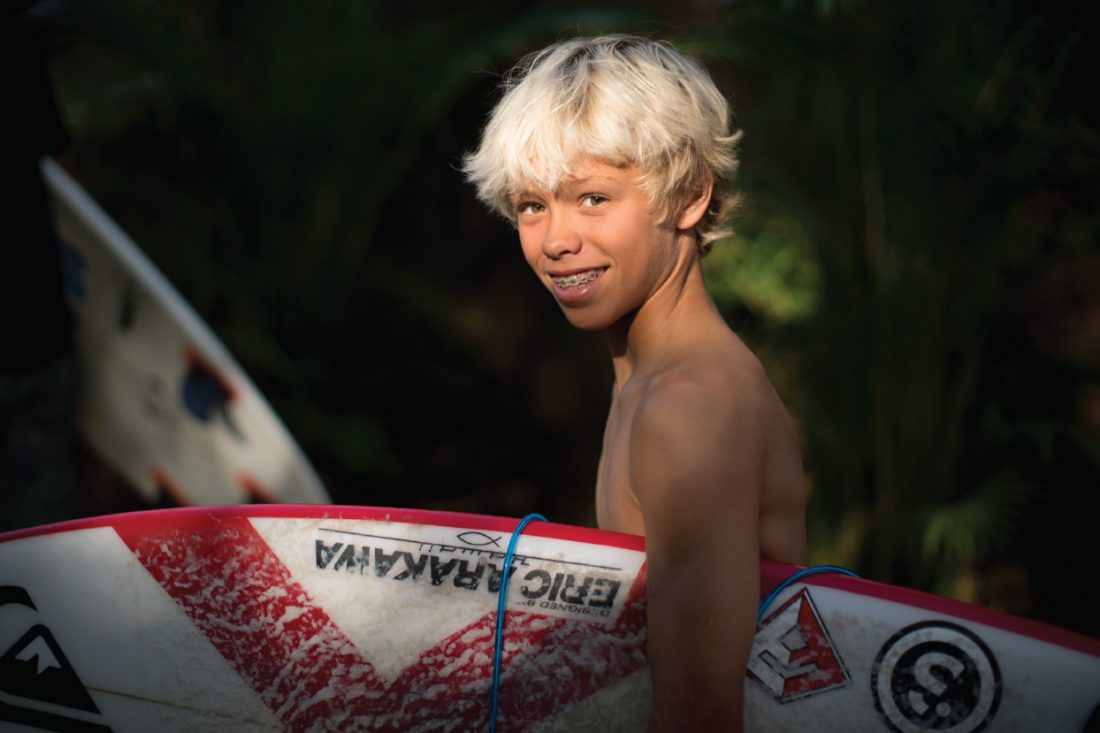 Where are your favorite surf spots?
Oh, man, there are so many. There's Lowers, I really like that one. Here I would say Rocky Point, it's a great wave. And Maui, Lahaina Harbor, that's a really cool wave!
Who are your sponsors?
Quiksilver, Mokulele Airlines, Freak Traction pads, Future fins, Eric Arakawa, and Surface sunscreen.
What do you do when you're not surfing?
Skate and go diving – I really like to go spearfishing, and school. I train too, work on flexibility and breath training. Spearfishing helps me work on breath holds and awareness.
What do you want to say to other groms out there?
When it comes to surfing, or anything in life, be focused. Do what you do and do it the best you can. Work hard.
pau