by Cash Lambert
"Nunez makes his mark on the national surfing stage" read the headline, in bold and black lettering. The article, dated in the Lahaina News over 3 years ago, came just after the goofyfooter earned a second place finish in the Minigrom Division and a third place in the Supergrom category at the annual NSSA in Huntington Beach, CA. The article then proceeded to liken Tony Nunez to other greats who originated from the same region, like Cheyne Magnusson, Clay Marzo and Granger Larsen. The NSSA Facebook page, which shared a link to the article at the time, noted "10-year-old Tony Nunez is the latest hot grom coming out of Maui who made his mark at the 2013 NSSA Nationals!"
Tony couldn't have been more exhilarated to be mentioned in the same sentence with such heavyweights and now, three years later, it's safe to say the young buck who attends Hawai'i Technology Academy continues to burn with the desire to be like his surfing heroes. So what has his daily regimen since his first explosive result looked like?
He's getting stronger (thanks to a love of wrestling), excelling in school (a 4.0), and keeping the upcoming Pro Juniors on his mind when laying down gouges on clean sections at Honolua Bay and Lahaina Harbor, not to mention having some fun along the way (snowboarding on vacation and entering the Civil Air Patrol Cadet Program).
We sat down with the fervent grom to discuss not only his beginnings and which pinnacle he desires his career to reach, but also who his biggest inspirations are, his thoughts on power surfing and how often he surfs with the ever elusive Clay Marzo.
What's your first surfing memory, Tony?
I remember spending the weekend an Launiupoko, surfing with my dad and learning from him. I was on a soft top, one of those WaveStorms and it was 1-2 foot. I was super excited, I didn't know what to think. I just remember standing up and going straight to the beach.
How did this evolve into you surfing full time now?
Over the weekends I would go and just surf a little more and more and started surfing 3 times a week and then started surfing every day.
Any recent contests?
I just I did the Keiki classic on the Big Island and came in second!
Who are your sponsors?
O'Neil, Kazuma surfboards, Dakine, Neff headwear, Mokulele Airlines
If you could surf with any professional surfer, who would it be?
Clay Marzo! He's my favorite surfer and he does huge airs. One time I was surfing with Matt Meola, Clay and another guy and there was this giant tiger shark so we all started coming in. It was pretty gnarly and we all washed up on the rocks and came in.
Do you surf with Clay often?
He only surfs by himself. You can never see him.
What are your favorite things to do other than surf?
I went snowboarding in December. It was pretty fun! I like wrestling too, I've been doing it a really long time. My older brother Nick started wrestling, and I watched him do it and then I started too.
What do you like so much about wrestling?
I like conditioning. It helps with training!
What about any other training regimens?
Pretty much just surf.
Let's talk about your quiver – what are you riding these days?
I have a 5'0 Kazuma, and a 4'11 and 5'3.
What goals do you have for surfing?
I want to start doing Pro Juniors soon and practice and train for that. Just surf and train every day.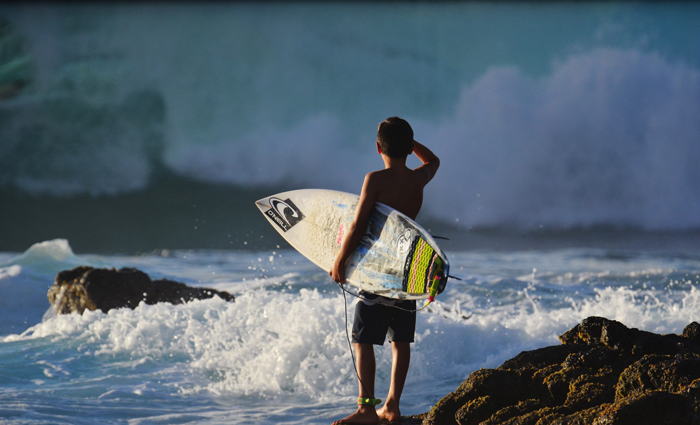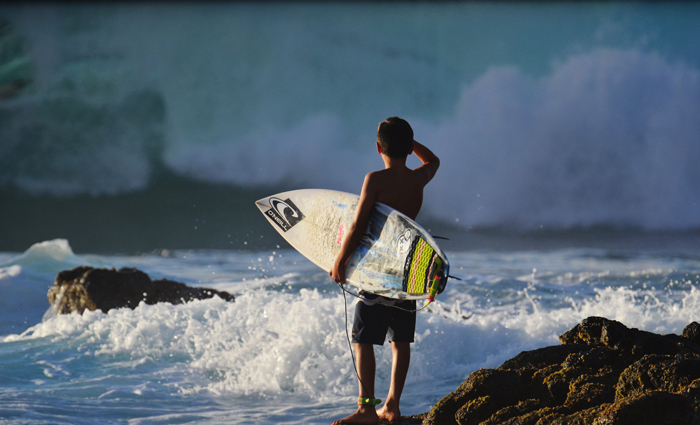 What about your favorite music? Have any recent songs or artists that you really like?
I like Tyga. Sonatine by Wiki too. It's a pretty sick song!
What do you think about power surfing?
I mainly do turns. I think that's the fun in surfing. Doing turns, it's going to take you farther. You can do turns in every condition. Airs aren't as reliable, but you can alway rely on powerful turns. I like Ezekiel Lau. He has so much power, he does everything, airs and turns.
If you had to choose between an air or turn, you'd choose a turn?
Yes! I think power surfing is going to make a comeback. I feel like so many people can do an air reverse and so many little kids can do an air reverse but so many can't do a proper turn.
Who are your role models?
My parents.
Why so?
They're doing good things in the community, they're both teachers and they've been educating kids.
How are your grades this year in school? You posted something about your report card on Instagram lately…
I got a 4.0!
What are your favorite subjects?
Math! I think it's fun. And I don't like history because it's pretty much all reading.
Why should we follow you on Instagram?
It's awesome and I put a lot of surfing on it!
Any recent travels?
I went to France, stayed with my friend. He lives over there lives by Hossegor, we were surfing and I was there for a month. My mom is French, and I'd been there a couple times. There were a bunch of tourists who didn't know what they were doing they paddled out. It was bombing and they got worked! The food is way better too. They have crepes and chocolate croissants and so many good deserts. This summer I'm going to Australia, Snapper Rock.
Last words for the Freesurf audience?
Surf and have fun. And thanks to all my sponsors!
pau