Much of the Hawaiian youth fantasizes about the chance to travel the world to compete in surfing, but it is a dream seldom realized. For those who accomplish their goal, it is even less likely to walk away from that goal to start an entirely new career separate from the surf industry and to become a financial success. Sean Yano is a Hawaiian who, despite all odds and an unconventional childhood, was able to rise and build multiple successful careers, accomplish many goals, foster a family of his own, and become an exemplary role model to his community.
With his successful career and his recent record-breaking north shore Oahu home sale of $12 million in partnership with childhood friend Matty Liu, one would never assume he grew up less fortunate. At only nine years old, Yano left Oregon, where his mother and most of his siblings had moved to from Hawaii, to return to Oahu and live with his 19-year-old sister and her new husband. Her sister's husband, musician Kawika Kahiapo, fostered Yano's love for the ocean and taught him to surf on his first surfboard ever- which he purchased for $10 at a swap meet. Yano was hooked and by 13 was competing and sponsored by HIC, Billabong, and Rip Curl.
From the outside, he had achieved the impossible, but living as a competitive surfer is expensive without the financial support from sponsors to travel to the competitions. When his premiere sponsor was forced to file bankruptcy, Yano's hope of the ASP World Tour halted, and he settled for PSAA national competitions. After years of living the competitive surfer's dream, Yano was not where he wanted to be in his career, and he knew it was not sustainable in the long term. As someone who had always had a business mind, he thought that sales within the surf industry might be the best next step.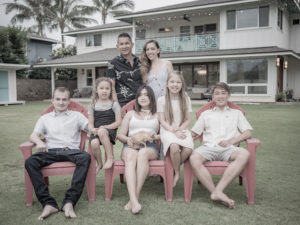 Yano was quick on his feet and inventive with his concepts, pushing products from the surf, skate and snow industry from mainland USA to Hawaii in ways that were not typical at the time, such as fashion shows and other large promotional events. His interest and skills in retail sales eventually led him to open the Modern Amusement Honolulu clothing boutique. However, the events of 9/11 caused permanent damage to his business, and he once again was forced to walk away from what he thought would be his career path. Yano changed direction a third time to pursue real estate. It was in this field where Yano excelled to the top, and at a quicker rate than anyone could have expected. While his journey has had many ups and downs, Yano says, "Everything I've done in the past has helped shaped the type of real estate agent I am today." He has built a team,YANOGROUP, under the larger branch of Locations Hawaii, and works hard to support his family of five children. He owns several investment properties and recently built his family's dream home in Kailua."I have no regrets in life," he tells us, "I truly believe it's the tough times in life that make you stronger. My siblings and I are all very close, and we value the times we spend together because we have been through so much in the past." Whenever Yano is not working or with his family, you can find him surfing or working with some of the non-profits he supports.
What are you most passionate about at this point in your life?
Eventually I would like to spend more time working with non-profit organizations but in the meantime, a portion of all my real estate sales earnings are donated to the Locations Foundation which supports various non-profits throughout the islands. I also receive a great amount of fulfillment in my real estate career, helping people in what is likely one of the most significant investments they'll make in their lives, whether it be first-time homebuyers, seasoned investors, or sellers. I look at what I do as a full service network for my clients, working with them to fulfill their dreams and move towards financial independence, with real estate just being one piece to that puzzle.
With a primary focus on the youth of Hawaii, he has hopes of helping them with everything from surfing to financial planning. He and Joel Centeio recently hosted the first Kailua Hurley Surf Club event for the Windward groms. He would also love for the opportunity to help come up with creative solutions to alleviate the homeless problem plaguing the island.
What is the main non-profit you are involved with currently?
In 2006, I started the Kailua Shorebreak Classic keiki surf contest with Mike Miller. The event is in memory of Peter Miller (Mike's twin brother), Jason Bogle, and David Aluli who all passed away within a short period. The contest has become one of the biggest annual community events in Kailua with many sponsors, and we raise money to support local non-profit organizations. The event is unlike any other surf contest because every one is a winner in the end with all contestants getting a free lunch and going home with a killer prize pack. It's free andopen to all kids 16 years old and under, and you will even see parents pushing their 2-year-olds into waves. Pro surfers and their groms come from all over the island and it keeps getting bigger every year.