By Chris Latronic
Hails from: Ewa Beach, Oahu
Age: 21
Ht: 5 ft. 3 in.
Wt: 148lbs.
Ethnicities: Hawaiian, Chinese, Portuguese, Italian, Japanese
Schooling: Moanalua Elm School, Ilima Intermediate, Part-time at Campbell High School, then finished with the Elite Element Academy (home school)
Pre sesh music: Rap, T.I. "Go Get It"
Fav. breakfast: Spinach mushroom onion omelet in a wrap
Fav. meal: Thai Food & Pho
Training: Nakoa Fitness
Sponsors: Fox Head Inc., Rockstar Energy Drink, Local Motion Surfboards, SOL REPUBLIC, Vertra Sunscreen, Pro-Lite, Fitted Hawai'i
Girlfriend: Yes
IG: @keanuasing
Let's start early on, how was your childhood growing up?
Growing up was pretty simple. My mom and dad didn't come from very much money, but we were a happy family and we were really close. My dad was a fighter for 30 years, so he was always into the fighter lifestyle. While my mom didn't play much sports, she was just the best mom in the world. Me and my sister ended up playing a lot of sports and our parents would do everything that they could to support us. We weren't rich in money; we were rich in love and support.
Your dad was a fighter?
He was a 3rd degree black belt in karate. All Hawai'i State Champion. That wasn't his only job, he had other jobs besides fighting. He worked for Oceanic Cable for many years. It was good; I think a lot of discipline and respect rubbed off on us throughout our lives from being around my father's love for martial arts.
Tell me about your first surfing experience?
Where I'm from isn't the best surf town, so we would go surf all over the island. I remember catching my first wave in Haleiwa on the little reform whitewater section, and then I caught my first wave by myself in Waikiki. I saw Tony Moniz surf by and spray me, and I thought that was the coolest thing. It made me psyched and wanting to catch one myself. I didn't know what I was doing, didn't even know how to duckdive. Luckily, Makamae DeSoto taught me how to do that and helped me get into position to catch my first wave.
Where did you start surfing regularly?
Hau Bush in Ewa Beach has always been my home break, that's where my roots are. That's the first place I started to surf consistently. I was only able to go down during the weekends when my family wasn't working. We stayed all day, surfed all day. As I got older, I would jam over there with my friends right after school and surf till dark. I'd always watch guys like Dustin Quizon and Joel Centeio, and thought they were so cool and I really wanted to be like them one day. I still go there to surf with my sister and my girlfriend, and check out all my friends out there. It's my base and my roots that have helped shape my surfing to what it is today.
Describe the point when you realized that you were hooked on surfing?
Ho, I'm getting chicken skin just thinking about it. I remember it clearly. I wasn't even surfing at the time, it was my sister. I was a kid just playing on the beach watching my sister surf. I really only did it because she did it. One day she won a new surfboard at the Rell Sunn Menehune Contest. It was a Rusty surfboard with the Little Mermaid on the front. My sister didn't want it because she was a longboarder, so my dad tried to give it to me. But I said no way with that Little Mermaid on it, that is not me. My dad says okay, and spray paints it all over and makes a sick design with a cool Tony Hawk logo covering the Little Mermaid. He showed it to me and I was like "All right! It's on!" I remember going out to Hau Bush and I thought I was ripping. I caught a couple waves, did a couple turns and some cutbacks, it felt super good. At that point I was hooked! The feeling of grabbing a surfboard, paddling out and feeling the purity of riding waves and being free in the ocean… It's almost like a drug now. I try to chase that feeling again, of being free every time I paddle out, and enjoy what I do for a living. I think surfing and the ocean found me that day.
You grew up in a progressive class of groms around your age bracket. Tell me about some of your most memorable competitive heats growing up.
I remember the first time I saw John John (Florence). The Menehune final was me, John John, Zeke Lau and Eli Olson. I was like ho! Who is this guy!? He was like Kelly Slater! Me and Zeke would just sit on the inside and John John paddled straight to the outside. We thought he was so crazy, he made me think, "I'm not that good at this haha". John John ended up winning the final by catching bombs on the outside while me, Zeke and Eli fought for scraps, trying to milk turns on the inside white water sections. That was my first real contest, I ended up finishing last but it was really encouraging.
We ended up competing a lot over the years, Zeke, Eli, John John and even Carissa (Moore). I remember surfing with Carissa and she would just smoke all the boys. Me and Ezekiel Lau are best friends now, but before we would always be butting heads at Kewalos. Everyday just battle, battle, battle… If it weren't for that though, I would not be the competitor I am today. Now looking back on everything, I feel blessed that we had each other, pushing each other at the youngest surfing level to the professional realm of today.
When did you know that professional surfing was the career path for you?
I always wanted to be a professional surfer. I thought it was so cool that these people could go out and do what they love and make money from it. When I was 10 years old I got picked up by my first real sponsor, Quiksilver, and I was ecstatic. I felt like I was never that good or had a freakish amount of talent, and I had to work hard for what I wanted. Nothing got handed to me. I would lose so much when I was young and I would get so bummed, but that's part of it. My dad told me, "Don't get bummed, you have to learn to lose before you learn to win." So let's just say I got really good at losing haha.
Tell me about some moments from the first contest you ever won?
It was a HASA contest at Sandy Beach. I made the 6-man final and it was really small. I remember getting a set wave and worked the right as far as I could. At this point I was so used to losing that I didn't care about the outcome, I just tried to surf my hardest and have fun. After we all came in, the announcer read off the scores from 6th on up, and I kept not hearing my name until the final placings. When I found out I won, I was so happy and surprised I claimed it super hard! That moment really struck my fire for trying to do better and win more contests.
What was your next marquee conquest after that?
At age 13 I went to Nationals with my dad as my sponsor and ended up getting 2nd in both the divisions I entered. That was a big stepping-stone for me because that's when I got picked up by Billabong and started working with Rainos Hayes. I knew a little about the game and knew how to play it to an extent, but while I was working with Rainos my vision became a lot clearer. My first contest being coached by Rainos, I made the semifinals of the Pro Junior at Sunset Beach that year and that was my very first pro junior. He helped me to be a complete competitor by teaching me to play the game better by making the best decisions in my heats. That's when I felt my career was starting to elevate.
Did you do a lot of traveling for the ISA World Juniors?
Yeah, I went to Portugal, France and Ecuador. The time we went to Ecuador I knew what I was going up against. The years prior, I saw the guys win and thought it was so out of reach for me. I mean, you have to surf a million heats just to get to the final. I just took it day by day and made it to the grand finals and Rainos told me, "You made it, this is it, you've done it, now you have to finish it." When I ended up winning I couldn't believe it. Taking Hawai'i on my back and representing Hawai'i to the fullest. Seeing all my friends and my team on the way in cheering on the beach, it was definitely a huge accomplishment in my life. After that I kind of went on a roll, won Nationals that year too. Good momentum that year, I was stoked.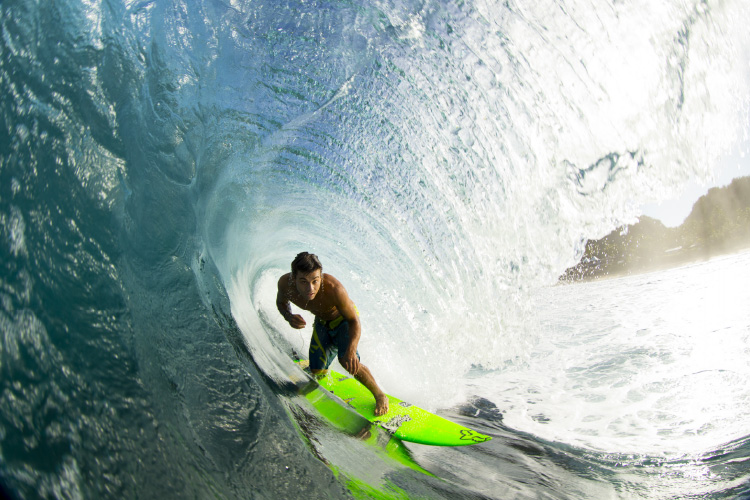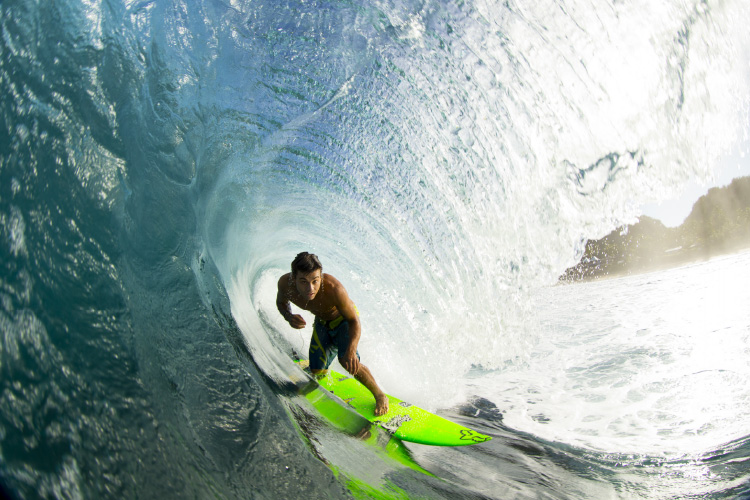 So you went on to compete in the Pro Junior circuit and a few professional WQS events as well. What were some of your biggest highlights competing in that run?
The 6-Star Pro Junior with Nat Young, Dillion Perillo and Chase Wilson in the final… I don't know what happened. I had a really good rhythm throughout the event and I ended up winning one the biggest events of my life.
I remember the first big Sunset I did was a big deal. Before the event, people were questioning whether I could make it in waves of consequence. That first morning of the HIC Sunset event, it was big and scary, but I ended up having so much fun. I turned my fears into fun and that resulted in me making the final and finishing in 3rd place overall. After that, I got into the top 100 and got into a few 6-Star Primes where I really got to see what the whole QS hustle was all about. I ended up losing my first heat but the learning experience will last forever.
A big test was when I got into an event in Brazil and didn't know anything about traveling or staying there. I went by myself, but luckily my friend Kiron Jabour helped me find accommodations. I got 3rd there, which was enough to get me into the Primes for the rest of the year.
Tell me about your move to San Clemente?
I moved to San Clemente for traveling and sponsorship reasons. Also, because I kind of grew up surfing there and competing at Nationals and such, so I'm pretty well acquainted with the place and feel very comfortable there. The second year I was there was pretty tough because I had gotten so used to my parents' support. Suddenly I had to do everything myself, from making my flights, paying my rent and bills, to making sure I was entering contests on time. It was pretty much my harsh transition from a boy to a man.
What's it like coming back home to Hawai'i after traveling throughout the year and living on the mainland?
I think my treat for myself is this moment right now. Coming home the other day was such the greatest treat. Flying in and seeing Ewa Beach, where I used to go to school… everything! It's just so refreshing to be home! I get to spend the holidays with my family and surf the best surf spots that I grew up surfing. I'm in a good position and just want to finish the year off strong. I just want to enjoy the moment and not lose sight of what I have to take care of and how much fun and how beautiful this place is.
Seems like you've achieved a lot of the goals you set for yourself already. So what's on the horizon?
Well, I really want to make it on to the World Championship Tour and be among the top surfers in the world. I believe I could compete and surf with those guys and fight with them on the top stage. I want to surf against the best surfers in the world and test my surfing limits. A world title is definitely a long-term goal, but I can't achieve that without setting smaller goals to help me get there. I'm never going to be as good as I want to be, I'll always want to be better. You're only as good as you are yesterday.
pau