By Shannon Reporting
Photos Keoki
Surfer Kirra Seale finds freedom by gliding off Oahu's shores. Ranked second on the Hawaiian Longboard Team just behind her friend, WSL Longboard World Champion Honolua Bloomfield, Kirra is in good company. Influenced by a long legacy of Hawaiian wave riders, this cross-stepping bombshell surfs with her heart on her sleeve. By finding her flow and tuning into the ocean's many moods and rhythms, Kirra is able to tune out the sometimes unpleasant nature of aggressive competition and rather zone into what she loves so much about the sport: personal growth.
Freesurf: Tell us a bit about growing up on Oahu. How did you learn to surf?
Kirra Seale: Growing up on Oahu was like a dream, something I will never take for granted. That is, having 7 miles of perfect waves all at your disposal. I don't think life could get any better. I learned to surf as soon as I could stand! My parents started me off on their short boards letting the wind push me down the Pipe tide pools. Then I got some floaties thrown on me and was positioned on the front of their longboards.
Why does longboarding call you? What's your favorite part about it?
I honestly love surfing any type of board that best suits the conditions, but longboarding definitely speaks to my heart. Longboarding is beautiful, smooth, and radiates gracefulness. I trip over my own two feet on land. But, in the water on my longboard, all my clumsiness washes away. With longboarding I feel like you can't force anything. You read the wave and the wave tells you what to do. That's probably my favorite part.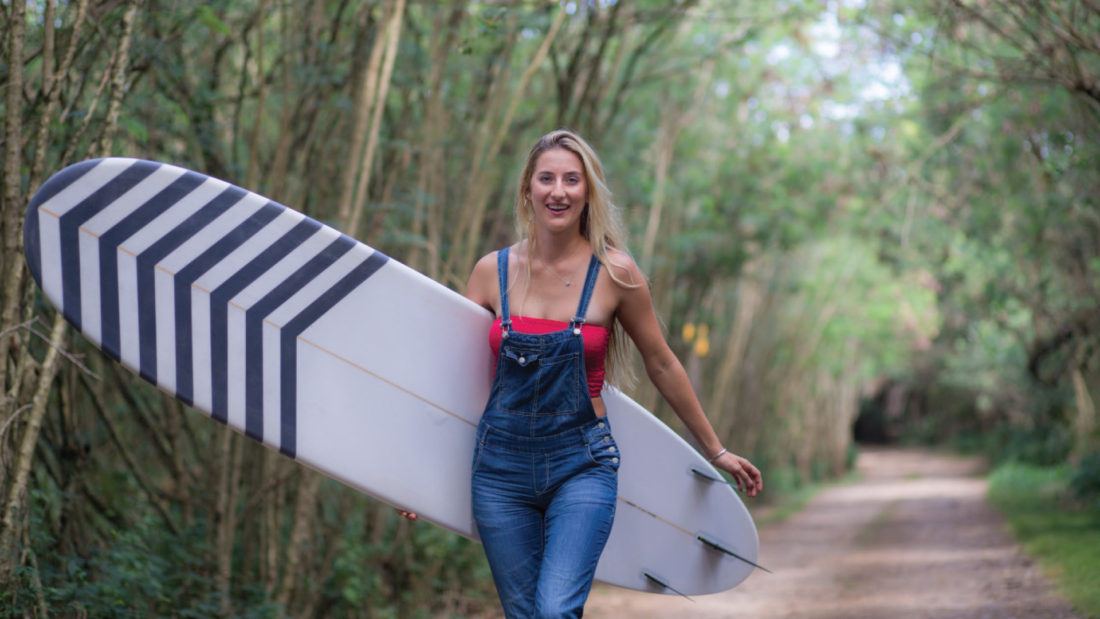 How did you get involved with the WSL Longboard Tour? Any highlights?
Growing up I competed on a shortboard. I stopped because I felt like contests took the fun out of surfing because everybody was so aggressive. However, with longboarding I thrive off competing. The reason being I am never competing with my opponents, I am competing with myself. I constantly push myself to do better. So in heats, I try to tune out everything else and focus on bettering myself which really helps me in maintaining my nerves and composure. The WSL Longboard Tour is every longboarders dream! That has definitely been my goal since I was a little girl. I honestly never thought it would happen, so I'm over the moon that I will be competing on Tour.
Describe your quiver.
Ahhh the quiver, my favorite part! My quiver ranges from a 5'4 twin fin, to a 9'8 Log. I've got a fun 6'0 single fin. My shortboard is a 5'10. I've got quads, thrusters, single fins, twin fins. You name it, I'll ride it. Now, my longboards are more my secret weapons. So I'll keep those hush-hush. Kyle Bernhardt and I have been working together and his boards are amazing! I finally feel like I am surfing to my potential. I never enjoyed riding a Hi performance longboard until I got on a Black Pearl surfboard. The ones I compete on are anywhere between a 9'0 and a 9'5.
How does surfing empower you? Any advice to fellow wahine that dream of surfing professionally?
Surfing is everything to me. My life revolves around the surf, and surfing makes me feel whole. It washes away all the anxiety and worries of the day. So it empowers, because it refreshes me and grounds me, as well as humbles me when I get a set on the head! My advice to fellow wahine would be to just do you! Surf with the style and grace of you. Don't ever give up and always do it for fun. Because when it's truly enjoyable, everything else falls into place.