Hometown: Huahine, French Polynesia
DOB: December 2, 1999
Sponsors: Roxy, Air Tahiti Nui, Channel Islands Surfboards, Dakine, Raimana World, Jeewin Sunscreen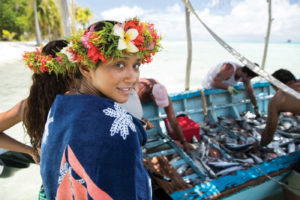 Vahine Fierro is more than a surfer. She is human sunlight, radiating a magnetic energy that has drawn support and attention from some of the biggest names in the industry. She lives with aloha, sharing kindness to everyone she comes in contact with and approaching everything in her life with positivity and a motivation to perform with dignity and prowess. Her name represents womanhood and femininity, which this Roxy girl embraces while still competing on a level that would make any man thankful he doesn't have to worry about pulling her in a heat draw. Her graciousness masks her ferocious tenacity until it's time to rip a wave open and drain it of every point she seeks, which is how she got her second place finish at the Wahine Pipe Pro at the beginning of the year and a smashing recent victory at the Turtle Bay Resort Pro. She has her eyes set on the World Surf League Championship Tour, but her heart is with her family — she still rides surfboards shaped by her father, even after being picked up recently by Al Merrick to incorporate his Channel Islands shapes into her quiver — and her community, a tiny island 30 minutes from Tahiti by plane, a place whose praises she cannot sing loudly enough.
Freesurf: What was it like growing up in Tahiti?
Vahine Fierro: Tahiti is special, but Huahine is even more special. We have perfect waves with literally nobody out. It's warm, the people are so friendly and the food is so healthy! When I travel to Hawaii or other places, it makes me appreciate home even more because Hawaii is pretty crowded in the water, and in other places it gets cold and you have to put your wetsuit on. In Huahine, I wake up early with my family, go down the hill, turn my boat on, drive for three minutes, and I get to choose if I want to go right or left. I can never decide because both are perfect with no one out, and then I do the same thing in the evening! There is no words to describe it. I love how everything is connected with nature.
What are your favorite breaks in Tahiti and in Hawaii?
On my island, I will keep it a secret, but in Tahiti my favorite places to surf are on the south side towards Teahupo'o. There's good lefts and rights. I do surf Teahupo'o. It's a very impressive wave. In Hawaii, my favorite wave is Pipeline.
What's it like being a Roxy girl and who are you closest with on the team?
Being a Roxy girl has always been my dream. I got picked up two years ago and a surfer from Tahiti matches perfect with Roxy because we are island girls. Roxy takes such good care of me! My sister Heimiti got picked up by Roxy too, so obviously her but Leila Riccubuano as well.
How did you start surfing?
My dad started teaching me when I was five. I learned at a reef break because we do not have any beach breaks on my island. On my first wave, my dad was on the back on the surfboard and I stood up because he couldn't push me. It was the best feeling ever.
Talk to us about your victory at the Turtle Bay Resort Pro.
Winning Turtle Bay was so cool because I lost in the semifinals in the Pro Juniors, so I was thinking there is no way I'm losing in the QS too. My favorite memory is my Tahitian crew throwing me in the pool when I won — they carried me from the beach and threw me in the pool in front of everybody.
Your name literally means "woman" and you're one of three sisters — what do you think is most important for girls and women living in today's world to remember in order to succeed?
Yes we are three sisters! It's funny because we look like girls, always wearing a bikini, but in the water we act like boys. We want to surf like boys and I think it's good when girls show that yes, they can catch big waves or they can do what boys do, because usually people would say that's for the boys but no girls can do it too!
How many languages do you speak?
I speak Tahitian, French, English, and Spanish because my dad is half American/Mexican and my mom is Tahitian.
You're a very talented Tahitian dancer — how does that add to your life and your surfing?
My mom made sure we speak our language and dance because nowadays, the teenagers don't speak Tahitian! Dancing is so fun, it's another kind of surfing for me. You have to dance with grace and I love it, and I think it's related to my surfing too. When there's parties or we go to people's houses, we will always do a little show with my sisters.
What are your goals in surfing?
My goal is to qualify for the CT.
Last words for the Freesurf audience?
Always have fun, be kind, and always go hard because we only live once.