By Cash Lambert
Photos: Spencer Suitt
"You have to sneak up on it!" Bettylou 'Sakura' Johnson tells me while sitting at a table in Ehukai Beach Park, listening to the Pacific fizzing a few yards away. But neither that sound nor the soft rain has caughtthe 10-year-old's hazel eyes; instead, she's focusing on a chicken timidly strutting by.
A slow grin appears underneath her rose colored hat as she blurts out, "I like to chase and catch them!" Which perfectly describes the Haleiwa-native's short but bright surfing career to date.
In 2012, sweet Sakura appeared at the annual North Shore Menehune Surfing Championships quiet and kind and wanting to have fun. But once the contest jersey slipped on, Sakura snuck up, chased, caught and outscored her (sometimes older) competitors with an explosion of paddle battles and crisp bottom turns and hacks off every clean section she could find.
The 5th grade wahine now has three consecutive first place finishes at Haleiwa's annual event, along with a sponsorship from Luli Luli Bikinis and an impressive quiver from Sunset Beach's Tim Carroll. More important than Sakura's meaty recipe for success is a humble desire to let her surfing speak for itself, something she's modeling after her favorite pro surfer (and former World Champion) who also calls Hawaii home. Hey Carissa Moore, did you chase chickens too?
When did you start surfing?
I remember surfing the board my [younger] brother is riding right now, catching the whitewash in Haleiwa. (Sakura's mother – Shinobu Johnson – chimes in because of her daughter's soft and quiet demeanor)…The first time Sakura surfed was at the Menehune contest in the Kokua division. I pushed her in, and Dad caught her on the inside. She was close to six years old. She never surfed before that and we decided to give it a try. We still have a picture of that wave.
Sakura, how did you place at the
recent North Shore Menehune Surfing Championships in October?
I did my best. And I won! On the day of the final it was a little bit small and we had a paddle battle for some of the little waves. It was small and only once in awhile some waves came in. I caught seven waves and I found out I won at the very end of the whole thing. It felt amazing! I wanted to have fun and also win.
What's your favorite thing about competing?
I love to try and win and I like to see my friends.
Tell us about your quiver.
So far I'm riding a pink board with blue stripes on the end of the board. It's a 4'8 and I really like that board. When it's bigger I ride my 4'10" and this year I've been riding my 4'8. They are all from Tim Carroll.
Who's your favorite surfer and why?
Carissa Moore because when I see her on TV she has powerful turns and she's very humble. She smiles a lot, too.
Can you tell us about your worst wipeout?
My worst wipeout was when I went over the falls at V-Land. I was paddling for a wave and I was a little bit too late. I still stood up… and I saw the wave was too steep so I jumped off and my board was still stuck. I got sucked all the way down.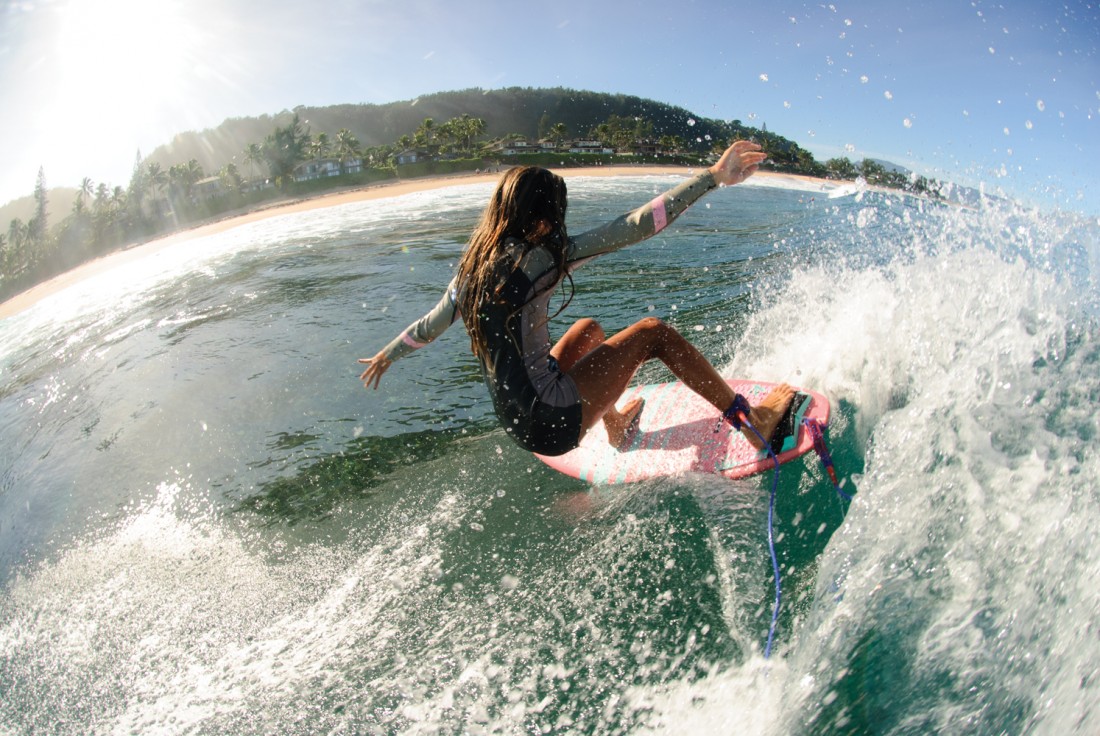 What are your surfing goals?
I want to keep surfing and get more sponsors.
Any hobbies outside of surfing?
I like to skate, dirt bike and go to gymnastics.
The biggest wave you've ever surfed?
Haleiwa was the biggest last year, I was nervous. It was maybe 6 feet.
What's your pre-surf meal?
Bananas, yogurt, smoothies, pancakes and an acai bowl.
What about post-surf meal?
Snacks! If I'm thirsty then coconut water, sometimes juice boxes.
Do you have a favorite song to listen to before surfing?
"Sugar", "Locked Away" or "Riptide".
What do you like the most about winter on the North Shore?
The waves! The swell comes and also it's not always as hot. It's breezy.
Do you have any plans for this winter?
Surf and watch the contests. And charge!
Favorite wave on the North Shore?
Chuns.
Favorite subject in school?
Art or math.
Favorite move on a surfboard?
Tailslide!
Favorite thing to do on the North Shore?
Surf, skate and hang out with my friends. Chasing chickens too! I run around and chase them and try to catch them. It's fun.