By Cash Lambert
Luke Heflin has a secret. And it doesn't matter how frequently you ask or how you pose the question, either way the 12-year-old will remain tight lipped about the whereabouts of his Secret Surf Spot. The only hints the San Clemente native provides is that to get there, it "requires 4 wheel drive", is "north of Kona" and is "a super fun, super private shallow spot with some parts that are sketchy." Another detail: the Kona transplant's pre-surf song of choice while venturing to this phantom break is Alan Jackson's 'That's Where I Belong', which swoons: Where the sky meets the water/Where the wind is my song/Where the sun is my brother/That's where I belong. But the information stops cold there. Luke won't even divulge the needed swell direction because that "could give it away."
What isn't a secret across the Big Island is Luke's surfing prowess, put on display at places like Banyans (and his Secret Spot): dropping from the sky with no rail grab. Hunting clean sections for blasting carves. Speeding up wedging ramps. Pretending that the razor sharp reef below is nothing but a bed of pillows.
Also contributing to his local lore, other than the visual aesthetic, is a stamp of approval earned from big wave and waterman icon Shane Dorian. "At a recent Keiki Classic, he told me I was charging and
that I did really good," Luke says, sounding as though his brain is moving too fast for his mouth to keep up. "He posted a picture on his Instagram of me on a wave. That made my day!"
While we could ask Shane to pull the exact location of Secret Spot out of Luke, we decided to let it rest and ask the grom other questions. Why? As Luke's popularity continues to grow (he's currently sponsored by Mokulele Airlines and More Than Sport), so will his following and it's only a matter of time until the beach at his beloved Secret Spot is filled with an Instagram-wielding audience.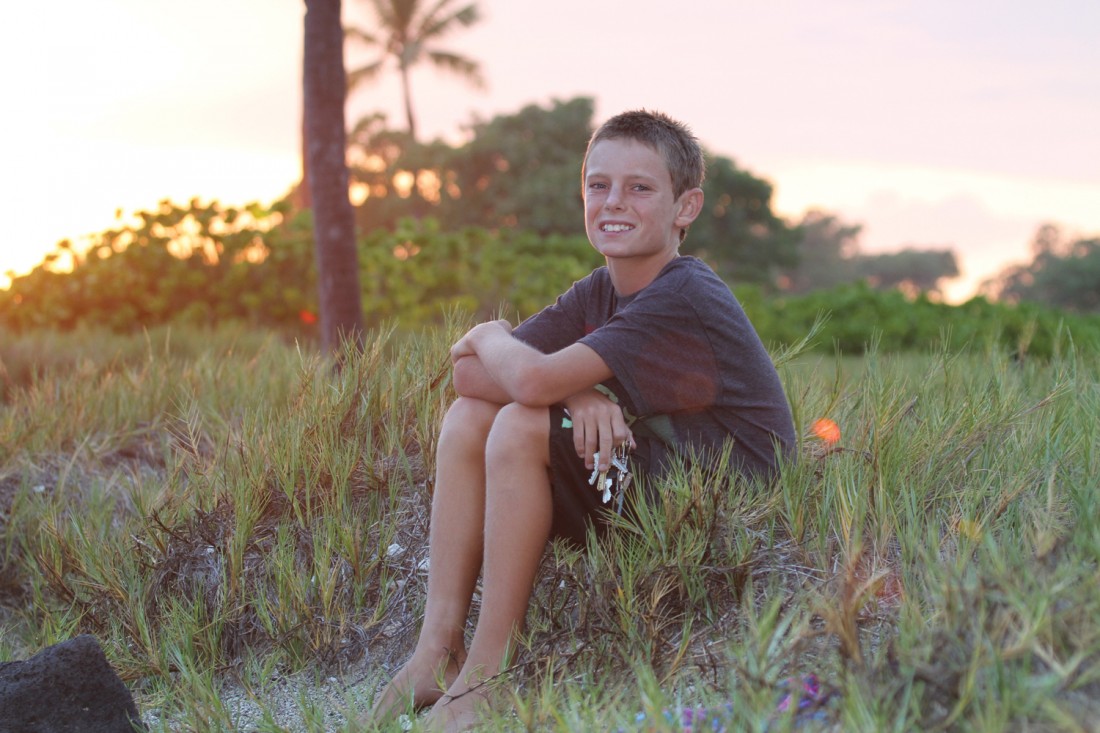 What's your first surfing memory?
My dad was pushing me into waves at El Morro when I was 3 years old. I always wanted to surf…like everyday and it was super fun. My dad fishes for a living, and he also takes me surfing a lot and takes pictures of me.
Favorite surf spot?
My secret surf spot. It requires 4 wheel drive and it's north of Kona.
It's super fun, a shallow spot that is super hollow and it doesn't get crowded at all. It's super private and there's some parts that are sketchy. There are lots of rocks, like big ones in the road and you have to drive around them. I look at Surfline and see what the waves are doing and if it's hitting there I'll usually go.
Can you give us the swell direction the spot needs?
I can't give you the swell direction. I think that will give it away.
How do you balance surfing and school?
My parents let me surf when it's really good before school and when it's flat I study hard to make sure I get everything done. But I like reading because I like learning from books.
Favorite pro surfer?
Shane Dorian because he always charges and goes big and pushes his own limits. And Torrey Meister because he rips really hard and is always encouraging me. They both come to the Keiki Classic every year and we talk on Instagram. In the Keiki Classic one year, Shane like really made my day because he said I was charging. It made me feel really good. Shane posted a picture of me on a wave at that Keiki Classic and that made my day too.
Surfing goals?
I want to be a pro surfer. I want to do both freesurf and contest surfing. I want to try to make it on the World Tour.
What do you think it will take to achieve these goals?
Practice everyday, surf everyday and keep going to what you think you can do.
What are you doing during the North Shore winter?
I just ordered a board recently from Bret boards. I might come over to the North Shore to get it and surf but I'm not sure yet.
How is surfing on the big island different from the North Shore?
Some places on the North Shore have lots of sand. Here it's all reef.
Who's your biggest inspiration?
My Dad, because he always wants to do what I do. I really like what he does. He's a fisherman on the Marlin Magic 2.
If you could surf with one person, who would it be and why?
I would pick my Dad because we like to share waves and do turns around each other. That's when I have the most fun.
What's been your worst wipeout?
At Banyans! On a big day I dropped in too deep and did cartwheels down the wave. I got held under forever and got dragged across the reef a couple times. Got a couple scratches on me…but it's all good.
What makes you nervous?
Sometimes I get nervous when I see big waves coming on swell charts. Like big big waves. I want to surf them but I kinda get nervous at the same time.
Hobbies other than surfing?
I like skating and fishing. My dad recently took me out and I caught 2 Blue Marlins. We trolled around the grounds and there were lots of birds… when you see birds it's a good sign. Then the fish started jumping and I was so stoked. We smoked the Marlin with our friends. It was delicious!
Instagram name?
@lukeheflin
What boards are you currently riding?
Bret boards. I've been on a 4' 10" and it depends what kind of day it is. On smaller days I like riding my 4'9" and on big days I'll ride my 4'10".
Dream surf trip?
I'd love to go surfing in Tavarua and Bali.
Now we're going to do rapid fire questions. Here we go:
Skateboard or snowboard? Skateboard
Leash or no leash? When it's small waves no leash. Maybe. But
I usually prefer leash because of the reef here on the Big Island. There's lots of reef over here.
Air or barrel? Barrels. And turns!
Snorkeling or swimming? When I exercise, I like snorkeling and checking out the reef. Just seeing what I surf over.
Burger or Chicken Fingers? Chicken fingers!
Rashguards or Tshirt? I use a long sleeve white rashguard.
Pushups or Situps? Pushups.
Dogs or cats? Dogs.
TV or videogames? TV.
Town or country? Country.
Any last words for the Freesurf audience? Do what love! Or something like that.