Big Surf Season is fast approaching and so are the world best athlete's to test their mettle in the most prestigious surfing series on the planet!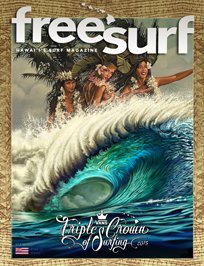 The Van's Triple Crown of Surfing will be held on Oahu's Northshore between early November and Mid December and the November Edition of Freesurf Magazine will serve as the Official Local Program to all three events.
With 20,000 total issues printed special allocations will be made to pass out 1500 copies at each event!
If you are looking to have your business or service known the pre chrismas November edition is truly a great option.
For space reservations contact me via email at ml@freesurfmagazine.com or call my cell at 808-927-1940 or our office at 808 638 7395