Words by Keoki Saguibo
ALA MOANA BOWLS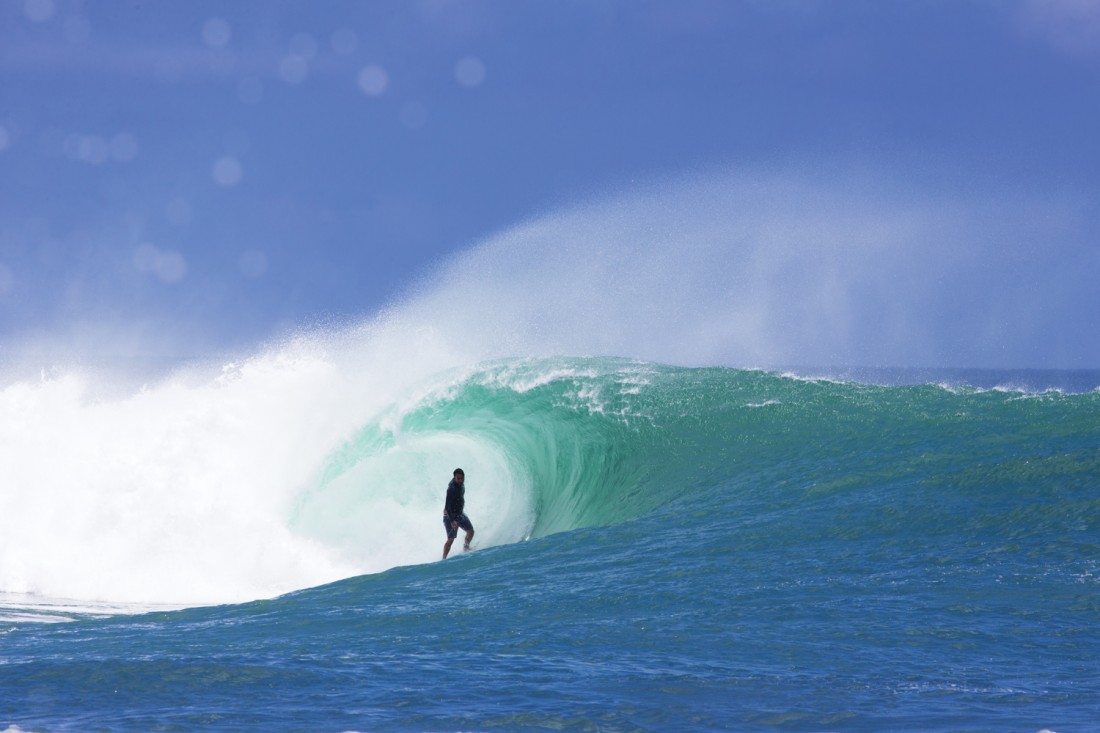 HISTORY: In the early 1950's, as part of  a construction project to connect Kewalo Basin and the Ala Wai Small Boat Yacht Harbor, Hawaiian Dredging Co. excavated more than 280,000 cubic feet of dirt and coral to join the two harbors. What was done in the past made way for the future – South Shore's most iconic left-hand reef break, Ala Moana Bowls. Known to some legendary waterman as the birthplace of modern day tube riding, 'Bowls', as it's popularly known today, is town's version of Pipeline.
THE WAVE: Bowls has two main peaks, Middles and the Big Bowl. When waves are in the shoulder to head-high range, Middles is the dominant peak with a fast peeling wall. Middles is ideal for progressive surfing, which is why the majority of the south side's surf contests take place here. When the waves are in the head- high to over-head range, waves break on the Big Bowl. When Big Bowl turns on, the wave shifts into a wide, churning barrel that resembles the likes of Pipeline and Teahupo'o.
THE CROWD: On any given day at Bowls, you'll find that the groomed left-hander houses one of the most crowded lineups on the South Shore. From college students and nine-to-fivers to groms and locals, all converge at Bowls to get their daily wave fix. There are a few, humble locals that call Bowls their home break, like Mike Akima, Bryan Amona, Randall Paulson and Kekoa Cazimero, all who can be seen on the best and biggest days that Bowls throws at them. Put it all together and you have a melting pot of talent that makes Ala Moana Bowls the go to south shore wave of choice.
QUEENS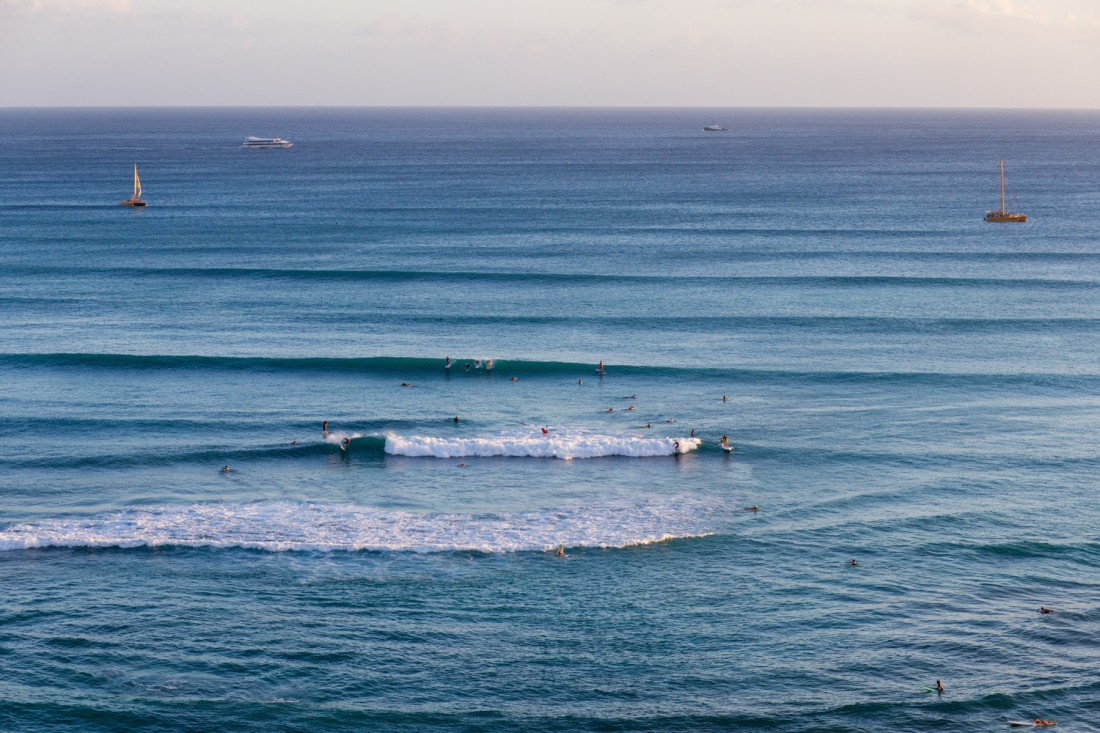 HISTORY: Queens sits on one of the most iconic stretches of beach in the world, Waikiki, and on the foot of Mt. Le'ahi (a.k.a. Diamond Head). Locals say Queens got its name from Queen Liliuokalani, who once surfed the break frequently and also had a beach house with a pier further south of the break toward Walls. Queens is also where Duke Kahanamoku, the father of surfing, ended his legendary ride of more than three thousand yards (1.8 miles) from outside Castles – notably the longest ride on a surfboard in Hawai'i and a feat that has gone unbroken to this day.
THE WAVE: Queens is a slow rolling, mellow, playful wave, perfectly groomed for longboarding, and is home to the majority of longboarding contests in Hawai'i. When the waves are in the shoulder to head-high range, there's a hollower, fast inside section that turns into a skate ramp-like wave allowing for aerials and progressive surfing.
THE CROWD: With a mixed bag of options, you'll find a crowd that is unique all in its own. On any given day at Queens, you'll see longboards, fishes, bodyboards, beginner to advanced surfers, tourists on brightly colored doughnut floaties, stand up paddlers and canoes populating the crowded lineup. Queens has a unique Hawai'i feel that is drenched in surf history. When surfing at this break, you can't help but feel like you belong to something bigger, as if adding to the history and prestige of the spot with every ride. Queens seems to entice you to catch one more last wave under the view of Mt. Le'ahi, sharing in the stoke and beauty that millions of visitors and locals alike enjoy.
KEWALOS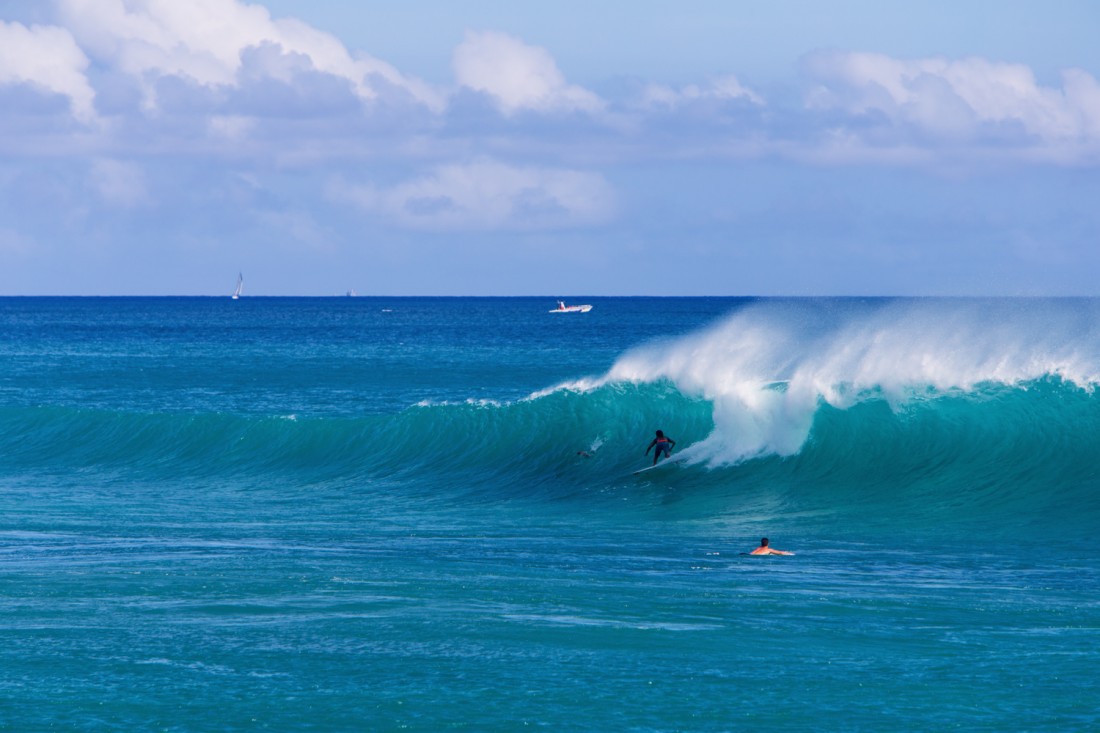 HISTORY: Considered a swell magnet of the South Shore, Kewalos is a go to spot to wet your surf palate. But it wasn't always this way. Kewalo Basin harbor used to be a shallow reef that surrounded a section of deep water, ideal for canoe landing during pre contact days. In 1919 the Hawai'i Government approved a harbor extension to relieve congestion from the Honolulu Harbor and in 1924 offshore dredging began. Built during the 1920s, today Kewalos is still home to charter vessels and commercial fishing fleets, and is also now a South Shore version of Rocky Point.
THE WAVE: The wave starts at the point of Kewalos channel giving surfers the option to go left or right. On the left, you'll find a semi- closeout peak on the outside that makes its way into a wedgy, rippable reform on the inside. The right is a little more daunting than the left because of the natural topography of the reef, which also breaks the wave into sections, offering a launch pad into the trade winds – a favorite for today's progressive surfing talents.
THE CROWD: Once known as a heavy local spot, Kewalos now has a mellower vibe, transitioning into a family-oriented beach park with BBQ's and pop-up tents. On any given day out in the water at Kewalos you'll find the artistic show of Ezekiel Lau, Josh and Seth Moniz, Cole and Kylen Yamakawa, Noa Mizuno and Nick Mita, to name a few mainstays. Kewalos is also the hub for Oahu's frothing groms and micro pro's, who decimate each and every section thrown at them. This in turn makes the wave an ideal venue for some of the state's most prestigious grom surfing contests.