By Chris Latronic   Photos Tony Heff
The Moniz family is unlike any other. Talented in all aspects of life, they excel most in ocean sports,specifically surfing. In the middle of this legendary ohana lies the young Josh Moniz. I've known the Moniz family most of my life and remember multiple instances where Uncle Tony Moniz would bring keiki-sized Josh, Seth, Isaiah, Micah, and Kelia out to the North Shore to surf, and even in their small forms everyone could see glimpses of prophesied greatness in each of them.
Unlike young Seth, who pretty much kept the same body frame since his childhood (just added mass), Josh was slightly more on the 'plump' side, like a 'mini-me' version of Tony Moniz at peak 'dad-bod'. But that didn't matter to the ever-smiling Joshy, who was always sitting deeper than his brothers as he tried to charm waves off the local regulars (including me). This attitude in the lineup seemed to carry over to his adolescence and adulthood as he began to transition to a professional run at competitive surfing.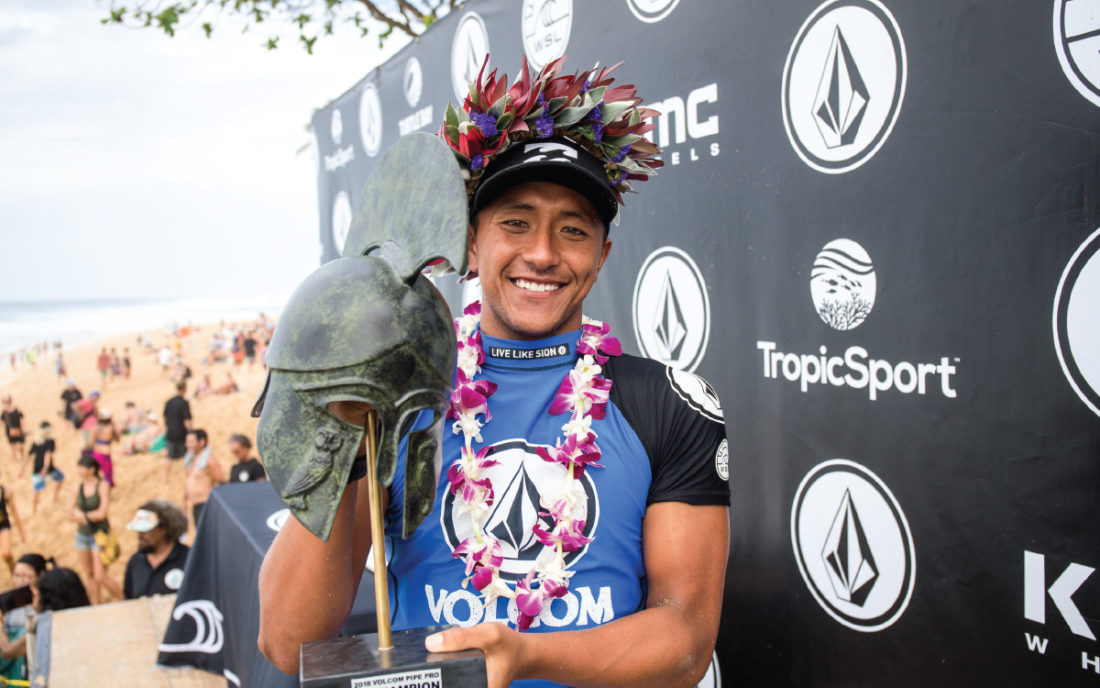 Through all the ups and downs, Josh kept battling through adversity and the ranks of surfing's top juniors and elites, even taking gold medal honors in the under 18 division at the ISA World Surfing Championships as a searing underdog in Nicaragua. Now ascended from the junior ranks, Josh Moniz is on the hunt for bigger surfing accolades, beginning with this year's first consequential Qualifying Series contest, the Volcom Pipe Pro. In doing so, he's made history.
We were fortunate to catch up with the newly crowned Volcom Pipe Pro champion fresh off the biggest win of his career about how he gave away the final…but still got to keep it.
Chris Latronic: So Josh, I've watched you grow up from a kid to a man, how's life as a 21-year-old pro surfer?
Josh Moniz: It's great. I always dreamed of this time, being older and on the road, and it's exactly what I thought pro surfing would be. A lot of good times, a lot of traveling with my friends, and just enjoying all the benefits we get from surfing new places and seeing new locations every year.
CL: How long have you been traveling around and doing the QS (WSL Qualifying Series)?
JM: I've been traveling around and doing the QS now for about three years. I've kinda only been taking it seriously for the last two years. This is my second full year of really going for it and wanting to compete at this level.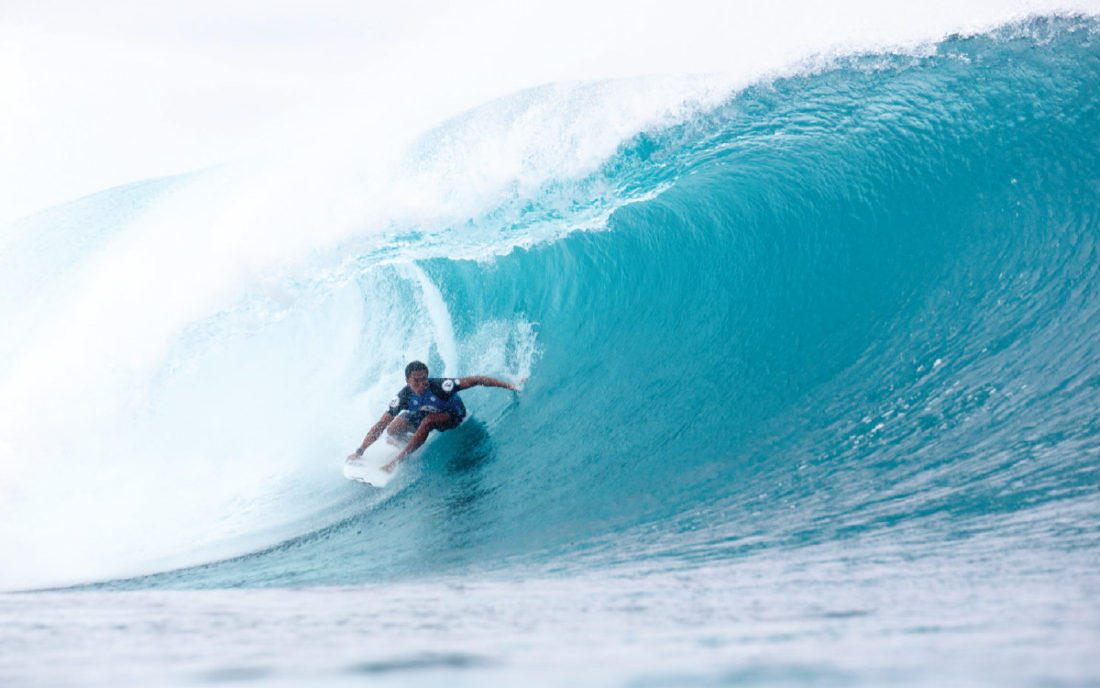 CL: What is it like to be chasing results on tour and what were some of your other standout performances on the QS?
JM: Chasing events around the world is pretty rough. The QS is nothing like how the Volcom [Pipe Pro] went for me, (laughs) especially wave-wise. We surf pretty below average waves where a lot of these events are held. My past best results have been [from] my first year on the road – I won a QS 3,000 in Martinique which was for sure my biggest win prior to the Volcom Pipe Pro. Besides that, I just had a couple good showings. In South Africa [Ballito Pro] I got 9th, and last year in Australia [Australian Open] I got 5th. But I had kind of a bumpy road. I'd do really well in an event, and then have a run of bad events, so It's been pretty up and down.
CL: Tell me about the win in Martinique – what made that special?
JM: My win in Martinique came really quick. That was actually my first event I went on by myself on the road. I was pretty surprised. It was a great event, the waves were pumping. Besides the Volcom Pro, those were the best waves I had surfed in an event. It's this long right hand point break. That was a great event for me. The win just kinda happened naturally. Everything was just going my way; I was getting great waves and it was a fun event. I still can't believe I won that young, out on the road by myself in a random country. I somehow just put it all together.
CL: What kind of training do you do to prepare, and how has it changed from that first event to what you're doing now and before the Volcom Pro?
JM: Yeah, my training has done a full 180-turn from when I first jumped on the QS to now (laughs). When I first jumped on, I was doing whatever, I [was] waking up whenever I wanted to. I had no responsibilities, no one telling me to do anything. I was pretty much cruising, (laughs); pretty much what you'd picture a surfer doing. Just surfing whenever I wanted to surf, not training, just out there on the road thinking I was going to be able to just compete with everyone but that definitely didn't happen (laughs). I had a long learning experience. Now I train a lot with Darrin Yap at Tactical Strength and Conditioning. I train a lot with my younger brother Seth and Ezekiel Lau. [Darrin] has been taking us under his wing and pushing us and pretty much teaching us that you can't just show up at these events and think you're going to do well, because that's not how it works anymore. It's been fun the last couple years of training and learning a lot. It's been a great learning experience for me, for sure.
CL: How did that [training] prepare you and what was your mindset going into the Volcom Pipe Pro?
JM: Honestly, I wasn't super focused on winning this event. I was watching my little brother (Seth) the week before in the Backdoor Shootout and he was just getting the craziest waves so I was like, 'I don't care about winning or anything, I just want to get good waves and get barreled.' That's all I cared about.
CL: Tell me about the conditions that day and a little about the heats leading up to the final.
JM: Actually, I struggled in my first couple of heats because I've never surfed waves that good in a contest and it was just messing with my head so much. I was freaked out thinking I could get my best barrels ever at Pipe and Backdoor right now and that's all I could think of. I paddled over a couple waves, just overthinking things and doing things I normally wouldn't do. I got pretty lucky in my first couple of heats, just squeaking by and only towards the semifinals did I realize I needed to just surf. I knew what I needed to do, I've done it a hundred times freesurfing out there. But it was the craziest feeling being in an event at pipeline when the waves were that perfect. It was the first time I had offshore heats at Pipe and everything was just perfect. It was the perfect day.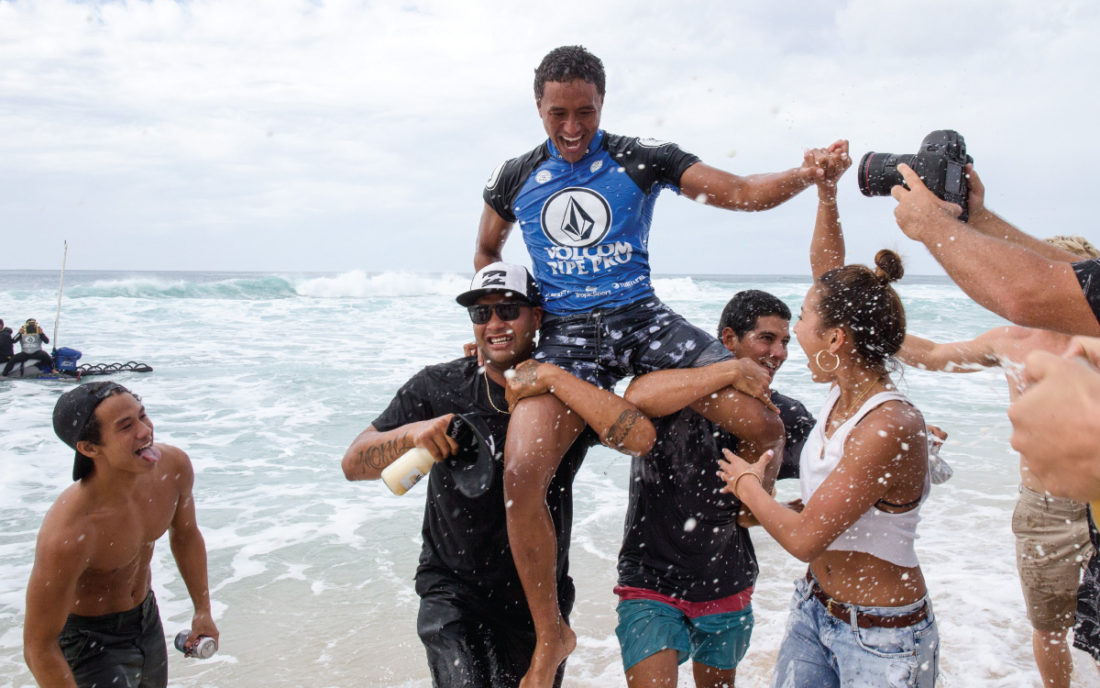 CL: That's cool to hear you didn't have heavy expectations going into the Volcom Pipe Pro, but as you progressed beyond the semifinals, how did your perspective change?
JM: Yeah, my perspective definitely changed as I got deeper into the event. Once they blew the horn for my semifinal heat, I thought, 'Whoa. I have a shot at winning this,' and that's when I started focusing on trying to win. I didn't really change my gameplan up or anything in the final. But to win at Pipe going left was big for me. A lot of times I go right just because I'm regular foot and it's easier for me to find the waves. I love going left though. That's what it's all about at Pipe – getting big barrels on the left. That was actually my goal this winter, was to stop going right as much and find some lefts.
CL: It definitely paid off! Let's talk about about the priority situation in the final. You had priority when Jamie O'Brien got his 10 point ride. You pretty much gave him that 10. I actually saw you paddle for it. Did you think you weren't in position, or what happened? Walk us through that heat.
JM: Yeah, being in the final with Jamie was crazy. At the start of the heat, I knew he'd want pole position since we were all the younger boys in the final. I knew he wasn't going to give us his inside. So I let him get his wave, which you should probably never let Jamie do, (laughs) but I gave him that respect. He got a seven point ride, came right back out and backed it up with a five. After he did that I thought, 'Oh no. He has his momentum right now and I don't even have a wave.' So I just realized I had to stop thinking about him immediately and just focus on what I'm doing. I held priority for a while, like 10 minutes or 11 minutes and didn't catch a wave. Then I got my first eight [point ride]. It was just a perfect Pipe wave and pretty easy. I just knew I had to get to the bottom, start pumping, and get out before it didn't let me. I paddled back out and backed it up quickly with a six and then had the lead. Paddling back out, I had last priority and I knew Jamie needed a pretty good score at that point, like a seven or an eight. Then a set came and everyone caught waves, so I ended up out there with first priority and that's when I started panicking (laughs). I was just thinking, 'Oh my god, I'm leading and could win this contest, and Jamie is in it, and the waves are firing!' I kept thinking I just have to stay in the moment, but I was so far away from there. But I definitely knew I didn't have it in the bag yet because Jamie is a freak out there, I mean, he's the best. I just started overthinking things. I saw the wave come in, I paddled for it, and I honestly don't even remember how it happened but I saw Jamie there kicking for it and the next thing I knew the wave was gone. I knew the wave was good, and as soon as he stood up my mind just went blank. I was like, 'Wow, I just gave Jamie the final. I had it and I just gave it to him,' and was sitting there, baffled. I thought he put me into combo-land, but he didn't and when they announced that I just needed another eight, I thought, 'The waves are so good. I'm definitely going to get another shot at that.' So I told myself to stop thinking of the huge mistake I just made and not to worry about what Jamie just did. I just needed to get another wave, grab my rail and pull in. Luckily, I did that. And it was crazy because all day long there were multiple wave sets coming in and that one set that came in, it was just one wave. When I took off I wasn't even sure if that was going to be the score but I had to go. I don't even remember what the barrel looked like. It was just spitting and I was holding on and thought I was just going to hold on and stall as long as I can until the wave lets me out because that's the only way I'm going to get the score. Next thing I knew I just shot out of the barrel. All of the sudden I was in the lead again. After that, the energy of the water just kind of died. It was weird. Even when I paddled back out and there [were] a couple minutes left, I just had a feeling nothing else was going to come. It just felt like it turned off and I was like, 'Whoa, I think I just got the last wave.'
CL: But Jamie had priority those last few minutes, yeah? What were those last two minutes like?
JM: Oh, those last two minutes were the slowest seconds I've ever seen (laughs). I actually wasn't too freaked out because I did everything I could do that I had control of. I figured if another wave came and he (Jamie) got it, then good on him, he deserved it. So I just kind of sat there and thought, 'If nothing comes in, then I win.' And I was like, 'Please stop. Please ocean stop. Just shut off for me,' (laughs) and it did! The last 20 seconds he looked over at me and said, "Wow, you got me." I was just tripping out. For him to be telling me that was crazy. He's someone I've looked up to my whole life. Growing up, he was the guy I watched at Pipe and still do. So for him to tell me that, I was like, 'No way!' Then the horn blew and I was just in disbelief. I always wanted that feeling of winning out there in good waves. And to have my whole family on the beach…my sister was here, my mom, my dad, my brothers… Yeah, it was like the best day ever for me.
CL: Your dad won this event too, yeah? What did Uncle Tony have to say about all this?
JM: Yeah, it's crazy…I've always wanted to win this event, especially because my Dad won it back in the day. Not when it was the Volcom…I believe it was HPAC (Hawaii Pro/Am Circuit)? I forgot exactly, but he's won the Pipe Pro out there, so yeah, it was crazy to win it after him. I just want to get another one so I can top him (laughs)!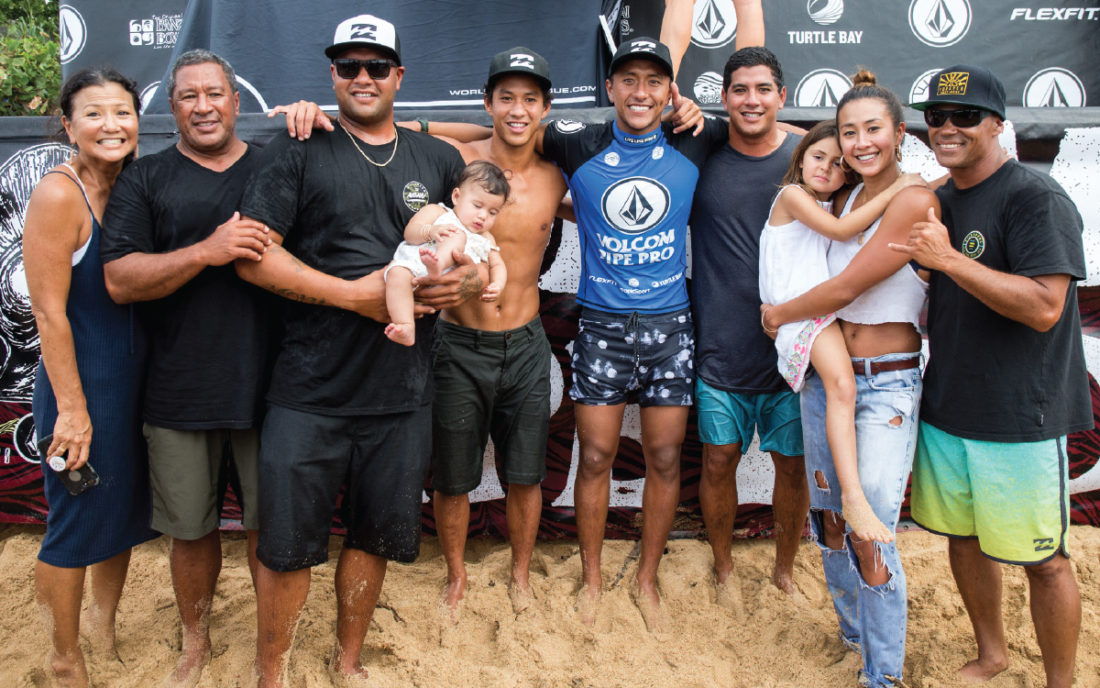 CL: Talk about your family a bit? You've all been close since you were born, how's the Ohana support helping you along your journey?
JM: Having my family around throughout my life has been amazing. I got my older brothers (Micah, and Isaiah) and my sister (Kelia) who are all so talented in surfing and everything they did and are so supportive of what I did and am doing. It was so great to have them there at Pipe. I actually thought my little brother (Seth) would win Pipe before me (laughs). I felt like I would win there once, but I thought it would come sooner for him than it would for me. Just because he's so good out there. He's one of the best guys out there right now, so to get that was pretty special. But all my family, they've been pushing me my whole life and always encouraged me in a positive way, that's definitely why I am where I am today.
CL: That must have been amazing having them all there on the final day of the event. How did they help you get motivated and what was that like having them there when you won?
JM: Yeah, it was super cool. My older brothers and my younger brother were all firing me up and telling me to go for it and that I could do it and just being super positive. Usually I'm at a contest on the road and just have my younger brother there, but to have my older brothers and my sister there was pretty special. It was crazy to see them and all my friends running down the beach to me after I won, I was like, 'woah did that just happen'? It was the best thing ever, it felt like we all won.
CL: It felt like I won too! Looking forward, what are your expectations for yourself going into this year on the QS?:
JM: Going into this year, I have pretty big expectations for myself. I want to finish the year in the top ten. This is only the start of the year and my goal is to definitely get on the tour next year. I kinda almost have to slow myself down from this win though and just refocus. This was a big confidence booster and I'm going to ride this momentum. It's definitely a bonus start to for my whole year. I'm getting ready to go on the road with my little brother and put a full year on the QS, so it's going to be an exciting big year, for sure.
pau