Sunset Beach
Nov 25 – Dec 6
The second jewel of the Vans Triple Crown of Surfing, the Vans World Cup of Surfing, is a big wave venue that requires an extraordinary level of skill, fitness and mental fortitude from surfers vying for the podium. Adding to the pressure for athletes on the cusp of qualifying for the following year's WSL Championship Tour, the QS10,000 event is the last qualifier of the year. Like the Hawaiian Pro, regular footers have historically performed well at this event, and last year, regular footer Jordy Smith, utilizing his power surfing, won his first Vans World Cup. "A win at Sunset had eluded me for a long time, and so had winning an event in Hawaii," Smith said. "It was really special to win last year, but also a relief. I wanted my name next to the past champions on those trophies, and I'm proud to sit alongside all those names on the plaque." With a hungry mix of QS warriors reaching for qualification in the big wave arena, this year's Vans World Cup is bound to see high scoring rides and pulse pounding finishes.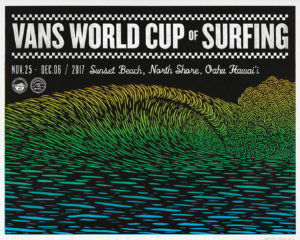 Wave Breakdown
The most consistent big wave on the plant, Sunset is a dominant right breaking wave that is ideal for high performance surfing, including power turns and barrels.
The wave can break from 2-15 feet before closing out.
"Sunset really reminds you that Mother Nature is in charge," said Smith. "You could be confident and feeling unstoppable, paddle out at Sunset and not make a wave. It really forces you to hold your rail throughout your turns."
Sunset breaks on almost any swell direction ranging from west to northeast, though the quality of the ride depends on wind conditions as well as tide, as opposed to swell direction.
Spectator Notes
There are parking stalls across the street from Sunset Beach, but the best bet is to arrive early because they fill up quickly. Public restrooms and showers are available in this area.
It's highly recommended to bring binoculars, because the surfing occurs more than 100 yards from shore.
Stay clear of the surging shorebreak.
Be mindful to avoid slowing down traffic along Kamehameha Highway while driving past the venue.