By Mike Miller
It was a day where Kailua's entire surfing community turned out to cheer on over 160 keiki and celebrate the lives of Peter Miller, Jason Bogle, David Aluli, and
Jeff Barbieto. Saturday, September 5th marked the 11th anniversary of the Kailua Shorebreak Classic, held at Kalama Beach Club on the windward side of Oahu. Five age divisions ranging from 3 to 16 years old battled it out under sunny skies, light wind, and epic head high Hurricane Jimena surf.
Twin Islands clothing hosts the annual surf competition in memory of the four friends who were all professional watermen and who gave back so much to the young surfers of Kailua. Peter Miller launched the first contest in honor of his best friend Jason Bogle, who died of cancer in 2005. Shortly after, during the spring of 2006, Peter and David Aluli lost their own lives, Peter in an Air Ambulance plane crash in Maui, and David to a rare mental condition. Most recently Kailua lifeguard and fireman Jeff Barbieto drowned during work while diving off the South shore of Oahu. Contest organizers Mike Miller, Sean Yano, and several other friends plan to continue running the event for decades to come.
The Shorebreak Classic is one of the largest amateur surf events in Hawai'i supported by every major surf company in the industry, including HIC, Billabong, Hurley, Quicksilver, Volcom, Vissla, Dakine, Sun Bum, and many more. Lunch was provided by the families of our lost friends as well as Whole Foods, Prima, Kailua General Store, and Jamba Juice.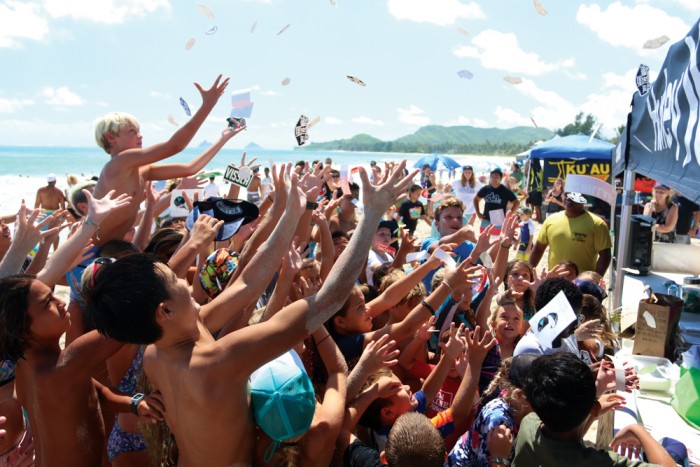 Results
Supergroms 6-under champion – Cameron Underwood Groms 7-9 champion – Matteus Santos
Boys 10-13 champion – Casper O'neill
Juniors 14-16 champion – Noah Aluli
Girls 16-under champion – Riley Pardini