Freesurf's special BOMBUCHA edition is back, where we give readers and clients a bigger magazine to enjoy. Within these pages is our bi-annual Beach & Board Buyer's Guide, which highlights everything from surfboards and hardware to bikinis and jewelry, and everything else under the sun. Freesurf showcases the season's latest innovations and designs, and would love for you to be part of our pages.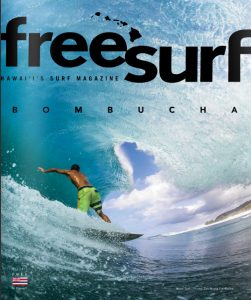 The Beach & Board Buyer's Guide is a pay-to-play editorial feature, which allows new and existing brands the opportunity to reach Freesurf's growing audience. With upwards of 160,000 impressions each issue, your company will benefit from our circulation and be part of a large branding effort.
Deadlines
Space Reservation
August 31
Artwork deadline
September 10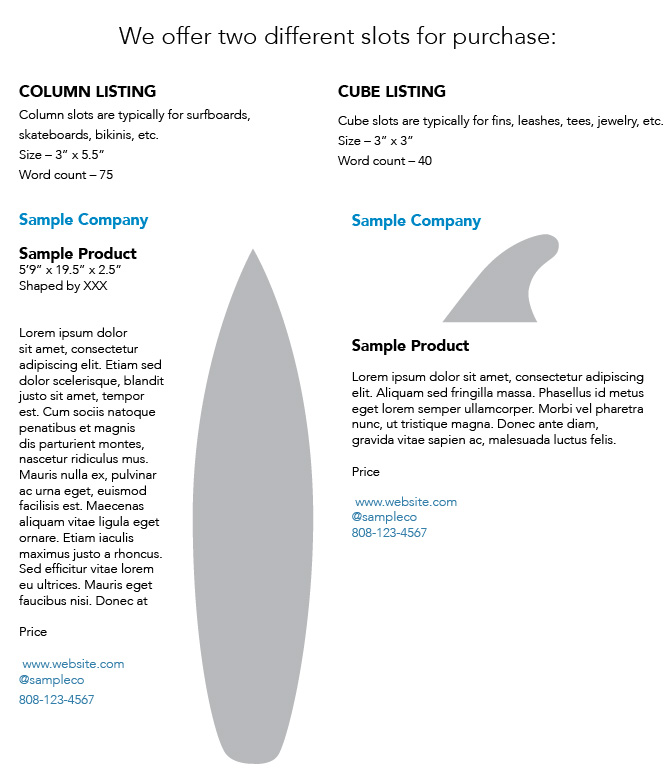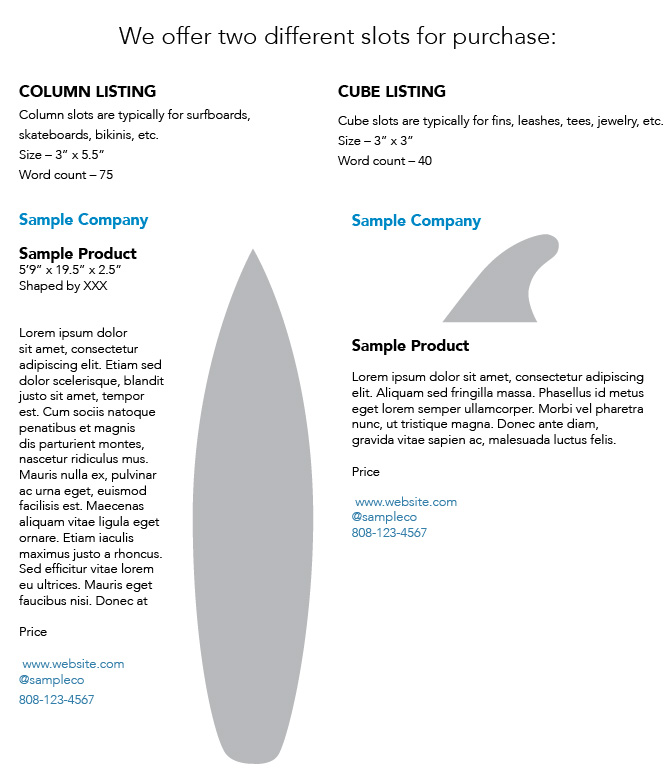 To be featured in our Beach & Board Buyer's Guide, please follow these steps:
1. Describe your product in 40 words for a cube or 75 words for a column. Include website and social media links.
2. Submit 1 image of your product. For best results, image should be photographed against a clean, white background. This product image will be cut out for the Buyer's Guide, so please keep in mind good lighting, high resolution and no editing will provide the best results.
3. Product image must be at least 300dpi.
4. Submit 1-3 lifestyle images of your product for consideration in the editorial photo collage.
5. Fill out payment info and submit to your Freesurf representative.
All materials can be emailed to your Freesurf representative and don't forget to CC buyersguide@freesurfmagazine.com.
A L O H A !
Ad sizes are also larger in the Bombucha Issue. Below are the new specs to create your ad
[column size=one_third position=first ]
AD SIZE
Double Page
Full Page
Full Page Bleed
2/3 Page
2/3 Page Bleed
1/2 Page Vertical
1/2 Page V. Bleed
1/2 Page Horizontal
1/2 Page H. Bleed
1/4 Page
Surf Saver
[/column][column size=one_third position=middle ]
TRIMMED SIZE
20" x 12"
10" x 12"
10" x 12"
6.5" x 11"
7" x 12"
4" x 11"
5" x 12"
9" x 5"
10" x 6"
4.5" x 5.5"
4.5" x 1.75"
[/column][column size=one_third position=last ]
BLEED SIZE
20.5" x 12."5
No Bleed
10.5" x 12.5"
No Bleed
7.5" x 12.5
No Bleed
5.5" x 12.5"
No Bleed
10.5" x 6.5"
No Bleed
No Bleed
[/column]