By Kyveli Diener
As the October sun lowered over Les Bourdaines beach in the south of France, Keanu Asing sipped a glass of Bordeaux wine a few days before the 2017 Quiksilver Pro kicked off and reflected on the roller coaster he's been on the past 12 months. From the peak of his shocking underdog victory in 2016 Quiksilver Pro last year that sent ripples of hope that anyone can rise to the top with the proper motivation and hard work to the dark valley of facing injury, losing a sponsor, and ultimately falling off the World Surf League Championship Tour for the 2017 season to the meteoric ascent back into qualification territory, the South Shore ripper's surfing and his view on life have been reborn.
Thanks to the support of friends, his marriage to the girl of his dreams and a successful turn on the WSL Qualifying Series studded with three victories (the QS1000 Kommunity Project Great Lakes Pro in February, the QS3000 Barbados Surf Pro in April and the QS3000 Vans Pro in August) and numerous high scores in locations that breathed new life into his career, our catch-up with one of Kewalos most loved regulars was punctuated by the words "enjoyment," "enjoyable" and "enjoy". These words are exactly what Asing carries with him to every event, they are what define his place in life this year, and they are exactly what he plans to do as he returns home to Oahu for the North Shore Winter season already firmly in the WQS Top Ten with another chance to shine on some of his favorite waves in the world.
Freesurf: What has been your formula for success this year, Keanu?
Keanu Asing: I found a new love for surfing. The few years that I was on Tour, it was a big learning curve: the pressure, the criticism. You get so caught up in what everyone else thinks and what everyone else has in mind about you. Once I pulled back a little bit from what I tried so hard for, things just started becoming way more enjoyable. Everything started to flow and I got to really enjoy competing instead of forcing everything.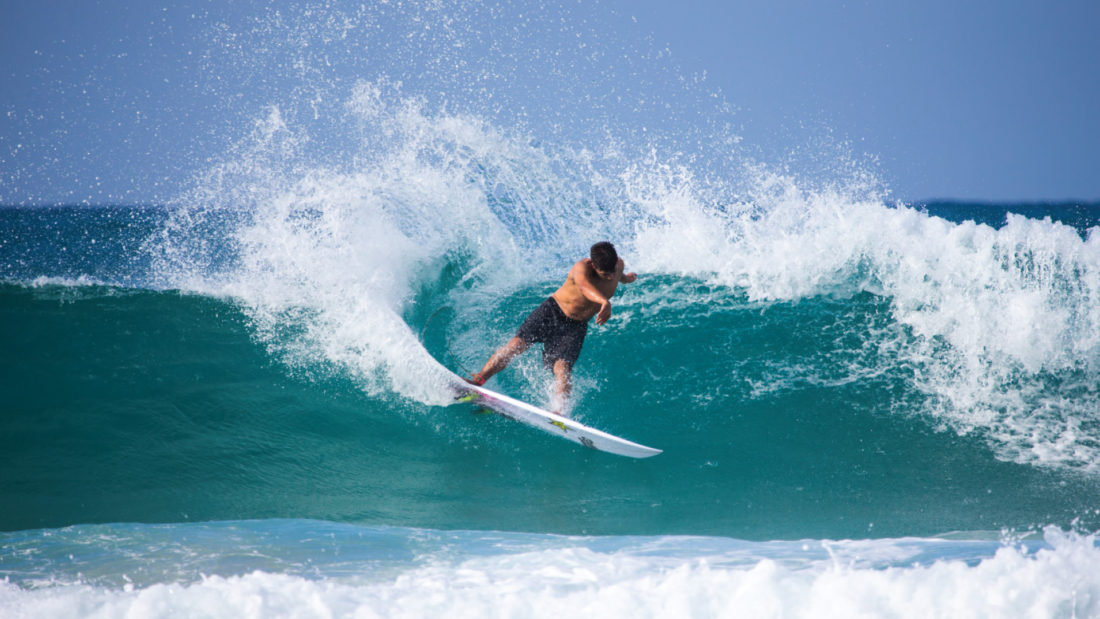 What was your mindset at the very beginning of the year when you faced not being on the WCT and grinding your way back on the WQS?
I had a tough year last year: winning the Quiksilver Pro France, then the day after I cut my foot open and was almost going to be out for the MEO Rip Curl Pro Portugal, and I fell off Tour. I lost my sponsor [Fox], just to top it all off. There were so many ups and downs. Then the end of the year came and I just let go. I checked out. I was done. I didn't surf for almost a month. I think for someone so young to deal with something like this, it was just a big learning experience. Not even learning about surfing – learning about the person I am and really taking in what this life's all about. One morning in January or February, I went surfing at V-Land with my shaper Wade Tokoro and he was so excited to surf and jump in the water. I said to myself "look at the stoke he gets to come surf with me." I think that put everything into perspective, seeing how excited he was just to surf with me. I finally let go of what this Tour means. At the end of the day, it means a lot to some, but it means nothing to most. This is just a platform for me to share my experience and what I'm about.
Your mindset sounds similar to Ezekiel Lau saying that he tries to surf like he does in his freesurfs, just with a jersey on.
Yeah, we are living our dream and we have to take every day to be thankful for what we're doing, because not everybody gets to do what they love. When you're so young and you want to do this for a living, all of a sudden you're doing this for a living and then you have to try harder. It doesn't become as enjoyable. Zeke and I had traveled together for that win he had [at the Billabong Pro QS 10,00 in Portugal in October] and we haven't traveled together since we were maybe 15 or 16, so that was nice. It was good to hang out, drink wine every night and really enjoy what we're doing – enjoy surfing, traveling, seeing Europe. When you enjoy everything around the contest, you start to enjoy competing.
You've always had a never-give-up, it's-not-over-til-it's-over attitude, but what do you think has been the biggest thing you've discovered about yourself through this experience of falling of Tour and then nearing requalification?
Before I was surfing for the judges and the critics; I wasn't doing this for myself. The people I love are the only ones who I care what they say about me and at the end of the day, I'm just happy that people enjoy me and appreciate what I do and who I am. If people are talking bad about me, that's their fault. They've still got my name in their mouth and they're still talking about me, so they can say whatever they want. At the end of the day, I'm the one putting the leash on, putting the jersey on and surfing for myself.
How has getting married to your wife Kailin this year impacted your mindset?
I think everything in life started to become more colorful, just being with my wife and knowing that she's my rock, everything else will fall into place and that everything is going to be ok. Once that got settled, my competing took a different outlook: it became more enjoyable. She's always making sure I trust God and trust His path for me and His guidance. At the end of the day, win, lose or draw, I have something to look forward to and it's not just putting on a jersey and getting a trophy. She came with me to Australia at the beginning of the year and we had a good time in Foster, where I surfed a contest at Boomerang Beach. It was fun all around and then to top it off, I got some money and a trophy. That made everything else enjoyable.
You've visit regions on the WQS this year that aren't on the WCT, like Barbados where you also won another event. How was it getting to go to these regions that you didn't get to go to on the CT?
It was really cool, and I made a lot of good friends along the way. Visiting these regions and surfing new waves… I miss that kind of feeling, the anxiety of paddling out, looking in, different waves breaking. Paddling out to a new wave is exciting and so is not knowing what you're going to get. I think Barbados was the most exciting place, because it reminded me a lot of Kewalos with the way the sun set and the way you paddle out, just the area and the people who hang out at the beach. Everything there reminded me of where we grew up surfing.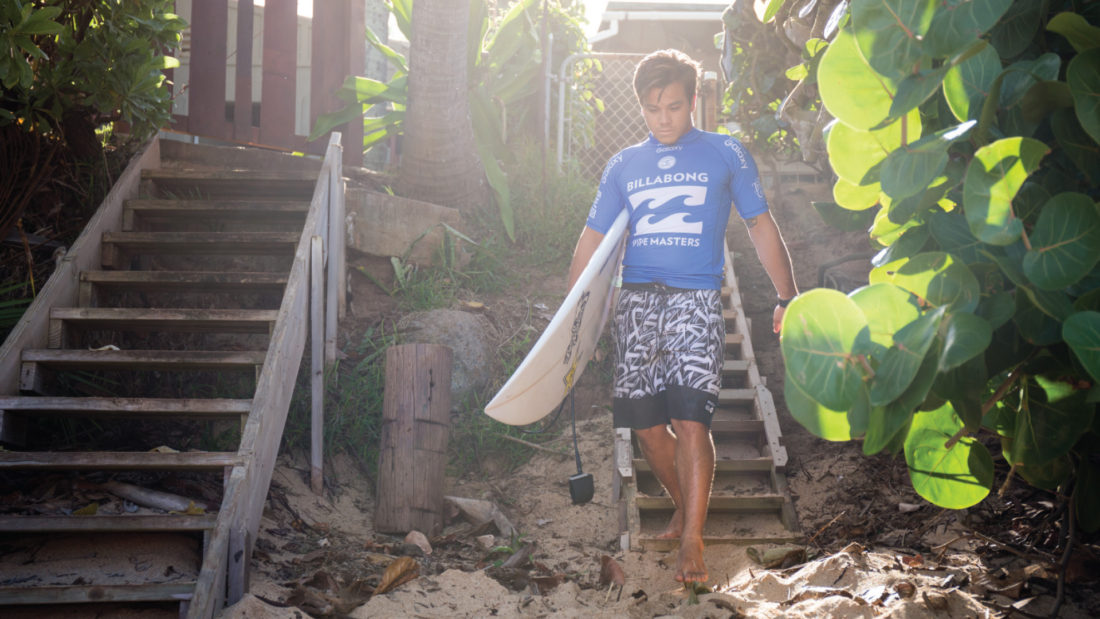 Every time you come home to Oahu after being away for a long time, what's the first thing you want to do?
I go to Highway Inn and just eat Hawaiian food. You don't get traditional Hawaiian food anywhere. I get lau lau and poi, really traditional stuff.
Which event in the Vans Triple Crown of Surfing is your favorite?
To be honest, I love surfing Haleiwa, I love surfing Pipe and I love surfing Sunset. I have a different kind of love for Haleiwa, though. Just my family and friends around there, like the Foster family. I caught my first wave in the shorebreak there, and I pretty much learned how to surf at Haleiwa, thanks to Bonga Perkins. Plus, I grew up watching that contest and surfing the Haleiwa Menehune events, so it holds a special place in my heart.
Coming into these two WQS events in the Triple Crown after the year you've had and at such a high ranking, do you have an extra momentum compared to previous years?
In early October, I was looking at rankings and stressing out, and then I said, "You know what, if this is going to happen, it's going to happen for a reason." I'm not going to put it on this pedestal and try so hard and be just so invested in it, because obviously the last four years I've been on the bubble whether it's the WCT or the WQS, and I feel like it stresses you out, it breaks you down and it ages you. At this point, there's no reason to stress. It's better to enjoy coming home and surf my favorite waves. I'm enjoying what I'm doing. And next year when I do requalify, because I know I will, it's going to be fun. I'm going to have a different perspective on the World Championship Tour, and you'll probably see me less on these WQS events. I'm just looking forward to working on my surfing and surfing with the Top 32.