The Beach Boy Spirit is Alive and Well at Faith Surf School
By Ben Marcus
Recent rumors about the death of the Waikiki beach boy services are somewhat exaggerated. While two long-standing beach concessions on either side of the Duke statue have been usurped/replaced by one, haole-run, dive outfitter – to howls of protest from many corners – the claims that the beach boy tradition is coughing up blood and dying, are not true. There are many concessionaires along the beach at Waikiki who still aspire to – and deliver – the time-honored qualities of service, safety, integrity, fun, aloha – done with Hawaiian style and care.
Faith Surf School isn't the only beach concession keeping the aloha alive, but the Moniz family, and their loyal, sun-drenched, hard-working employees, are an example of a beach boy service with its feet in the nervous, chaotic present but its soul in a more relaxed past. The surf instructors, canoe captains and beach services crew at Faith Surf School work hard in the hot sun, day after day, but they do it right – with aloha that would inspire that Duke statue to go thumbs-up.
What Would Duke Do?
Here in the first half of the 21st Century – 50 years after his death – the larger than life statue of Duke Kahanamoku is there at Kuhio Beach, back to the ocean, standing tall with arms outstretched welcoming and watching over the flow of people as restless and moving as the ocean they came to see: "Duke's statue was erected with his back to the ocean intentionally by his wife Nadine and brothers Louis and Sarge," claimed historian Sandy K Hall, "He is welcoming the public to the ocean. Facing the other way, photos would be taken with Hyatt as a backdrop, which would not be what Duke wanted. Nadine said whenever Duke ran out of the ocean, he always had his back turned."
From before sunrise to well after sunset, every day, four seasons, anywhere from 300,000 to 500,000 visitors land every month on Oahu. That's a minimum of 13,333 new visitors a day – every day – landing on Oahu yearning to catch some rays in the sunny surf. Those millions and millions of visitors flow billions of dollars into the economies of Waikiki, Oahu and the Hawaiian Islands.
An unknown but significant slab of that money is invested by malahini getting to know the secrets of the sea – renting surfboards, taking surf instruction, paddling canoes into the surf guided by pros, then renting umbrellas and other beach equipment for sun protection after many hours in the surf.
Choke Kala
You would plotz, if you knew how much those Waikiki concessionaires pay, a month, to provide those services. It's a lot of money. Those beach concessions flow kala like Kilauea flows lava, and the most lucrative of the Waikiki beach services are most likely right up there or surpassing Matsumotos Shave Ice, Ted's Bakery and that Banan' Bowls in the alley for being kala cows: money spinners.
So right at the start of peak season – the summer of 2018 – Hawaii in general had a cow when the two long-established beach services concessionaires – Star Beach Boys and Hawaiian Oceans – were usurped and replaced by one operation – Dive Oahu – run by a guy from Texas.
The story was carried in the surfing world and the mainstream press and the way it was presented made it sound like the removal of those two concessions was a threat to the entire beach boy lifestyle, and another slap in the face to Hawaiian culture and dignity in general.
This move by the City and County of Honolulu caused unrest all up and down Waikiki beach, across Oahu and around the surfing world – and it all might still be going to court.
But again, rumors of the death of the beach boy services are exaggerated
Tony Would Go – But Was a Bro and Let Brock Go
On February 18, 2016 at the Waimea Bay memorial, Tony Moniz stood up and made a speech about his surfing and motocross buddy Brock Little. If you remember the 1990 Eddie, Brock gallantly angled into a giant Waimea Bay barrel and looked like he had it made, but slipped right at the end and went down: "My $50,000 mistake," Brock called it.
Well now that Brock is gone, Tony felt safe to tell the world the true story about that $50,000 mistake. Tony the Tiger had the position and more than enough skills to catch that thing and pull in like Brock did. But Brock talked/screamed/begged Tony into letting him have it. Brock went, got pitted, got doughnuts, didn't win the $50,000 but made it into the history books with his surfing at the 1990 Eddie.
Giving away $50,000 waves is an aloha thing to do, but that's Tony Moniz – and he has passed that graciousness on to his family.
Breaking Rocks in the Hot Sun
In 1996 the Moniz family launched the Faith Riding Company clothing line, and that morphed into the Faith Surf School at Waikiki in 2000. Unless there is a hurricane or a sewage spill or a tsunami threat, there is rarely a slow day on the beach at Waikiki.
People might think the beach boy/concession life is a dream job, but the truth is, it's a lot of hard work, in the heat, exposed to sun rays off the sand and the water. Dealing with the public isn't always a delight, and the job is also very physical – carrying surfboards in and out of the storage unit, moving canoes up and down the beach.
Richard Schmidt once said the best way to stay in shape for winter was to do surf lessons in summer, because with beginners, you are always on the move: Pushing them into waves, riding waves with them, retrieving them on the inside and helping them paddle back out. Always moving.
It's a fun, social, rewarding job – beats sitting behind a desk – but it's work, and there is also a great deal of responsibility because as we all have learned: Shit happens in the ocean. People get hit by their boards, or other boards. They step on urchins or coral. They get tired. They drink and swim. They fall out of flipping catamarans. They get hit by the catamarans. They almost drown. The surf instructors at Faith Surf School have to be responsible for these malahini they take into waters crowded with people: floaters, surfers, SUPistas, canoes, snorkelers. Everything under the sun.
A Fish Rots from the Head Down
In business when they say "a fish rots from the head down" that means the culture of a company is formed from the top down. For Faith Surf School, the top are Tony and Tammy Moniz and to understand them is to understand the stable success of their family, and their family business.
Tony Moniz was born in Hawaii in 1959, of Portuguese and Hawaiian descent. In The Encyclopedia of Surfing Matt Warshaw describes Tony Moniz as a "Powerful, athletic, easygoing regularfoot surfer from Honolulu, Hawaii. A perennial invitee to the Quiksilver in Memory of Eddie Aikau big-wave competitions from 1985 through the '00s."
Tony began surfing at age five, won the Boy's division state title at 13, quit the next year to race motocross and was two-time state champion in the 125cc Expert division. At 18 he tried his hands at boxing and made a name for himself in the ring. A year after that Tony returned to surfing and a year after that he was competing on the professional tour.
Tony was a Hawaiian tiger through the last couple decades of the 20th Century and into the 21st. Who knows what would happen if he'd gone on that wave he gave Brock, but Tony had plenty of other moments during that time.
Local Emotions: When Tammy Met Tony
Since she was a little girl, Tammy Moniz wanted to be a mom, and raise good kids in a Christian household. She began to achieve that dream when she met Tony Moniz in 1984. She was a shy 20 year old working at Local Motion Surf Shop when she first laid eyes on the prize. Tiffany Foyle described the beginning of their alchemy in FreeSurf Magazine. "I would hear his name here and there in conversations," Tammy said to Tiffany.
"He was always described as a good pro surfer who was a humble, Christian, local boy — they said all the words that made my ears perk right up. It was always my dream to marry a local boy and of course I wanted him to be a Christian too."
One day, when Tony walked into Local Motion, Tammy just knew it was he by the pumping of her heart. "You couldn't Google anyone back then so it's not like I really knew what he looked like," Tammy remembers. "I just had an idea from how people talked about him! But I was still very shy. And was especially not going to make the first move on any old guy!"
But she did make a move and they dated a couple of times and it all clicked. Two and a half years later they were married, and then two years after that they had their first son, Micah, in 1991. Kelia came next in 1993, then Isaiah, then Josh, then Seth – all within five years. Five kids, all athletes, all water kids. All raised in a solid, loving home which was a fine example of Hawaiian ohana – family.
Surfschooled
In Hawaii, what high school you went to is very important and asking about that is one of the first things that strangers will do, when sniffing each other out.
When the Moniz kids are asked what high school they went to, they scratch their heads and answer, "Canoes?"
That's not being smart alecky. All of the Moniz kids were "surfschooled." That is, they were homeschooled by parents who were very busy running the Faith Surf School, and that meant a lot of beach time, water time, surf time.
When the Moniz family started the surf school, Micah was nine, Kelia was seven and the youngest was four. Tammy and Tony were very busy running a beach business in the 12 months a year, 10 hours a day, seven days a week, four seasons tourist climate of Waikiki. Sending the kids off to school to give Mom and Dad a break sounded good. But, according to Tammy, the homeschool idea was Tony's, "When they were ready for school, so was I."
But Tony had bad experiences in Hawaiian schools when he was younger – bullied by teachers, not students – and in his travels Tony had stayed with Australian surfer Guy Ormerod in Australia, "Guy was homeschooling his kids," Tammy said, "and Tony was impressed by how polite and intelligent they were."
Readin', Writin' and Roundhouse Cutbacks
So instead of the three R's in the Hawaiian public schools – Reading, 'Ritin' and Roughhousing – Kelia and her brothers were all surfschooled, and that education included a lot of water time on the beach at Waikiki – watched over by Diamond Head, the extended surf school ohana and what Tom Blake called "The Blessed Church of the Sea and Sky."
Tammy said:
"We were always there with them – working right there in the water, or I'd be on the beach. We had an office in the Marriott, so we would drop the boards off at the beach, with the kids, and go back. After our last lesson, we would stay till after the sun went down with all the Waikiki Beach Family that we hung out with. Kids from the area – kinda like what you see at Queens after school now with all the little groms hollering and laughing in the water on the inside, scrapping for the inside section – that was my kids and their friends.. and always someone's mom or dad was on the beach posting as Home Base."
It's easy to argue that young kids interacting with a non-stop parade of tourists from all over the world provided a much better education than daydreaming in a classroom somewhere, looking off toward Diamond Head.
And if you meet the Moniz kids, you will be impressed – as Tony was in Australia – by how polite and intelligent they are.
Daughter of Multiple Races
One of the outrigger canoes at Faith Surf School is called Kelia – which means "warm hearted" in Hawaiian – and is named for pro surfer/super model/Instagrammer Kelia Moniz. Like Princess Kaiulani was Scottish/Hawaiian and "a daughter of a double race" according to Robert Louis Stevenson, Kelia is a daughter of multiple races – a mixed calabash of Japanese, Hawaiian, Portuguese, Chinese and Irish – but to see Kelia surfing, or talking story on the beach, or posing for photo shoots, Kelia is channeling some of that regal Princess Kaiulani style – whether she is aware of it or not.
Whacko in Waco
As a Roxy model with a Long Island husband who moves and grooves with an A-list crowd, Kelia is arguably the most visible of the Moniz clan, but others get attention, too. Seth, Josh and Isaiah Moniz all compete in the World Surf League. Most recently, Seth Moniz was seen busting a huge air in funny-colored lozenge water in the new American Wave Machines wave pool in Waco, Texas. He popped that air on the same day Kelly Slater and a happy few were competing in the first wave pool contest at the Surf Ranch – and Moniz's big air was a hello to that world, to let them know other wave pools are bubbling, with something to offer.
The Dog Days of Summer
August in Waikiki may be the best month to be there because it's hot hot hot and when there's surf – there really aren't many better places in the world to be a surfer – the tide doesn't matter much, the wind is usually offshore and there's plenny waves.
Faith Surf School is busy, and it's all hands on deck – ohana real and extended. Tammy is paddling around at Canoes on a standup paddleboard, face oiled up with sunscreen, wearing a sun hat, catching waves, talking to friends and strangers and guests. Keeping an eye on things.
Kelia is taking a crew of six giggling Japanese out the back then catching waves and roaring toward the beach at Waikiki – giving these tourists a thrill that is well over a hundred years old – but never gets old.
The funny haole guy with the flame tattoos – Kenny is his name – he's driving and making it look good. Say what you want about haole guys taking Hawaiian jobs, but Kenny's got the feeling – channeling George Freeth or Tom Blake. Captain Kenny is responsible for the health of everyone in the canoe and everyone in his path, but he does it with style. He enjoys what he's doing, and he passes that on to all his giggling, shrieking guests.
Tony is in the #4 seat – the power seat – adding some Hawaiian horsepower while Kenny carefully, artfully, weaves through all the human flotsam and jetsam.
It's a daring act. No one really gets hurt.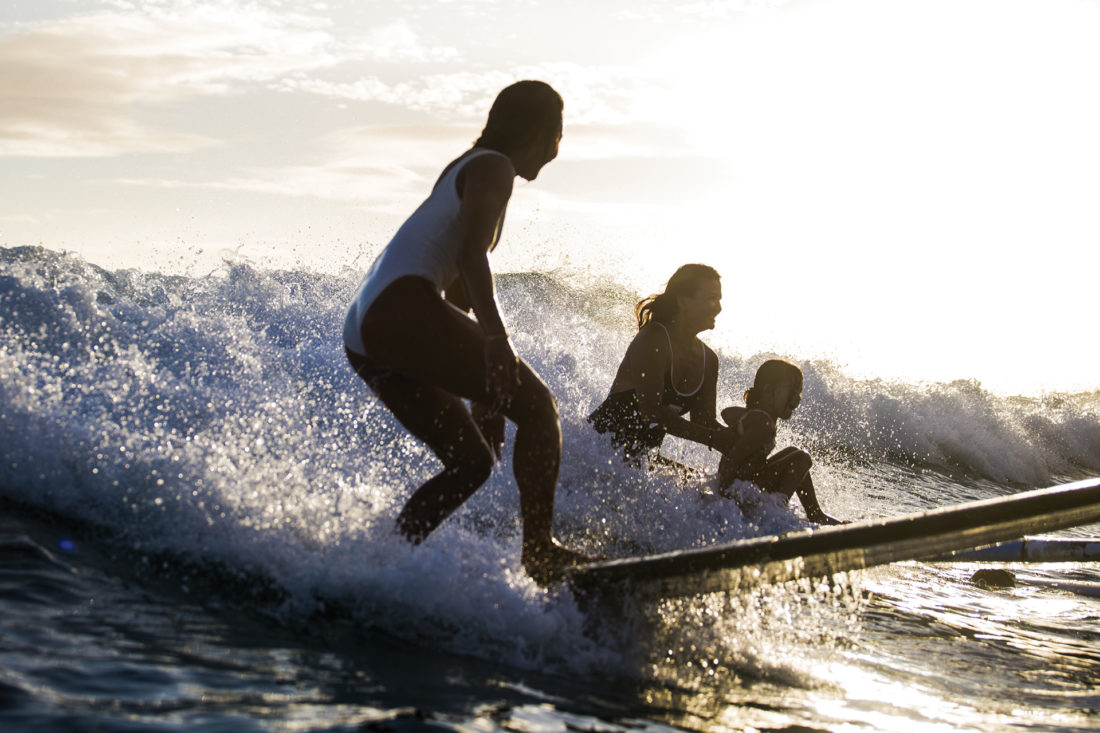 The Glamorous Life
Kelia is out in the water as well, home for a brief time, between contests and photo shoots and the jet-setter life. She is paddling around on a purple, square-tailed longboard accompanied by her husband Joe, a Montauk native and photographer who made headlines a few years ago for getting attacked by a reef shark while on a vacation with Justin Bieber.
On some days they're all there, the Moniz ohana – Tony, Tammy, Micah, Kelia, Isaiah, Josh and Seth – behind the kiosk, on the beach, moving surfboards, carrying canoes, shouting "paddle!" pushing malahini in to waves, chasing them around. Carrying on a long tradition from the early 20th Century into the 21st, and doing it with Hawaiian style.
The Moniz family aren't the only ones getting it right. Hollywood Hal has been visiting Waikiki for decades and he says:
Ted Bush of Waikiki Beach Services has been the role model for how the beach boys conduct themselves. He is the most respected canoe captain on the south shore. Russell Chang, Captain Mike and his brother, Virgil also garner a great deal of respect. Don't forget that Didi [Robello] and big Tommy down the beach have also been there forever.
The beach boy legend has been embellished over the years but the Waikiki watermen of yesterday were just as salty, (pardon the pun) as the boys today. Perhaps the old days are easy to romanticize. Imagine Kuhio Beach with a lot less tourists. One's vices could be easily ignored as there was no media magnifying glass focused on their lifestyle.
Regardless of decisions made by the City and County in other parts of the beach – and how other concessionaires go about their business: Rumors of the death of the beach boy tradition Waikiki Beach are exaggerated.
If you want a taste of the golden, dusky, husky era of the Beach Boys – you'll find it at Faith Surf School.