Photos: gOnzo
It's not an everyday occurrence to have the opportunity to photograph and talk story with one of the most influential shapers in the world. That's one of the small blessings about living in Hawai`i: you watch and learn from the creme of the crop of the sport. And meeting Glenn Pang wasn't any different. I have been hearing that famous last name Pang since I was a kid. Whenever the best surfers recounted the top shapers in the business, he was included throughout decades. Since the 80's, we've seen it imprinted in those killer T&C surfboards around the world. I wanted to know more about this artist that some of the most serious wave riders in the business trust. There's a form of mythology about him. And suddenly, I was face to face with him in his shaping room located in the industrial zone in Wahiawa.
Pang greeted me with tons of aloha and humility. He took me around the factory while educating about the history of T&C, Craig Sugihara, and how he became involved with shaping boards early in the 80s. He mentioned Glenn Minami as being one of his early influencers. We talked a bit about Billy Kemper's competitive drive and how that translates into his designs for the champ. I must admit, I was amazed by the size of the factory and the plethora of amazing shapes found in this treasure chest. We then walked over to his personal shaping room where I could experience his craftsmanship just inches away from the master at work.
There are thousands of board shapers on the planet, but there is only one Glenn Pang. His natural workflow and passion for the craft sets him apart. I was quite impressed, too, that at this point in his career (one that spans for more than 40 years) he is still intrigued by weird asymmetrical shapes and forms. And the fact that he keeps himself in top shape to surf Hawaiian waves says a lot about his connection with wave riding and shaping; it keeps him up-to-date and current.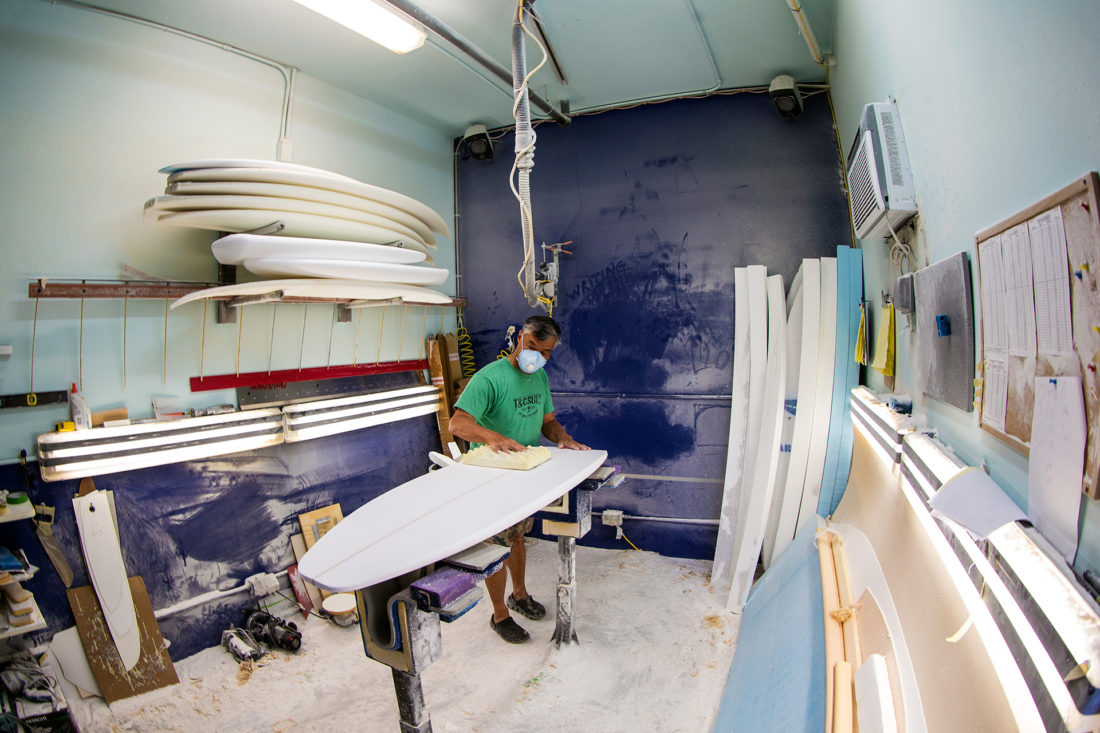 It's an honor to get the cover of this year's Beach & Board Buyer's Guide with an artsy photo that I shot during this meeting with Pang. As a photographer, art is my main drive. It's pretty much the only language I fully identify with. For me, art is the only direction for a life full of creative freedom, perennial curiosity, and progression. Shooting Pang in his element inspires me to follow the arts, and knowing I got the cover of this issue makes me super happy. Hope you enjoy this issue that we, the team at Freesurf, have worked on with our hearts and souls, always inspired by our sport: the sport of kings!
Aloha,
gOnzo
Photo Director
@gonzolenz