By Cash Lambert
There's a feeling I get, when I look to the west. And my spirit is crying for leaving.
Perhaps crying is a bit of an overstatement, because those are Led Zeppelin's words, not Levi Young's. Regardless, the 12-year- old Zeppelin fan couldn't have been more excited to venture west for a week to Bali in early April for "perfect waves all day" at Keramas.
Collectively, the Hawaiian surf tribe couldn't be more excited for the Maui native, who has been charging global swells for years now and is also excelling in the classroom. Everyone continues to celebrate the regular footer's win at the 2015 Super Grom at NSSA Nationals, too. In the final, young Levi surfed smoother than a Jimmy Page riff and as explosive as the beats of a John Bonham drum solo. After paddling in victorious, Levi was chaired up the beach, something that must have felt like a Robert Plant crowdsurf at Madison Square Garden circa 1975.
Levi seems to be following a dated yet unique formula to success, one that he learned from his brother – fellow charger Cody Young – who collected the recipe from their mother: listen to Zeppelin's song Stairway to Heaven, and listen to it often.
Indeed, Levi's stairway lies in the whispering wind of Honolua Bay and Ho'okipa, and that's where we all can watch as he continues climbing – step by step – to a podium of his choice.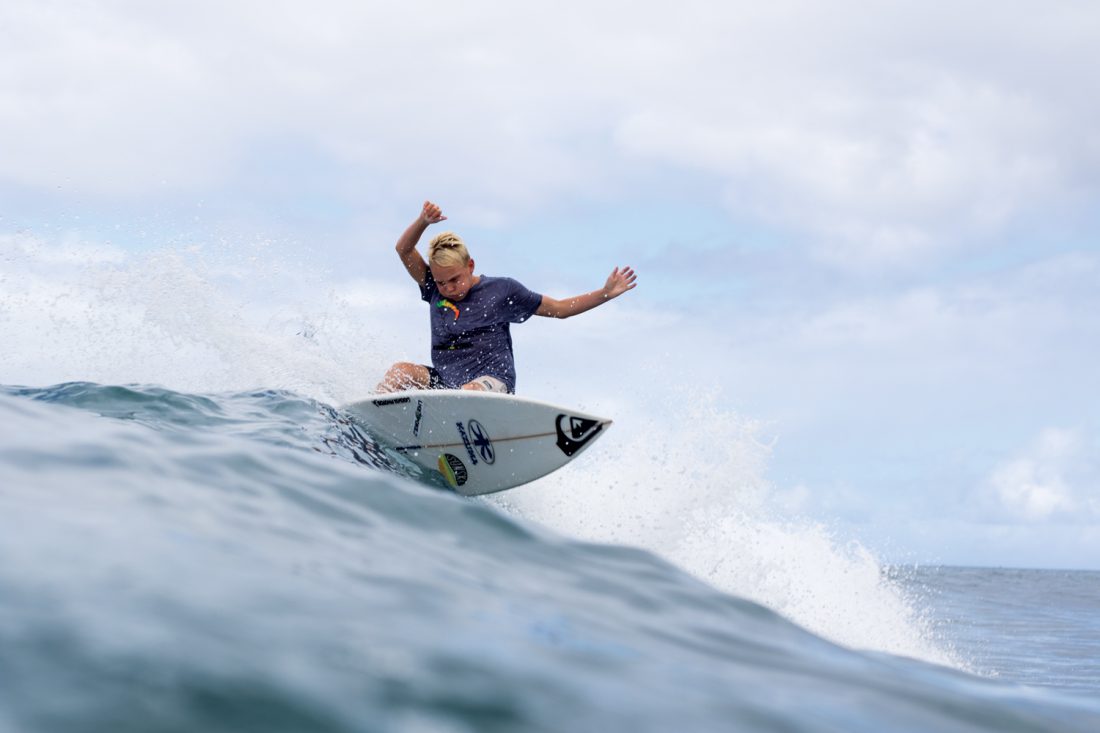 What's your first surfing memory, Levi?
I was 2, I remember being on a surfboard my mom and dad just pushed me around. I didn't start surfing until I was 6, when my dad pushed me on a wave and I rode it all the way to the beach and jumped off and face planted in the sand. Then my brother started surfing and I wanted to be like him.
What has Cody taught you?
Basically he taught me how to surf. He coaches me and everything, like with my bottom turns and how I stand on my board with my style.
So is he your biggest inspiration?
Yeah because he's super good and I try and make my surfing just like his. I follow what he does. He has a good attitude and makes good grades and I want to be like him when I grow up.
What are your surfing goals?
This year I would like to win Surfing America and and do good in Nationals.
What about your favorite song?
Stairway to Heaven because my mom always plays and my brother likes it and it pumps me up.
How about your favorite movie?
Surf's Up, you know the one with the surfing penguin.
What do you want your first car to be?
I don't think it will be this but a Ford Raptor.
Favorite TV show?
Channel 250…the Surf Channel!
What's your biggest surfing accomplishment?
Winning the 2015 Super Grom at NSSA Nationals was probably best moment of my life. I scored a 5 and right after I got an 8. A bunch of people chaired me up the beach and it was super cool and we took a big picture together because there were a lot of people from Hawaii there. I had millions of butterflies.
Who are your sponsors?
Quiksilver, Kazuma surfboards, Sunskis, Boobieshack, Dooma Photos, Mokulue, Dakine, and Like Poke.
How do you balance school and surfing?
It's school before surfing so I'll come home and do work and then go surf.
Airs, turns or barrels?
Barrels!
What's your training regimen?
Push ups or sit ups?
Sit ups!
My mom does crossfit and she got 6th in the world! She coaches me in crossfit, she's super fit.
Talk to us about your quiver.
I'm riding Kazuma surfboards, right now I have been riding 5'0" and a 5'1" and I have like 8 other boards. I like working with Matt Kazuma because he's really happy and a good surfer and knows what kind of boards to ride and stuff.
Who's your favorite surfer?
John John! Because he does huge airs and he gets super barreled and he's the best surfer in the world.
Worst wipeout?
I was at the Bay and all the Uncles were yelling at me to go on this 8 footer and I was super scared but I had to go and I went and airdropped over the falls. One of the Uncles said that I got steamrolled.
What are your plans for 2016?
Surfing. Eating too!
Any last words for Freesurf?
Thank you!
pau