Story and Photos Keoki Saguibo
A product of the North Shore Oahu surfing community, Haleiwa's Shion Crawford has been lighting up both the in contest scene as well as during freesurfs. A tall, quiet, and reserved 13-year-old whose favorite breaks are Haleiwa and Pipeline, Crawford has a knack for impressive power surfing and an eye for the barrel. With the coaching help of Hurley's Joel Centeio, a crew of ripping friends, and even a heat at Haleiwa against 11-time world champion Kelly Slater, Shion has a solid foundation for his surfing future. We caught up with the lanky barely-teenage powerhouse to see what's to come from him this season and beyond.
DOB: March 5, 2005
Sponsors: Hurley, Nixon, Creatures of Leisure, Oakley, Sun Bum, Schaper SurfBoards, and Sannemoto
Instagram: @shioncrawford
When did you start surfing and where is your favorite spot to surf?
I started surfing when I was three years old. I started off with a boogie-board, and I would wander off into the water. At times, the Haleiwa Uncles had to come and rescue me from the rip current! My favorite spot to surf is either Haleiwa or Pipe. I like surfing there because it is never the same, and there's always something new to learn.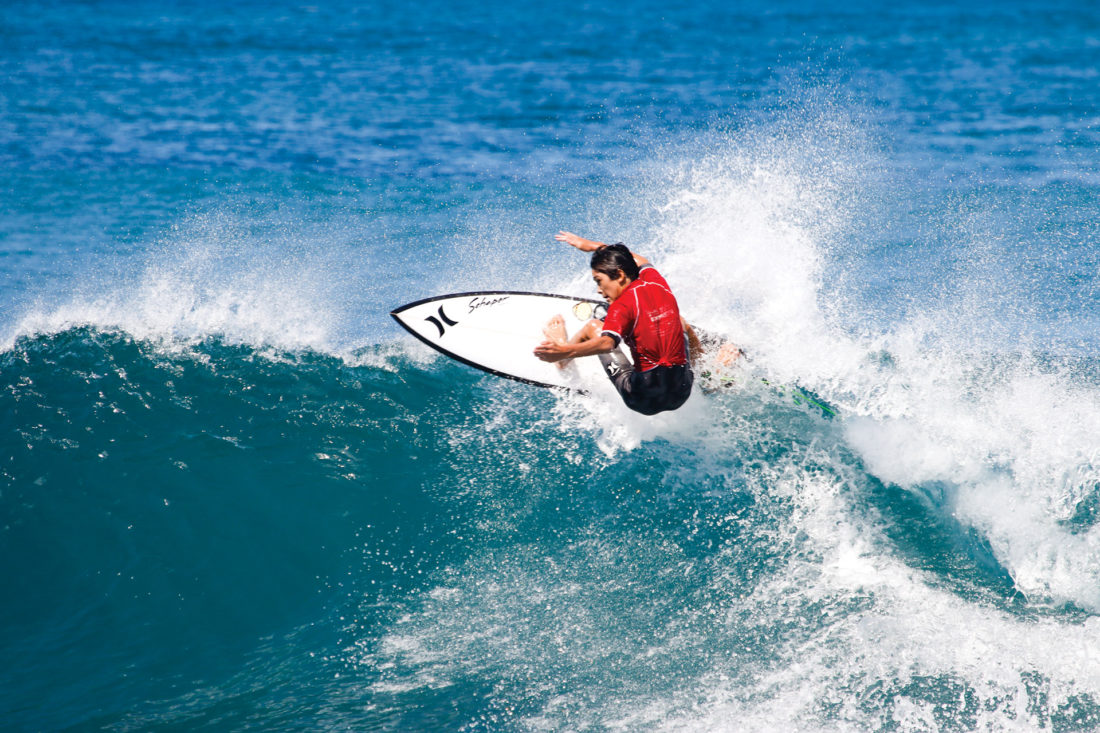 Who is your favorite surfer?
I can't choose one surfer, but I like Griffin Colapinto, J.O.B. [Jamie O'Brien], and Filipe Toledo. I like Griffin because his style is super smooth, and even at a young age he's doing good on tour. J.O.B. is awesome because he enjoys doing crazy stunts, which is fun to watch — on top of that, he surfs amazing at Pipe. Filipe is insane to me. His airs are always so high and he lands them in contests. He inspires me to get better at surfing.
Who did you look up to when growing up?
I looked up to John John [Florence]. He went to the same elementary school as me, Sunset Beach Elementary, and I had the same 6th grade teacher as him, Mrs. Pule. She would let me leave my board in her class when I went surfing across the street. John John is cool to me because he was born on the North Shore, like I am, and we get to live in the same community. Because of his good performances, he is definitely someone I looked up to.
Who do you like to surf with and why?
I surf with my friends, because we always have a good time and they motivate me to surf my best. Some of my friends include: Leo Olson, Nalu Deodato, Makana Franzmann, MaiKai Burdine, Thatcher Johnson, Clive MacMurray, Levi Young, Luke Swanson, Eli Hanneman, Anton Hagen, and more. Most of my friends grew up with me on the North Shore, so it's cool to see us still surfing together and enjoying it like we did when we were little.
What are the benefits of growing up the North Shore?
I love living on the North Shore! The community revolves around helping one another, and being in the ocean is another home for me. I am beyond fortunate to surf with professional surfers and have amazing opportunities to try new things. This past winter, Kelly Slater was surfing Haleiwa and I asked him to do a heat with me. He said yes, and we surfed a 30 minute heat. It was super fun to surf with a professional surfer, and it motivated me to do my best and get better. On another day, Ross Williams took me out to Waimea for the first time and gave me his board that he rode during the Eddie Aikau. I had lots of fun that day, and I surfed real Waimea for the first time. Carl Schaper has been shaping my boards ever since I was five years old. His factory is on the North Shore, and having him watch over me and my surfing is special to me — the bond I have with Uncle Carl is something I am grateful for. The North Shore Lifeguard Association is an organization that has helped me to grow as an athlete. With their run-swim-runs and their workouts, they've helped me become more fit. Competing on Kauai for Team Oahu was an event I will never forget. Thank you to Mikey Bruneau, Kyle Foyle, Jeffo, DJ, Matt, Kamu, Kumu, and all of the lifeguards around the island who helped me a lot. Furthermore, I want to thank all of the Haleiwa Uncles: Uncle Joel Centeio, Freddy P., Sean Moody, Bam, and Jason Shibata for surfing with me and giving me advice.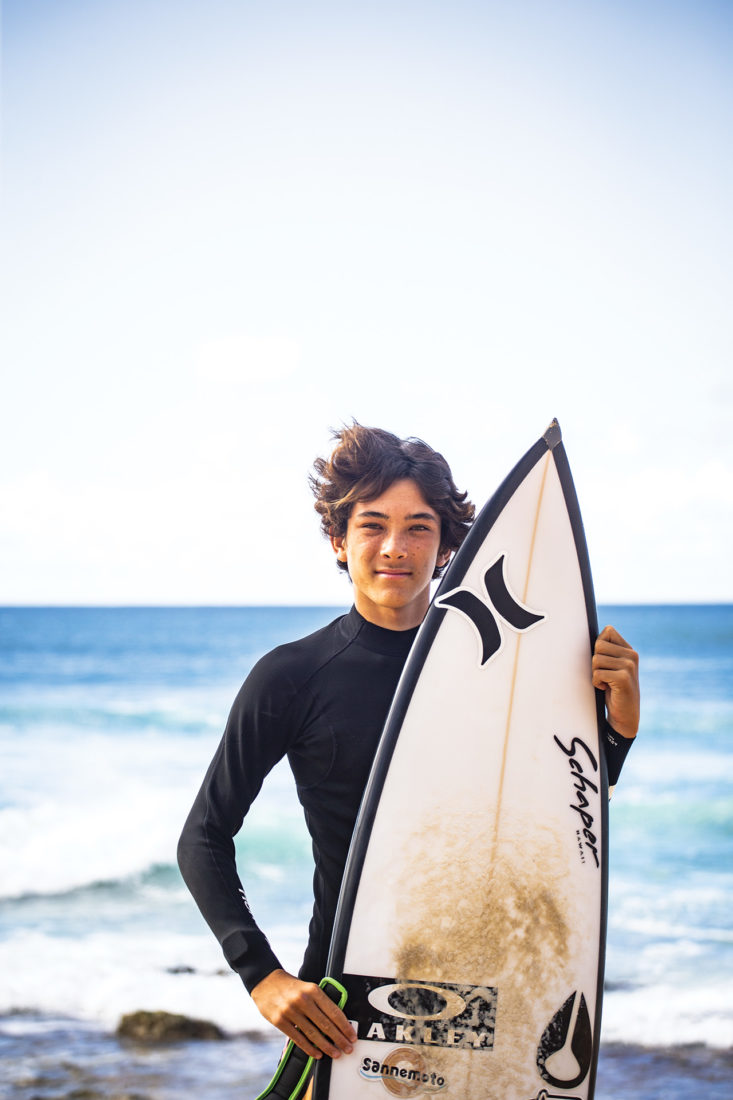 What's it like to work with Joel Centeio through Hurley?
Joel is awesome to work with. He's been working with me for so long now, and he knows me well. He knows my strengths and weaknesses, and gives me the best advice for contests. When I see him around freesurfing, it's fun to surf with him and run practice heats. Joel was the one who got me to train with Kid Peligro in ginastica. That has taught me how to move better, which helped my surfing improve. I am so fortunate to be working with Joel and the Hurley Team.
What are your surfing goals and how do you plan to reach them?
My goal for this season is to win a National Title in California, and to place in the Junior Pros in the Hawaii Region. I plan to reach my goals by surfing everyday, training, and not only learning how to become a better surfer, but a better athlete. After spending time on the QS and Pro Junior tours, I plan to get on the World Surf League [Championship Tour] and surf professionally. After I achieve those goals, I want to become a great role model — not only for others, but for my community.