By Kyveli Diener
D.O.B.: 5/24/01
Hometown: Pupukea, North Shore, Oahu
Sponsors: Vans, Pyzel Surfboards, Famous Surf, D'blanc, Future Fins
Sitting down with Wyatt McHale in lush Pupukea where he grew up left me considering the difference between two labels often given to young, skilled surfers: grom and young gun. At just 16-years-old, McHale is definitely still a grom with energy for days and a hearty laugh every time someone goes down in an epic fall. But it's his composed demeanor, unwavering steely gaze and the peaks of success he reaches both in and out of the water that all make him an unquestionable young gun, an up and comer with eyes on the prize and an unstoppable momentum propelling him straight to the top ahead of the rest.
Wyatt's banner year began in the best way possible for a born and bred North Shore boy: with perfect Pipe. He was the youngest competitor in the Volcom Pipe Pro in February at 15 years old, but the 8.5 he scored early in Round 1 was the highest single wave score of the contest heat after heat, broken only when Mason Ho nearly got a 10 at the end of the second round. Wyatt turned right around after that contest and excelled in the Pipe Pro Junior, and then was able to keep surfing the wave that is now his absolute favorite on the North Shore.
We caught up with this certified young gun and learned about how he got on board with Team Vans and where he plans to go from here.
Freesurf: Tell us about how you very first started surfing.
Wyatt McHale: Me and my sister would always go down to Haleiwa and surf on the inside. I don't remember my first wave or my first interaction with surfing, but I just remember growing up surfing all the time. I know when I was 8-years-old I was really psyched on surfing, then I just started entering contests and it built.
Do you remember who your first sponsor was and how that started?
I think it was Rip Curl at the Haleiwa Menehune contest. Pancho Sullivan was giving out a sponsorship and I got it! It was super crazy and I was super stoked. I was 9.
What are your goals for the rest of this year?
I just want to surf well out here this winter and hopefully get into the Volcom Pipe and definitely the Vans Triple Crown.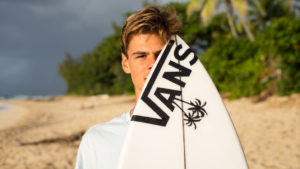 And how about your goals for your career?
I think my goals for my overall surfing career are just to be able to make a living surfing. That's the dream job, so if I could do that, it'd be awesome. And obviously to make it on the Championship Tour, but if I'm just able to make a living surfing, that's good enough for me.
Congratulations on your success in the Volcom Pipe Pro earlier this year! How did that success impact your approach to your surfing and training?
It really boosted my confidence. I went out there with really nothing to lose — like you said, I was the youngest guy and I really just wanted to get good waves at Pipe; I wasn't thinking about making heats. So, I think that attitude just worked out and I got a few really fun waves and a lot of great experience out there. It's crazy being out there with no one, because usually there's like a ton of people. It's cool but it's also a little weird, like you almost don't know where to be sometimes. It was a good learning experience.
How have you been building off that performance? Did that sort of set the bar for your year?
It continued as normal, but for sure boosted my confidence. I just wanted to go out there and do well in the Junior event because I did well at Volcom Pipe Pro. I think if you're confident, you can do any event and it'll work out.
Are you still feeling the stoke from that event eight months later?
Yeah, that was cool. Then we had the Pro Junior at Pipe too, and it was really good for that. I think all that time out there, especially with less people, is really good for building confidence out there.
What were the biggest lessons you took away from Volcom Pipe Pro?
Just getting to know the wave better. I was there for like three days, and it was different every day, so I got a lot of experience. One day it was kind of a sand bar, one day it was Backdoor and the next day was Pipe. It was good to see the different faces and just be able to adapt.
What are a few of your favorite waves here in Hawaii?
Definitely probably Pipe now, V-Land when I was younger. But now probably Pipe and Backdoor, and also I really like the Sandbar. You can't go wrong when there's a good Sandbar.
And how about outside Hawaii?
There's a lot. I went to Mentawais a couple years ago on the Grom Games trip for Surfing Magazine — a lot of waves there are super good, like Kandui, Rifle Range. But also somewhere like Lowers can be really fun. I was just in Indonesia, actually — Lakey Peaks is a really good wave too.
Tell us about your current quiver and your favorite board heading into the winter season.
In my current quiver, my short board is probably a 5'9" Bastard model from Pyzel. Then I have every kind of step-up: 5'10, 6'0, 6'3, all the way up to like a 6'8, that's probably the biggest board I have for surfing. Then I have an 8'6 just in case I want to go out somewhere bigger, like Waimea Pinballs. Just a bunch of step-ups and short boards for everything. 5'9 would be my go-to.
How did you get involved with Vans?
A while ago, Geoff Auberlen — who works for Vans out here — put me on the flow team to just get a couple shoes here and there and I was super stoked. Then I slowly built the relationship with the people over in California, then eventually worked out a deal with them, decided this is what I want to do, and switched over from Rip Curl to Vans. That was last year in July.
What is it like being part of the Vans team?
It's so sick! Everyone that works there is super cool and everyone on the team is super cool. I think they're one of the best companies to be on right now in surfing, so I'm just super stoked to be part of such a great company.
Which of your fellow team riders are you tightest with?
I just hang out with everybody. Jett Schilling, he's super cool, and Al Cleland, Kyus and Rasmus King, we're kind of the grom team. Then also there's guys like Nathan Florence and Ivan Florence to look up to in Pipe.
How do you go "Off The Wall"?
I just do my thing and be me. I think that's kind of what it means, just be true to yourself.
Final words for the Freesurf audience?
Go out this winter, have fun and be safe!