Happy Little Waves
By Tiffany Foyle
When I first met Heather Brown, she worked as a dive instructor at Deep Ecology in Haleiwa (where the current Bottle Shop is). She painted and sold her art there. She was a boat captain, a dive master and waited tables for years before making it as a fulltime artist.
She creates mostly in acrylic paint on canvas and her style is best described as happy. But instead of "happy little trees" like Bob Ross, she makes inimitable happy little waves.
Heather's big break occured in 2007 when her art attracted both Jack and Kim Johnson for the Kokua Festival poster art and the Vans Triple Crown of Surfing (women's series) for their poster art. This year, she is the chosen artist for the VTCS artwork.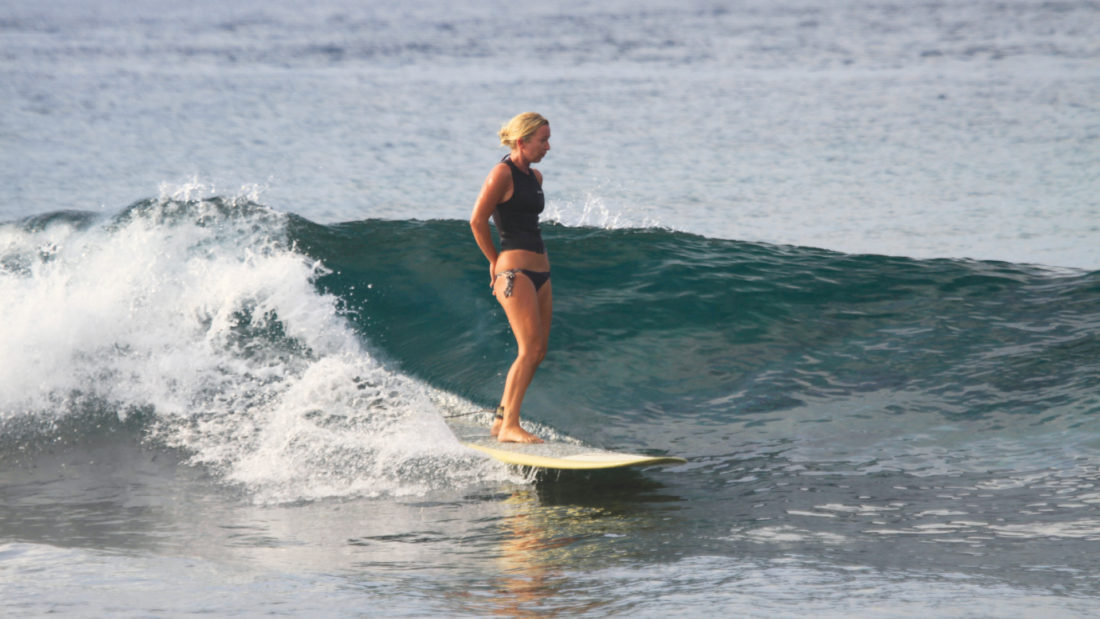 The 43-year-old has been making art since she can remember. "I come from a fairly artistic family, so as a child when I was with my grandparents and other family members, most of what I remember doing was making art and craft projects alongside them," she recalls. She created art in different mediums throughout her life, but decided to go to school and received her Bachelor's in Fine Art from the University of Hawaii at Manoa. When she first started attending UH, her idea was to study the lost arts of printmaking.
"I loved the fact that we could spend as many hours as we wanted in the art labs," she remembers. "Myself and some friends definitely took advantage of that freedom and flexibility and whenever I had free time, I would be in the studios making as much art and utilizing everything that was there at our fingertips to learn more and experiment with different mediums and processes."
For the past 10 years, Heather has been a full-time artist. She spends 8-12 hours a day, six or seven days a week in her studio. When not working in her studio, she is usually traveling for art shows and events. In order to create, she needs a natural light-filled room with a nice breeze, her husband making art alongside her, some great music playing and their two dogs and two cats snoring away on the floor.
Because every surf artist needs to gain inspiration from the water, Heather learned when she moved to Hawaii 20 years ago by paddling out every single day in Waikiki. "My all-time favorite place to surf in Hawaii will always be Pops in Waikiki," she says. "It is where I started surfing, where I met so many great friends over the years, and most importantly where I met my husband Chris. Pops is such a fun wave and the longer paddle deters many people. I also love the big Waikiki/Honolulu perspective that you can get out there."
She often gets teased by her husband and friends for not catching waves as she sits out in the lineup, just admiring all of the surrounding beauty. "Surfing to me is more about being entrenched in the ocean and being surrounded by the aquatic life," she explains. "I love watching the light dance of the ripples in the water, the pull of the water off the reef when a set is approaching, the beauty of the talented surfers in the Islands riding waves of all sizes. My love for the ocean lifestyle is overwhelming and I am so happy to be able to play in the waters and surf these glorious natural wonders."
As Heather's art has grown internationally, she is able to see its impact on other people's lives. When she was in Okinawa at the Kadima US Air Force base doing a show for the military families stationed there, a man approached Heather and told her about how he had been in a coma and that the other soldiers put up a print of hers over his eyes so that when he came out, the first thing he would see was her art.
"When he came out of the coma, he kept it above his bed for weeks so he could look at it and find his inner peace and find his strength so he could get back in the water," she remembers. "We met him shortly after he started surfing again and I still tear up just thinking about how special that was. I create art with a simple purpose to bring more smiles to people's faces and a little extra Aloha to their hearts, but in actuality, so many times the people do that to me."
As for this year's VTCS design, Heather focused on what the client – Vans – wanted to see in the art. "There is no particular reason for colors I choose," she explains. "When I'm creating art, I just like to let it flow and let the art happen rather than to over think it."
Overall, her philosophy is simple: "Art is about creating something new." And that is just what Heather has done for this year's VTCS.
Check out the Triple Crown posters and merchandise for her latest surf art. Her creations are available on Oahu and around the world in multiple galleries and boutiques. Visit HeatherBrownArt.com to see the complete list of locations.