Story and photos by Chris Latronic
In the heat of a Honolulu morning, I made my way onto Waimanu street in the Ward/Kakaako area, a quaint little side street bustling with daily business. Nestled in a nook of the Kakaako Fitness facility lives Tactical Strength, the training center for some of Oahu's top athletes and more recently, some of Hawaii's best surfers. I talked with Darin Yap, a local boy with a Master's Degree in Exercise Science from UH Manoa, to find out how his training program has been helping some of our star surf athletes, like World Surf League Championship Tour rookie Ezekiel Lau, Kekoa Cazimero, and Seth and Josh Moniz push their skills to the next level.
Freesurf: Darin, how did Tactical Strength begin training surfers?
Darin Yap: The first elite surfer we had at Tactical Strength was Ezekiel Lau. He came in his senior year of high school with a friend, and Zeke wanted to be more explosive, throw more water and do bigger turns.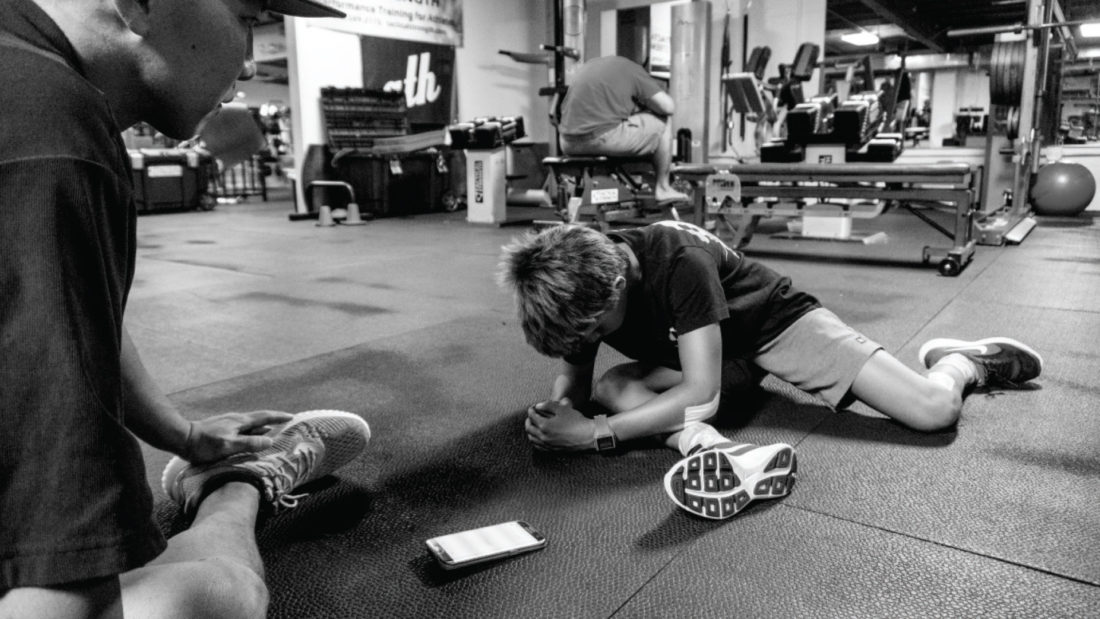 What has Zeke's progression been in the gym?
After Zeke graduated, he got onto a bigger stage. Then he hit a little bumpy road, a patch where we weren't having the results we wanted to achieve. Part of that process was trying to figure out what he needed to do better in the water. We realized that it wasn't always about throwing a lot of water and being a really powerful surfer. It was about trying to link moves together and being able to decelerate in the water and quickly accelerate again, so being more agile so that he could link his moves together quicker and be a little bit smoother when he was riding.
We heard you don't just train Zeke but a handful of other surfers, like Kekoa Cazimero and Seth and Josh Moniz. How did that come about?
Kekoa's little brother was in here training for football initially, that's how we linked up with Kekoa. Zeke brought the Moniz boys in, and they brought some of the other guys in and it happened word of mouth like that. We haven't been doing this for that long, as far as working with surfers. We've been training athletes since 1999, but our surfing program is pretty new. Every off season that these guys come back in, it continues to evolve as we keep trying to figure out what these guys need to perform better. For each one of these guys, they have different things they have to work on, whether it be mobility or getting stronger or more core strength. Whatever it is, each guy has their own thing they're focusing on.
How do you tailor these workouts to each specific surfer?
Surfers are unique in that they need to get into extreme ranges of motion, and not only do they have to be in that position – which is unique in itself – they also have to be strong when in that position. They need to be able to explode out of that position, and do it while they're riding a wave through balancing and coordination of staying on their line and all that. We do a ton of what we call anti rotation. In order for them to decelerate and stick their landings, now we have to decelerate that, have that spine stabilized and stick that landing and hit our next move. I think that's the next area we're continuing to progress our programs.
How do you think outside the box when you're creating these workouts, Darin?
We sit down and watch video all the time. Kekoa will bring in video of him surfing and look at the angles. Everyone's style is different, from Kekoa to Seth and Josh. I sit down individually with them over their surf videos, look at where they have to produce power and in what range, and how we can go about trying to support that moment. Sometimes we look at other people's surfing.
How important is flexibility, Darin?
It's huge. I think flexibility is important because it allows them to get into that deep range that they need. However, they need to be strong in that range and explode out of that range. Flexibility is only a part of that. Just because you can get into that position, doesn't mean you own it in a sense that you're able to be strong. While we do focus on flexibility and getting them into that range without compensation, we want them to be strong in that range, which majority of the program focuses on. Ankle mobility is huge too. It plays a big role in whether they can squat or not without compensation, so we'll do a lot of calf stretching and work out of a deep squat.
Other than Zeke and other South Shore surfers like Kekoa and the Moniz brothers, who else do you train?
Clark Little, Hans Hedemann's son Zach, Diego Ferri and Kai Martin.
What's it like for you, Darin, to be training the premiere surfers from the South Shore?
It's an honor obviously. I love working with athletes who are as talented as they are. What makes me more passionate about what I do is seeing the commitment these guys have and how bad they want it. It's not necessarily the fact these guys are at the top of their sport; I think I get more enjoyment seeing the commitment and focus they bring to their craft.
What's the future of Tactical Strength?
I don't try to look too far ahead. We have so many important things to do in the present. We're working and grinding every day, just trying to get these guys better. I don't take too much time to forecast where Tactical Strength is going; I try and look at my guys and see if they're getting better. That might not be a good business model, but I never got into this business to have an empire. All I want to do is make sure the guys who entrust me with helping them get better every day.