By Kahi Pacarro
Leading the charge in the surfing contest world, not only for just one contest, but for three, the Vans Triple Crown of Surfing remains the vanguard of surf contest sustainability. Going on five years of pushing the envelope, the sustainability goals for the cumulative series continue to challenge the organizers and the participants. It's this challenge that keeps sustainability relevant with all parties on board to continue to improve. Improving is exactly what we want to do this year, and there's a number of ways to get involved, from purchasing merchandise that is later funneled to local nonprofits and schools, placing your trash in the correct receptacle, being aware of sustainability measures and more.
Using Bio-Diesel for Power
The production of these events consumes large amounts of power. Historically, including the present, the vast majority of events continues to be powered by diesel. But the VTCS will once again be using 70% bio-diesel sourced from local sources on Oahu, minimizing reliance on fossil fuels to power all the equipment and broadcast.
How to Reduce Traffic
The VTCS helps mitigate traffic in several ways. They partnered with Turtle Bay Resort to offer shuttles for anyone., they also produce a world-class broadcast for free, plus a live and replay coverage on Spectrum SURF Channel, on digital channels 250 sd and 1250 hd, and in addition, the event encourages people to use alternative forms of transportation to event sites, like bicycles, skateboards, The Bus, even da slippahs!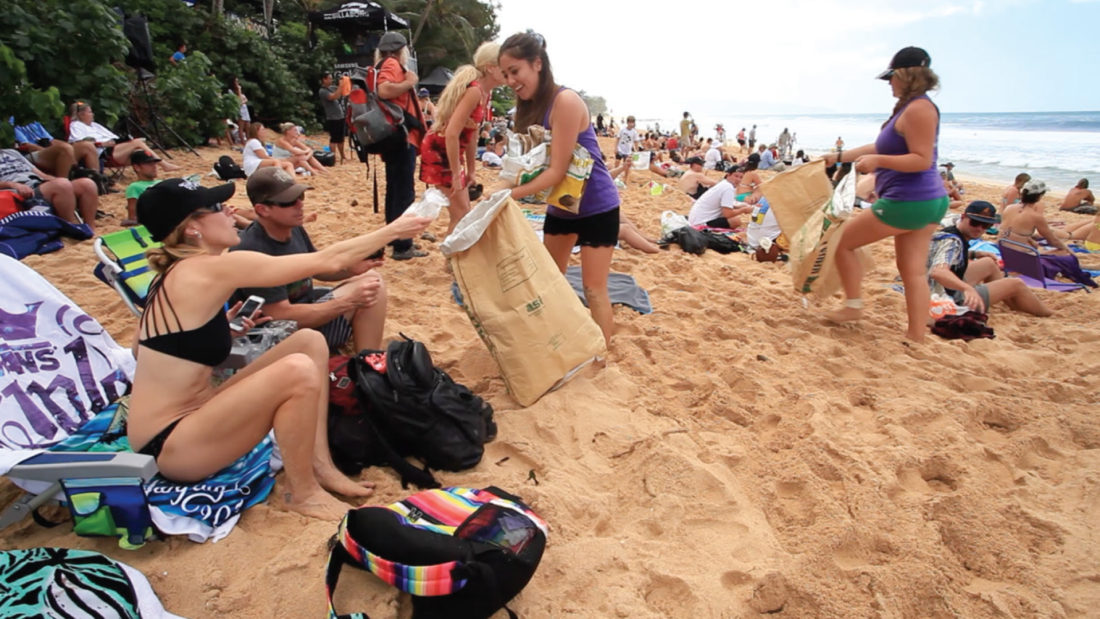 Investing in Carbon Offset Projects
The estimated total carbon created by the event has been offset through verified carbon credits, including projects that preserve rainforest and help Brazilian communities switch to biomass to power their homes. It is the goal of the VTCS to invest in a local Hawaiian carbon offset project for future events, once an offset project has been third party verified. The recent formation of the State of Hawaii Carbon Farming Task Force is a step towards such.
Supporting Local Nonprofits and Schools
Sales from all the shirts and other items found in the merchandise area, along with funds raised during the annual golf tournament, will go to support local nonprofits and schools. Last year, raised funds were donated to over 20 groups, such as the Big Wave Risk Assessment Group, Haleiwa Arts Festival, Na Lio Kai Pony Club, North Shore Community Land Trust, North Shore Chamber of Commerce, AccesSurf Hawaii, Surfrider Foundation, Malama I Ke Ala Pupukea, Friends of Ali'i Beach, Na Kama Kai, Sunset Beach Christian School/Church, Sunset Beach Elementary School, Haleiwa Elementary School and Waialua Elementary School. Additional community groups supported through charitable collaborations and in-kind contributions were Farrington High School, Kamehameha Schools, Outrigger Duke Kahanamoku Foundation, Hui o He'e Nalu (Da Hui), West Side youth outreach donations, City & County of Honolulu North Shore lifeguards, and City & County of Honolulu Department of Parks and Recreation North Shore Summer Fun youth programs/volunteer appreciation.So pick up some souvenirs and feel good about doing it!
Waste Diversion Systems
You've probably already seen the waste diversion tents and box systems around the contest venues and maybe even got to interact with them. Granted to most, it's something totally new and can be confusing, especially considering what may be recyclable where you're from is not recyclable in Hawaii. Remember, we're on an island in the middle of the Pacific Ocean. The goal of this program is to reduce the amount of waste created during the VTCS. Since 2013 when 29% of waste was diverted, to last year when 65% was diverted, the rates of diversion have been steadily increasing. It's not just because of the tireless work by the Sustainable Coastlines Hawaii crew, but rather through the spectators, organizers, staff and contestants that understand why and most importantly how. To help ahead of the VTCS events, here is a breakdown of the waste diversion tents:
Hole 1: RECYCLE – In Hawaii we can recycle HI-5 Recyclables, which means bottles and cans that have the HI-5 logo on them. When the drink is purchased, you paid a $.05 deposit. When they are returned, the $.05 goes back to the returner. Last year, that recycling program brought in close to $400 for the Hawaii Youth Surfing Development Organization. We do not commercially recycle any paper or plastics, just the HI-5, so please only put those into hole 1.
Hole 2: COMPOST: Luckily, we can compost a lot! In 2016, Vans purchased a chipper for SCH that allowed the organization to chip up all compostable plates, cutlery, cups and food scraps. The trick is making sure that the products you're using are indeed compostable. The way to find out is if the material says 'compostable' on it. If in doubt, don't put it in hole 2. Compost goes to a local farm to be composted, and eventually used as soil on the farm that grows some of the food for the next year's VTCS.
Hole 3: TRASH: Everything else goes into this hole.
Last year's breakdown was as follows:
19% Recyclables (1,288 lbs) / 46% Compost (3,103 lbs) / 35% Trash (2,359 lbs)
For this year, the goal is to match if not exceed the 65% diversion rate.
During the duration of the VTCS, SCH will be in local schools educating about the measures listed above in addition to their normal presentations focused on keeping our beaches clean and instilling the mantra "clean beaches start at home".
It's our hope that others can look to the VTCS and be inspired to take steps to make their own events more conscious of the impacts they're making on our aina. Let's not wait for lawmakers to mandate this requirement; let's just do it because it's the right thing to do.
Kahi Pacarro is the Executive Director of Sustainable Coastlines Hawaii.
---
How to be a More Sustainable Spectator!
+ Go Plastic Free: Vans Triple Crown of Surfing (VTCS) is striving to be a plastic-free event series through the efforts of WSL, Vans, Sustainable Coastlines Hawaii, Kōkua Hawai'i Foundation's Plastic Free Hawai'i program, Hydro Flask, and our official event vendors. Please join our efforts and help eliminate single-use plastics and overall rubbish.
+ Bring a Reusable Bottle: Bring your own reusable water bottle to the beach. If you forget, you'll be able to purchase a special edition Hydro Flask at the VTCS event sites. Go the extra mile and bring a reusable utensil and plate for any meals you may buy on site.
+ Support Official Event Vendors: Official VTCS event vendors use compostable materials and participate in VTCS and island-wide sustainability programs, including Surfrider's Ocean Friendly Restaurants. Show your support for their efforts by looking for the 'Ocean Friendly Restaurant' official decal and choosing to patronize vendors that put the ocean before the bottom line. You'll be supporting North Shore businesses, families, and our local economy — mahalo.
+ Reduce Your Carbon Footprint: Use the official Turtle Bay Resort VTCS shuttle, take TheBus, and/or carpool whenever you can! Better yet, take advantage of our world-class bike path and walk, bike, or skate your way to and from the events.
+ Reduce Your Trash Footprint: Be mindful about the amount of trash you create. For example: Don't suck! Refuse unnecessary straws and lids. At VTCS event sites, look for the Sustainable Coastlines Hawaii sorting receptacles and toss your trash correctly! VTCS composts in partnership with Waihuena Farm across from Pipeline/Off the Wall.
+ Think Reef Safe: Consider reef-safe sunscreens or sun-protective clothing that won't damage our reefs or ocean ecosystems. Avoid products that contain these ingredients: oxybenzone, homosalate, octisalate, octinoxate, octocrylene, avobenzone and visit https://bantoxicsunscreens.files.wordpress.com/2017/04/eco-friendly-reef-safe-sunscreen-guide-ban-toxic-sunscreens-web2.pdf to learn more.
+ Expand Your Surfing Horizons: With a visit to the Sustainable Coastlines Hawaii's ProTEST Hub. Learn more about eco-friendly surfboards and their implications for the future of surfing.
+ Share & Inspire Others: By using these hashtags when posting: #vtcssustainability #divertyowaste #cleanyobeach #thisisaway @wsl @vanstriplecrownsurf
@sustainablecoastlineshawaii