Photos Mark Holladay
In a place where surfing holds its deepest roots with the indigenous Hawaiian people, it's a refreshing breath of fresh air to see one of Hawaii's own make the effort to spread cultural awareness with the traveling onslaught of professional surfers that embark on the North Shore.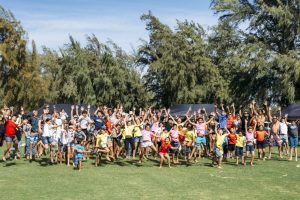 On November 26th, pro surfer Ezekiel Lau hosted the first annual Makahiki games at the lawn of Turtle Bay Resort on Oahu's North Shore. As a Kamehameha Schools graduate, the native Hawaiian saw the importance of sharing his culture.
"We were taught to perpetuate our culture in everything we do. Surfing is my job and it's a way to perpetuate my culture already, but I wanted to take it further one more step, take it deeper as to why we surf and where it all originated from," said the Honolulu native.
"I've been to Indo, Fiji, Tahiti… they all have cultural opening ceremonies to welcome surfers and embrace them in their culture," he continued. "Hawaii is the birthplace of surfing but doesn't have that. This is a start and hopefully it grows into something more significant, like the opening ceremony for Triple Crown season to embrace surfers and cultures."
With participants from a Hawaiian immersion school in neighboring Hau'ula, pro surfers and keiki got the chance to interact in a fun, intimate environment, challenging each other in games once played by the ancient Hawaiians.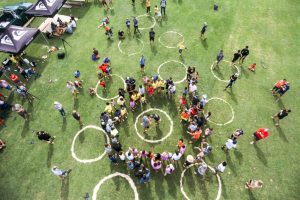 "It was very fun… I got to meet some pro surfers," said 9-year-old Ku Ponciano. "Kelly Slater is my favorite surfer that I got to hang out with today."
Participating in the Makahiki games for the first time, 11-time World Champ Kelly Slater also shared his enjoyment with the first time event.
"Hawaiian style chicken style sumo was funny, kids kept beating me," he said. "You'd think I'd be good with my balance. Maybe I was being nice…" Kelly, along with the crowd of the day easily saw the cultural importance of the event.
"We've come here every season for decades, it's important for people to know each other. The world is small place, and the surf world is a much smaller place," he said. "This is grassroots, and it's cool Zeke has put this together, putting his name to it. I think it's something that will last long term and something they will look forward to."
With the culmination of the Makahiki day on the North Shore came a deeper understanding of traditions and culture from the place that gave the world the sport of surfing. This step towards honoring these practices fall right in line with a direction of positive awareness.
Hawaiian cultural practitioner Tom Pohaku Stone saw this clear as day, praising Zeke for his efforts.
"Time's changed, different generations of surfers come and go, but Zeke being such a young guy and coming up the ranks and pro divisions, it's pretty awesome to carry on who he is – not just the fact that he's a great up and coming surfer – but he represents us a people."