By Taylor Phelps
Odile 'Odi' Schlossberg grew up in Buenos Aires, Argentina, spending vacations along the Uruguay coastline where she developed an irreplaceable passion for the ocean. "We'd spend our summers in Punta del Este, where I learned how to surf and became immersed in the surf culture." Odi's pleasant experiences on the peninsula of Uruguay encompassed deep friendships, family expeditions and surf trips, which heavily influenced her artwork. Surfing, the ocean, and seascapes became a common theme reflected through her art.
When she wasn't vacationing in Uruguay, she lived in the electrifying city of Buenos Aires that homes almost 3 million people and Argentina's capital. Although Odi was born and raised there, she felt disconnected from the constant buzz of life in the city and sought comfort in her quiet thoughts of waves breaking on the shore. Her headspace translated to her art, where she freely expressed her connection with the ocean.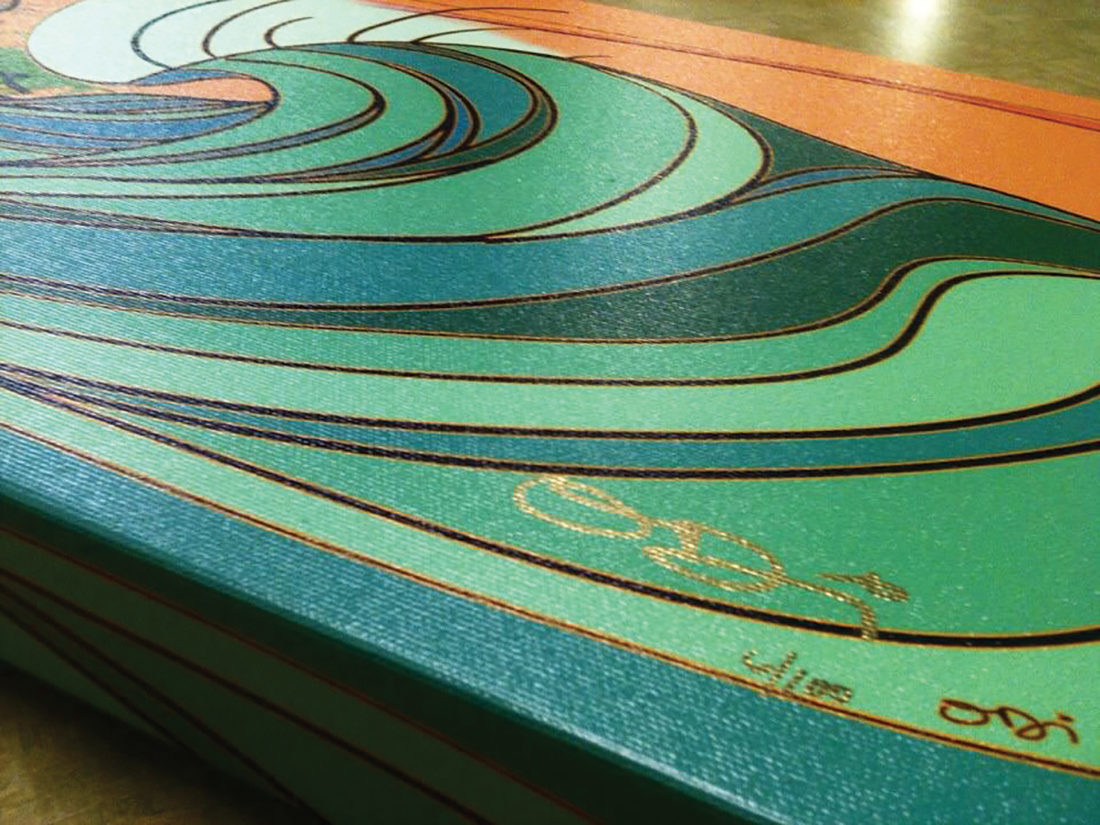 At the age of 4 years old, Odi began painting, where repetition and practice slowly became second nature. She first realized the tremendous impact art had on her life in high school at 17. Odi majored in art with the compelling intent to combine both of her passions: the ocean and art.
"I looked up to big brands, hoping to one day collaborate with them as an artist (and surfer). I found some small jobs in the surf industry in Argentina and Uruguay, and from then on I pursued opportunities to combine art, design, and surfing." Odi's art has developed and refined over the years. She identifies that she's learned from every single piece of artwork, especially with paintings as fluid as waves. Artistically, she experiments with techniques and line work, but as a surfer, she intensely studies the ocean.
"Sometimes I spend time onshore observing breaking waves and how their energy dissipates, paying attention to the movement of water. When I travel, I observe local conditions and unique characteristics. Mixing media and working with different materials enabled me to explore the process of representing water in different ways." Odi believes observation and research are two of the most authentic ways to paint the ocean, both of which are key elements she implemented when developing the 2019 SurfAid Cup Series—the signature fundraiser for SurfAid globally, in which eight surf competitions are held in the United States and Australia. This tag-team event is open to both longboarders and shortboarders, who must raise funds to compete. Another element that makes this contest unique is that both teams are comprised of four amateur surfers and one pro; the team that fundraises the most money gets the first pick from an impressive line-up of pro surfers and local legends. Odi was first introduced to this incredible event when she volunteered for the Santa Cruz SurfAid Cup back in 2018. When she was asked to create the artwork the following year, she had an inspired heart and a clear vision.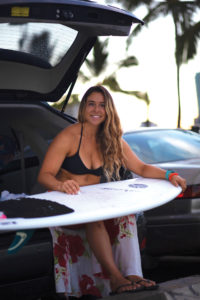 Upon developing the vibrant art series, Odi first determined how she wanted to adequately represent each surf spot. She planned to find an icon that uniquely identified each surf break where the contest was held. "I [identified] elements that presented textures, unique coastal conditions, cliffs or beacons that would be unique to each spot." Other spots required more research, but the goal was the same, to ultimately creatively represent each surf break with a calming sense of familiarity. Each custom design perfectly emulated the essence of each location and surf break, even down to the exact shape of the wave and how it breaks.
With beauty comes chaos and upon developing the series, came many challenges. "[This project] pushed me to find different ways to characterize textures, and visual balance in the pieces. I found myself representing spots that had to be identified, so there was another layer of responsibility to each piece."
Odi's experience with the SurfAid Cup has been humbling and empowering. "Through SurfAid, I am part of a greater force with a much larger goal, where creating art has evolved to hold a much deeper purpose. Contributing to this larger scale change has proven that we all [can] contribute, regardless of our resources. This year to date, collaboratively we've raised $350,000, which will help set up the infrastructure and sanitation systems for over 10 villages in remote areas in the Mentawai Islands, Nias Island, Sumbawa, and Sumba."
Odi's art has been featured on surfboards, fundraising campaigns, merchandise, and even office interiors, and she's not stopping there! "I'd love to produce the artwork for the next Molokai2Oahu race (and possibly race it too). Through art, I want to encourage and support the will, determination, endurance, physical and psychological challenge of that race, and connection to the ocean. All of which I advocate for our daily lives on land, too."
Continually pursuing collaboration with major surf brands in the United States, Odi also aspires to portray the unique conditions of remote destinations as a way to bring awareness, inspiration, and support. Lastly, she plans to join a group of talented street artists in Honolulu. This street art activist group makes "the city feel even more vibrant and alive" and Odi deeply desires to be a part of this "amazing movement that enriches the identity of the city."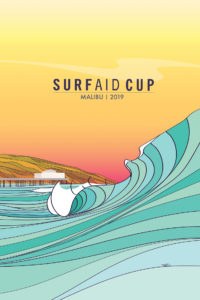 Even as a world-traveler and a globe-trotting surfer, Odi hasn't had the opportunity to surf every break she's painted. It's apparent that she desperately craves the coastal winds and the spray of the saltwater, but she figures "if you can't surf them, [you might as well] paint them."