Words and Images By Andrew Oliver
There is a small but dedicated movement of young surfer-shapers who are putting in the hard hours of building boards by hand, and riding their own equipment, which is reminiscent of an earlier era when it was common for top-performers to be at the forefront of surfboard design. The innovations that legends like Mark Richards and Simon Anderson have brought to surfboard design were a direct result of the feedback they received by pushing the boundaries on their own designs. While self-shaped boards haven't made their way into WSL lockers just yet, the title of "Surfer-Shaper" is becoming increasingly common among the freesurfer set. In the prime of their surfing years, these young shapers are sacrificing serious water time to hone their craft. We spoke with some of Hawai'i's most promising surfer-shapers to see what's driving their shaping obsession.
"We're talking about three different shapers here: Nat, Kamalei, and Daniel. They're shaping different animals. All the boards look different. They're creating their own music of various genres, and they're all valid. I like that the industry is broadening; it's not so homogenous as it was. It was really, really boring back when everyone had to have the young Kelly Slater glass slipper-looking board. I felt like we were suspended in this void of design boredom and monotony.

"But now it's gone individualistic, like it was in the 70s. People aren't afraid to express what they think is functional and fun. What they're shaping and developing is what they like to ride, and that's good. I like that; I like that individualism."
– Eric Arakawa, Shaping for 40+ years, Arakawa Surfboards
SURFERS FIRST
Kamalei Alexander
"Growing up on Kaua'i, it was just normal and second nature to be in the ocean and go surfing. It's like if you were a kid back in the twenties that grew up in Brooklyn: you're going to play stickball in the street like everyone else growing up. We had a pretty talented group of friends growing up, and the competitive state of mind was always there in whatever we were doing. Andy and Bruce [Irons] were pretty much on another level from the beginning; they were good from the start. It took me a lot more work to get there (well not exactly there) [laughs] but at least where I felt like I was doing it right.
"Suddenly, when I was 13, my mom died in a flash flood and that's when I quit surfing. I started bodyboarding and eventually became a bodyboarder. When I turned 16, I asked Andy for a surfboard, and he gave me one. It wasn't much later that I came to O'ahu and competed in the Haleiwa International Open. I think it was still called "the Mabo" back then, or something like that. I finished runner-up, second to Andy in that contest, and the waves were bombing. Between it being huge and getting second to Andy, it was pretty much the beginning of the second part of my surfing journey."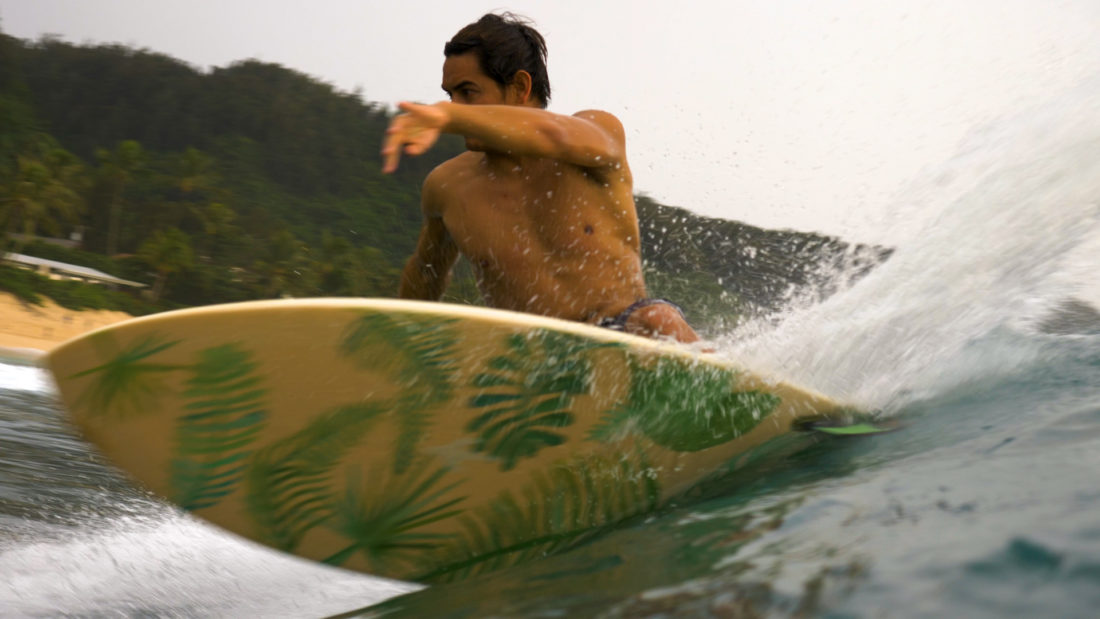 Daniel Jones
"My mom and my dad surfed, and I have an older brother and sister who surf, so going to the beach was pretty regular for us. I'd surf with my dad. I remember surfing on the same board with him in Waikiki. And, I think I fell asleep one time paddling over from Queens to Canoes. I just fell asleep on the front of the board [laughs]. I also remember being on a boogie board or sand sliding from as far as my memory goes back.
I was always interested in surfboards and surfboard designs. I made a board; well, my dad made it [laughs], but we made a board together when I was around 10 or 11.
"I would watch Tom Curren on his fish in Searching for Tom Curren, and I wanted that board; no one was really making those at that time. So, my dad and I made it—and it was sick. I tried to make a couple of shortboards. I could tell that these boards didn't work as good as my Ben Aipas. And, I wanted to get better at surfing, so I needed to ride better boards. So, I put shaping on the side for a while and just decided I needed to learn about surfboards. I just wanted to educate myself and get better at surfing first."
"I really had no plans to build boards for anyone else besides myself. I just needed boards, and that's the reason why I stripped my brother's board. I cannibalized his board and got the foam out of that and built the boards myself, which were terrible [laughs]. It starts with passion first. We are surfers first, shapers second."
– Eric Arakawa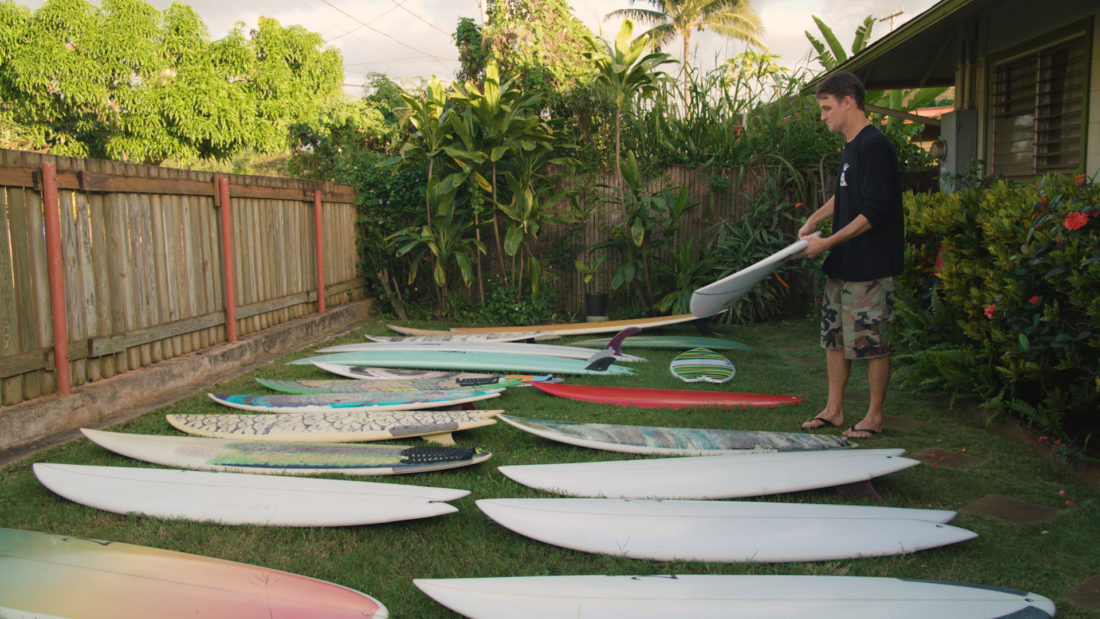 Nat Woolley
"I think at Haleiwa, what we were really most blessed with was that there were really good surfers, the older generation guys like Brock Little, Kerry Terukina, and Charlie Smith. As kids on the inside, we were just watching those guys rip the place apart. And then on top of that, we always had the Tour that came through, so we were constantly surrounded by really high quality surfers.
"I think Ali'i Beach in itself was a blessing. Maybe you could grow up somewhere with less crowded waves, but you don't get that influence like you do being at Ali'i. I think that was probably what gave this drive, that you were going to do it for life, you know, and it was going to be who you are."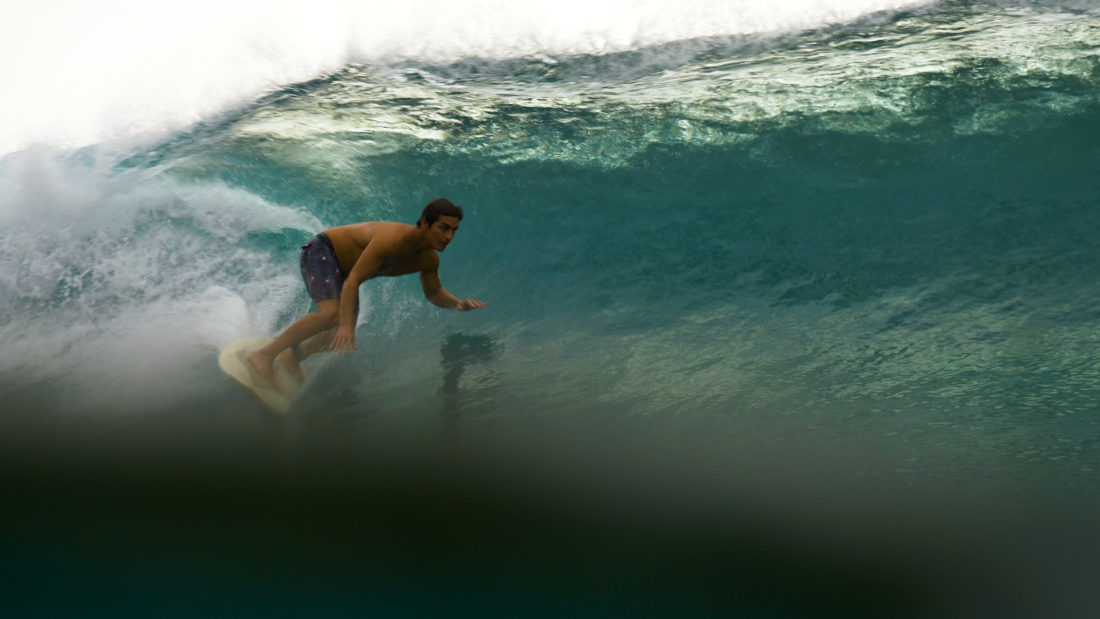 DESIGN INSPIRATION
Daniel Jones
"The exposure Mikala [Jones] brought riding for Rip Curl definitely inspired me; he brought back boards from Derek Hynd. I was a grom riding this 5'6" fish, channel bottom with glass ñ-on fins. And, I was thinking, why does this grown man's board turn better than my little kid board? That was a lightbulb moment.
"I think my boards are a combination of all the favorite boards I've ever had. When I'm making them, I'll remember, 'I like this from my Tokoro, I like this from my Bonzer, I like this from my Marshall Crumb, and I remember this one Mike Woo felt this way because of this…' I just put it all into the board, the board I want to ride. I put all my favorite parts together."
"It's an advantage to all of the surfers-shapers who surf well. They don't only rely on feedback from their team riders or other guys on their boards. They can have instant feedback when they take their own boards in the water. They'll shape a board, take it out, and know if this board works on a rail, or maybe I need to change this or change that."
– Glenn Pang, Shaping for 40+ years, T&C Surfboards
Kamalei Alexander
"From what I've gathered, the best people at anything take a little bit from everyone else and add it to their style, their flavor. For me, I'm into the old school: single fins, twin fins, and low rocker boards for going fast—flowing good and not having to throw your skegs out at the lip every section. I love doing that, too. I feel like these days, anything goes and it doesn't matter if you look good. Some things pro surfers are doing are amazing, but some of it just doesn't look cool at all. Anyways, I'd rather watch Tom Curren surf any day. So that's that.
"I've watched what happens when people ride boards with rails that are less forgiving: it makes them engage into the wave face, and into their board. I guess it would be kind of like a real sharp knife. You don't just throw the thing around your fingers, you come in and you're precise about it. Instead of having these loosey-goosey kind of no-repercussions rails. It's hard to find a balance, but who cares? Let's get back to the style of making boards for just a move, or a wave. I'm not saying that no one's doing that, but it's polar opposite of these surfboards that can do everything just alright."
Nat Woolley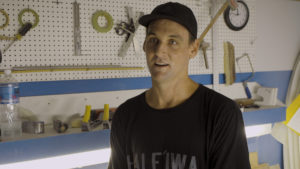 "At the time, nobody wanted to make me the boards I wanted to ride. That's what shoved me into the shaping room: this need to make boards that I wanted. And maybe it was dog-luck, but the first board I made for myself just worked somehow. I still have it. It's twisted and tweaked, but it worked for me. That's what set me on this idea to make surfboards. When you're on the pursuit of making something that you're happy with, it can be quite a challenge. I'm always trying to be just ahead of that curve. I'm just searching for this really good feeling. And, you don't always get the opportunity to take them out in the right conditions.
"On that point, this board I brought on this last trip I shaped for myself and I made it for Indo; I made it for G-Land basically. I wanted to go there and get it 8-10ft, and ride that board that was made for that wave. It was just insane. And for it to work as good as it did was so exciting."
"The industry as a whole is more diverse, design wise. Now, guys are more open to trying single fins again, and twin fins are making a big comeback. They're all looking at all kinds of other stuff. I think it's good that guys are coming up with these different ideas, because you never know. Look at the boards today; if guys didn't try different things before, we wouldn't be where we're at. There's always a better board. So, we have to try new things—sometimes you'll succeed, sometimes you'll fail."
– Glenn Pang
FUELING THE FIRE
Daniel Jones
"I get a lot of satisfaction out of shaping, really similar to what I get from surfing. I'll check the waves, and if it's crowded, I'll go shape. I'll come out of the shaping room happier than I'd come out of the water with all those people. It's creative, and hand-shaping is manual, so it makes me tired. I feel like I have accomplished something afterwards, plus it's fun.
"After hand-shaping for a while, I can see why people would use the computer. Hand-shaping is so much work. I have so much respect for all the guys who made a living before the CNC machine was available. I can see why they would hate on guys who didn't learn how to hand-shape. I think eventually, if I wanted to be able to survive off of shaping, I will need to learn how to use the computer programs. Originally I wanted to get to 1,000 hand-shapes, but then it went down to 500 and that number is dwindling. Because, I find if I'm in here [in the shaping bay], then I'm not surfing [laughs]."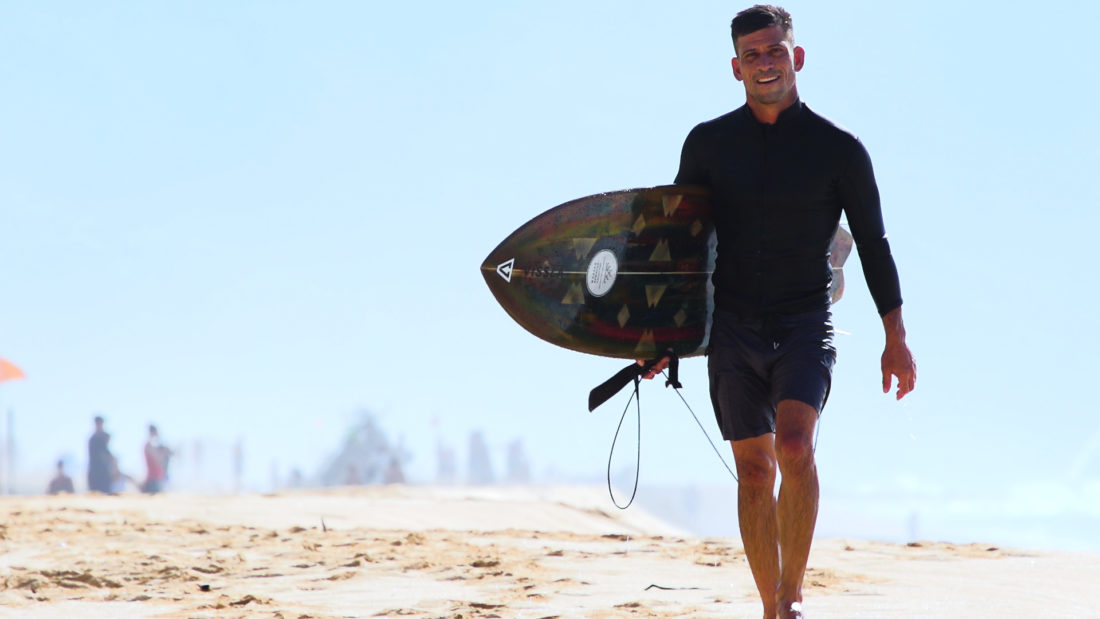 Kamalei Alexander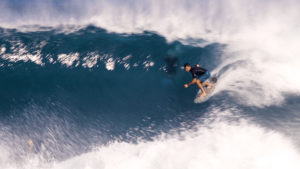 "Owl Chapman has been super supportive of my little journey. He told me a good one, which I just love; he said, 'Make your friends good boards and don't overcharge them.' He's such a legend and he's got a million other pieces of advice, but I definitely was stoked on that. I've stood by it, too. There have also been a handful of cases in which I take the board back and I make them another one. And, I'm fine with that, because I get to move on and make another one. I have a handful of friends that were, for lack of better words, my 'guinea pigs.' Luckily they're forgiving and they let me do that; they've helped play a big part in that role for me to work out my designs.
For those people that have a go, I want them on good boards. It's on me to get the bad product from under their feet and replace it with something that works for them.
"Underneath it all, surfing just pumps me up. People that get pumped up on surfing pump me up. People that aren't apprehensive, but passionate, and not afraid to be wrong. It's all good, you know? That's kind of it: surfing good waves on some good boards."
Nat Woolley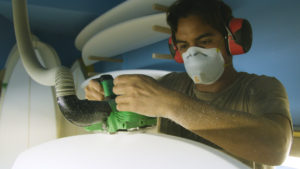 "The only way I could describe what happened to me is I got lucky. I came in here at the right time. And I had good mentors, and the guys that were around then shaping for Eric all eventually went their own way. If they were still around, I might still be stuck on the machine. The father of my wife, April, is also a shaper so she knows the income and the lifestyle and what it comes with. I was lucky to be surrounded by people that were encouraging me to keep up with it.
"It's true: you end up riding some pretty bad boards. And you need friends that are willing to ride some bad boards, to give you a shot, and then give you some really honest feedback. Without them telling you what could be better, you might stay in a certain lane. With my group of friends—and having two brothers that still surf as much as they do—they'll shoot it straight with me about how the boards work, and that kind of input really pushes and drives me to make them better; they see what I'm not seeing.
"It's definitely been a pursuit that was ingrained in me as a kid. I once wrote in a piece of paper, 'What do I want to be when I grow up?' And I just wrote, 'Charlie Smith.' He was a firefighter, he surfed all the time, and he shaped mental boards. That's what I wanted to do. I even had a crack at the fire department. I got all the way to the interview. I did the physical test, then the written test, and even got to the interview; cool. They said I was pretty much in. And then I said, 'Well, I'm here to basically tell you guys I'm out. I know it's going to sound crazy, but this isn't what I want to do. I want to build surfboards; I want to shape; I want to design."