By Cash Lambert
Photos Adam Klevin
Simply put, we were speeding. Both Jeromy Hansen – who was in control of the Toyota Tacoma – and I understood our speed was reaching a dangerous level, but I refused to protest and Jeromy, with a big grin, kept his foot on the gas pedal.
Bumping along a dirt road on Maui's West side in the summer afternoon, we launched up an unpaved incline, and once the land leveled, the truck vaulted forward, seemingly mid air for a blink of an eye. When the wheels touched down on the dirt, the tail of the truck slid out to our left, towards a row of thick bushes. Gravity had taken over, threatening to flip the vehicle, and just before we hit the bushes Jeromy regained control and whipped the truck back onto the road.
"How's that?! Jeromy yelled, a storm of dust surrounding us. "I love that little ramp!"
As we continued on the dirt road towards Jeromy's house, situated up the mountain from Kapalua Airport, he continued to talk about his passions. Namely, surfing ("I've scored some triple barrels at Honolua recently") and riding the trails on his dirtbike ("I hit an oil patch recently and slid out, it's all good though") and it's obvious that even though Jeromy is nearly 40 years old, he's half that age at heart, which has kept him active and healthy and has also given him the idea to sponsor over two dozen grom surfers, who otherwise wouldn't be able to afford travel for competition from one island to the next.
"I began working with Mokulele Airlines in 2013, and the marketing team was shooting around ideas," Jeromy said earlier in the day, as we sat at a beachside restaurant eating overpriced fish tacos with Lanai and Molokai crowding the clear horizon.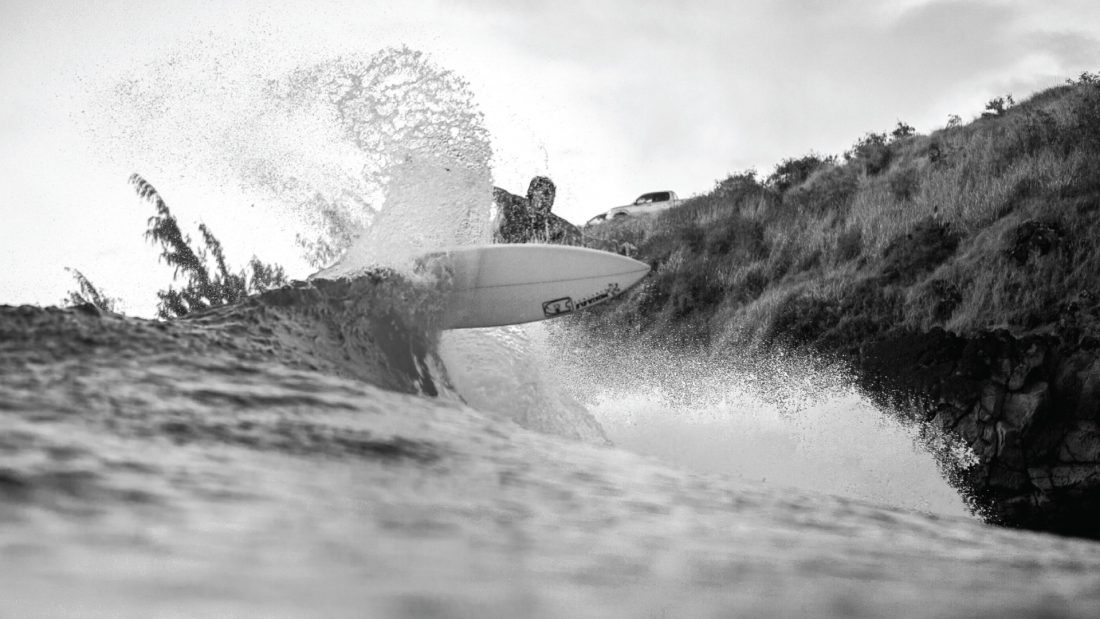 Jeromy, sporting a red Mokuele Airlines t-shirt, was the first to greet me earlier at the airport after I touched down in one of Mokulele's comfy airplanes that features enormous windows, providing glimpses of Hawaii's rugged topography. "I said why don't we pick up kids in the local community who need help traveling interisland?"
That's exactly what Mokulele Airlines, a commuter airline that's based in Kona on the Big Island, did. Though Jeromy is humble when discussing it, it's an unparalleled and unprecedented act worth patting him and Mokulele on the back for. "The first two kids we sponsored were the Macedo's, then we picked up Kahanu Delovio. That's how the surf team began. Now, we sponsor 29 kids throughout the islands."
Surrounded by tourists eating on their vacation, I finished my fish tacos, and leaned forward. "You travel to the contests with the kids you sponsor too, serving as the Surf Team Coach," I said. "And that's on your own time. What fuels you to do so much for the up and coming generation?"
"Just being myself, I remember how it was a struggle when you're young and want to do contests," he said without hesitation. "I'm here to help them in any way I can, whether that's taking pictures, getting them to and from the contests or just being another voice besides the parents. And the parents, they thank me and say things like they wouldn't have been able to do the contest without me. We save them a lot of costs, and the team riders get to meet up with other families and other groms."
"In California, the East Coast, Australia…families can jump in the car and ping anywhere," I said. "But not Hawaii."
"Right, I'm sure we've saved the families something like $10,000 a year," Jeromy said. "I actually wish I could go back in time and get what these kids got. Their equipment is insane…when I was their age, I was sanding down a middle fin to make the board looser because it was glassed in. My shortboard was a 6'2", too."
Jeromy grew up in San Clemente, CA, during "the era where the older guys weren't afraid to pound the kids, where you had to wait your turn until you got respect."
Other than a stint in Costa Rica, Jeromy spent much of his time in the Golden State, but now Maui is his hanai home.
"I appreciate Maui more so than Oahu, since Honolulu has that Los Angeles vibe," he said. "The Big Island is more affordable than the other islands. On Maui, I'm in the middle of both Oahu and the Big Island. Plus, we don't have the vog here, and there's fairly light crowds. I can surf by myself if I want to on a given day. But here the West side, it is the most expensive spot to live, other than Kauai."
Today, he's the station manager at Kapalua Airport and works with Mokulele's marketing and social media, also scheduling sponsored surfers to and from contests, along with organizing team houses.
"The young talent is pretty amazing right now," he said. "Jackson Bunch, he's only 13 and riding waves 5 times over his head backside. The kids here in Hawaii are a skip away from going to Indonesia and Australia. Plus, keiki contests are maxed out all over the Islands. In the coming years, the World Surf League is going to see a lot of it."
I waited for Jeromy to finish his fish tacos, and then asked what he does when the sea goes flat.
"Dirtbike! I also live on a few acres," he said. "Had chickens but a mongoose ate them all. I've got pineapples, veggies, everything. Want to see 'em?"
With that, we were off on the dirt road, going too fast, leaving the earth in his Tacoma, crashing back down in an explosion of dust and spinning out.
As he gave me a tour of the property, which featured a million dollar view of Lanai, Molokai and the sea, I asked what the future held, other than continuing to provide opportunities and supporting the younger generations through Mokulele.
He stared at the horizon, and then turned to me with a grin. "I'm turning 40, and I'm not going to call it halfway to dead," he said. "I'm ready to charge as hard as I ever have. I feel like I'm in my 20s and I just want to surf big waves."