By Shannon Reporting
Dropping her third album of healing sounds, Noelani Love has her toes dipped in various industries. The single mother with mixed Hawaiian and Chinese descent is as diverse in her prospects as her background. Growing up in North Carolina and now residing for over a decade on O`ahu, the Southern girl is all about embracing uniqueness and sharing the power of voice. In addition to leading a healing sound and dance class at Turtle Bay's Wanderlust yoga festival, she travels the world singing and sharing mantras and traditional Hawaiian song. Her iconic jewelry business on the North Shore helps support her now 11-year-old son, and a lifestyle dedicated to healing through voice and vibration. As a single mother who suffered through severe postpartum depression, Noelani navigated the ocean of emotions to persevere, discovering the magical powers of music. She is now committed to sharing her voice and positive message with the world. We're excited to share her success story in the Wahine Issue of Freesurf.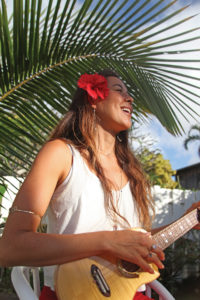 You're about to release a new album? Tell us about it. Yes! I released a reggae album in October called "Follow the Light" which was recorded in Bali. This next album that I am releasing in May with the New Moon; it's a compilation of remixes from my first album. This one has good dance beats with conscious lyrics that are ancient chants from thousands of years ago that have been sung for peace, for the connection to the divine that lives in all of us. I think it's so important that we become aware of whatever vibrations we are experiencing, whether it's music, our thoughts or words, that's what we are receiving and putting back out into the world. We are literally creating our world. This whole world is just a dream for all of us. If you make plans with a friend to grab coffee, then that's your dream and it's what you're going to go do. Or if you want to go surf Sunset Beach with your girlfriend, that's your dream; you are always a part of the process of creation. I totally believe that we, as human beings, are always creating our own reality. So with this album, like all of my music, it's a way to express that creative potential that we all have. The songs that I write are the mantras or the statements, the affirmations that I'm wishing to be put out into the universe to be sung and to be rippled out. These songs connect us to the eternal vibration of life that exists within all of us.
For example, in one of the songs on this album that I just made a music video for, the chant is "Lokah Samastah Sukhino Bhavantu" [a Sanskrit mantra] which means, "May all beings everywhere be happy and free." In the music video, a bunch of girlfriends of mine are participating in this beautiful ceremony creating haku lei (flower crowns) and dancing on the beach with giant waves in the background, enjoying and celebrating life as the sun sets, and then we light the fire under the stars. We sing and dance with the power of the fire putting our magic and intention into the circle. I think that ceremony is something so special and important for us as humans, and it's something that our ancestors did often in the past and has been forgotten in this era. Coming together with intention, honoring life and each other's intentions, seeing each other as equals and as individuals is so important: to be acknowledged, to be expressive, to be authentic, and to allow that to be ok.
What does music mean to you? Music is a way of authentically expressing oneself. When I write music, it comes from my heart, it comes from a deep place — maybe my soul — allowing itself to be seen and heard.
As a mother and an entrepreneur, do you think women can do it all? I like to think so. I just want to keep growing, loving, learning, inspiring and empowering others, and keep on finding freedom and authentic expression of who I am.
What inspiration do you draw from the ocean? I love the ocean so much. I find expansion, connection to nature, and connection to source — whether you call that God, infinity, the universe, consciousness… I find creativity. I find flow, the ability to challenge myself; I find fun! I'd compare it to making love: you're flirting with the ocean; there's a giving and receiving and exploring of what's possible and how much fun you can have.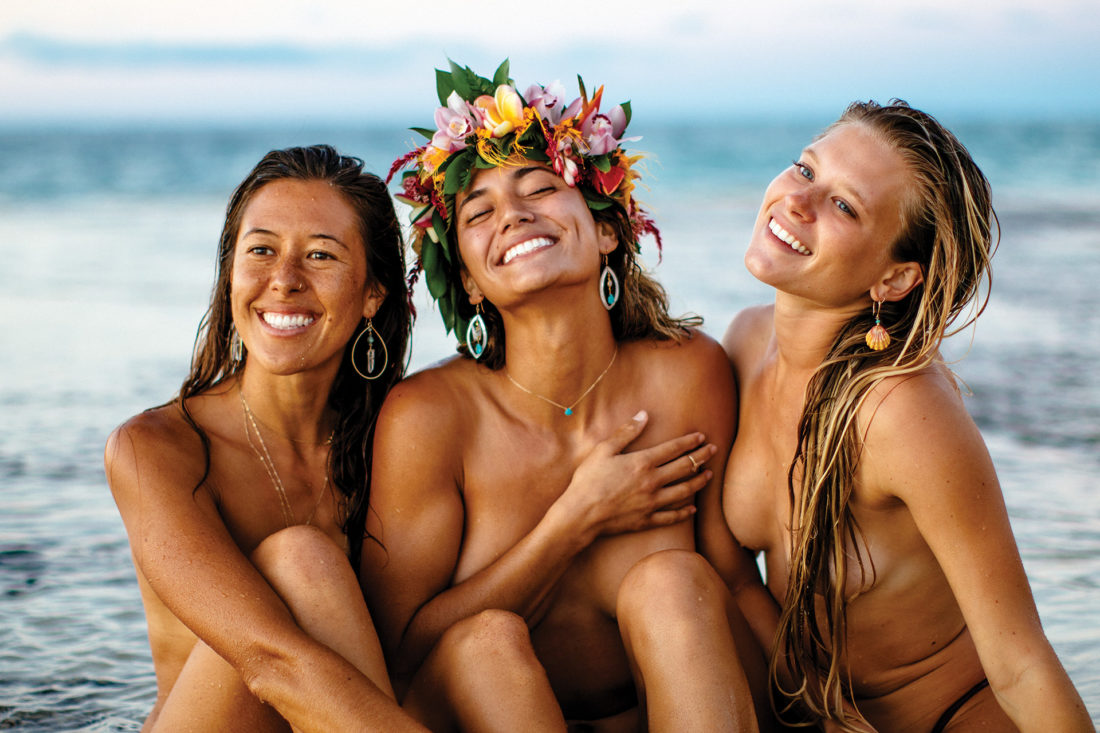 What's a woman's role in the world of surfing? I think that women love to connect and play more on that emotional side of yin and yang with masculine and feminine. When I am in the water, I am just trying to have fun. As a surfer, 98% of the time I am one of the only women in the lineup whether I'm at Sunset or Pipe, my two favorite spots. It's so interesting to watch the dynamic of the men paying no attention to each other. I grew up in the South, even though I am part native Hawaiian, so etiquette is an important part of humanity—a simple "hello" as you pass them and acknowledge their being and existence, even if you're not friends or even acquaintances. The ocean on the North Shore is a competitive environment, but a polite gesture of acknowledgement is appreciated. That's one thing that women can bring into the water: connection, and less competition.
Right now is a really powerful time for women in the surf industry. Just like in politics, there are so many women running for President right now. I think that means a lot for humanity's evolution, the fact that women are charging bigger and better waves than ever before, as far as we know. I think that says a lot, and also receiving support for that like the big wave contests happening for the women. There are a lot of women paving the way for others in the surfing industry, like Coco Ho, one of our North Shore legends, and even the up-and-coming girls who are doing amazing work. It's a really exciting time right now for women in surfing.
What gave you the confidence to become an entrepreneur? I always knew I wanted to be my own boss. I don't want to work for someone else's dream. I started designing jewelry as a hobby when I was 19. I was in college at the time, and I started to see that people were interested in my jewelry and supporting it as a business. So I started my company straight out of college… And my business has been thriving ever since. It will be 14 years this year that I've been in business.
It's so important as a human being to have a strong desire for something. Whatever it is that your heart desires, if you really put your mind to it, know that if there's a will there's a way. Just having that thought makes it possible. We forget about that a lot in society; there isn't much discussion about its importance. As an entrepreneur, you are your own boss. Nobody is going to tell you your working hours; it's all on you. Trusting in yourself, having self-discipline, commitment, and perseverance are going to take you a long way. Owning a business has also taught me a lot about integrity. It's been hard to commit to and believe in myself as worthy, but I'm so grateful for all of the lessons from being an entrepreneur. I've grown a lot from owning a business, having to speak publicly and manage staff. It's never easy, but it keeps me evolving and always learning.
Did you surf while pregnant? I was bodyboarding when I was pregnant, and bodysurfed a lot. Being able to ride waves kept me grounded while I was pregnant. Surfing also kept me strong and I think my baby in my belly loved the feeling, too.
I actually had to get rescued by the lifeguards one time when I was pregnant! I was maybe four or five months along in my second trimester, and I didn't have as much energy as I used to have before. I thought I would be fine in 4-5 ft Ehukai so I swam out there, and the swell started to pick up really fast. I remember the lifeguards came out on a jet ski to check on everybody. I waved at one of the lifeguards to come get me and he waved back, "Hi Noe!" and then kept going! I thought, "Oh no! Okay, I have to survive. Just keep on swimming." He circled back around and started talking story, so I finally asked him to take me in.
That taught me a lot about humility. When people are too ashamed to ask for help in the water, it can be deadly. It's important to know when to ask for help and support. I never really surfed on a board until last summer when my son said he wanted to learn how to surf. I started longboarding at Sunset with him, and now I love it.
How has motherhood changed your life? Becoming a mom has been the most empowering and challenging part of my life. I've learned how to love unconditionally. I decided to have a home birth with my son here at Sunset Beach, and that experience was a challenging, yet empowering 18 hours, yet I think it greatly shaped who I am today. It taught me to surrender and trust in the intuitive wisdom of my body to birth. I remember the moment he came out while I was squatting on the floor, and my midwife handed him to me. I was completely in love, thinking this little mammal came out of me! That was amazing.
The birth process taught me a lot about the power of sound and the power of my voice. I learned how to allow sound to become a vibration that literally shifted my mind out of this dimension and into another realm so I could get into that headspace to relax and surrender my body enough to allow the baby to come out. That is where my sound journey began as a singer and a teacher, and even into my business as a leader for my employees. I never had any employees before I had my son. It also inspired me to play the ukulele, to write music, and eventually inspired me to teach pre-natal yoga, and other styles of yoga as well.
How do we join forces as women, instead of compete against each other? At the core of my heart I believe in abundance for all, but because of the conditioning that I've been taught from society and education, my family, from community… there is a sense of constant competition. There's a fine line between competition and striving to be your best. We can all strive for better together and support each other in that way. Each of us has a really strong purpose on this planet. Why did we come here? I believe that every person has a soul, and our souls came down to this planet for a particular reason. We can all thrive and do better than just survive. My purpose is going to be way different than every other person's purpose. When we each find our unique voice and expression, then we can all thrive together abundantly.
Although, I completely understand the competition mindset. I grew up playing competitive sports, being angry at other girls for no reason… but that really shifted after becoming a mom. I realized that I need my community of sisters; we need each other. We cannot do this all alone. It was hard being a new mom. I suffered severe postpartum depression. I was depressed, wanted to kill myself, wanted to kill my baby… for six months I felt that way. Life had changed so drastically from being the carefree 23 year old I had been. I thought I would never taste freedom ever again. I couldn't just go to the beach with a book and a sarong anymore. I had this beautiful baby but didn't feel like I could love him because of crazy, erratic emotions and hormone changes. It was really hard. There are a lot of options to help. I'm also a birth doula, so I've learned a lot about how to support that process… I found sisterhood so important after becoming a mom. I learned how to connect with community; I know that I'm supported. Like a wave, this phase too shall pass. Becoming a mom helped me to connect with a sense of spirituality that I had never explored before. I started to see myself and my baby as a part of the eternal cycle of life. Motherhood has been the biggest challenge as well as the biggest gift. Now that my son is 11, he has a lot more freedom and so do I. Life is great!
Links to see more from Noelani:
Jewelry: NoelaniHawaii.com
Music: NoelaniLove.com