By Cash Lambert
It's one of the biggest nights in surf: the World Surf League Big Wave awards, with the industry's best looking spectacular and strolling the red carpet as a soft California summer breeze fills the air. Standing on the red carpet, alongside the likes of Keala Kennelly, Paige Alms and Billy Kemper is the dazzling Shannon Marie Quirk – otherwise known as Shannon Reporting – with a microphone in hand.
"I have to interview the athletes, and their friends and family, along with work on the stage for live production," she says, describing her duties at the gala that took place on the eve of the much anticipated 2017/2018 WSL Big Wave season.
The red carpet is certainly one of the safer on camera jobs Shannon has executed throughout her impressive career. The 29-year-old has reported live from the channel at Mavericks as the world's best cartwheeled down waves the size of 3-5 story buildings, live streamed from the back of a ski at Nazare, with 60-70 foot sets detonating into mountains of whitewash nearby and so much more.
With dedication, hard work, and a bit of luck, Shannon has cashed in on her action sports passion and is present during the headlining days around the world – serving as the WSL Big Wave Event Coordinator – scoring incredible surf along the way and calling Sunset Beach her hanai home.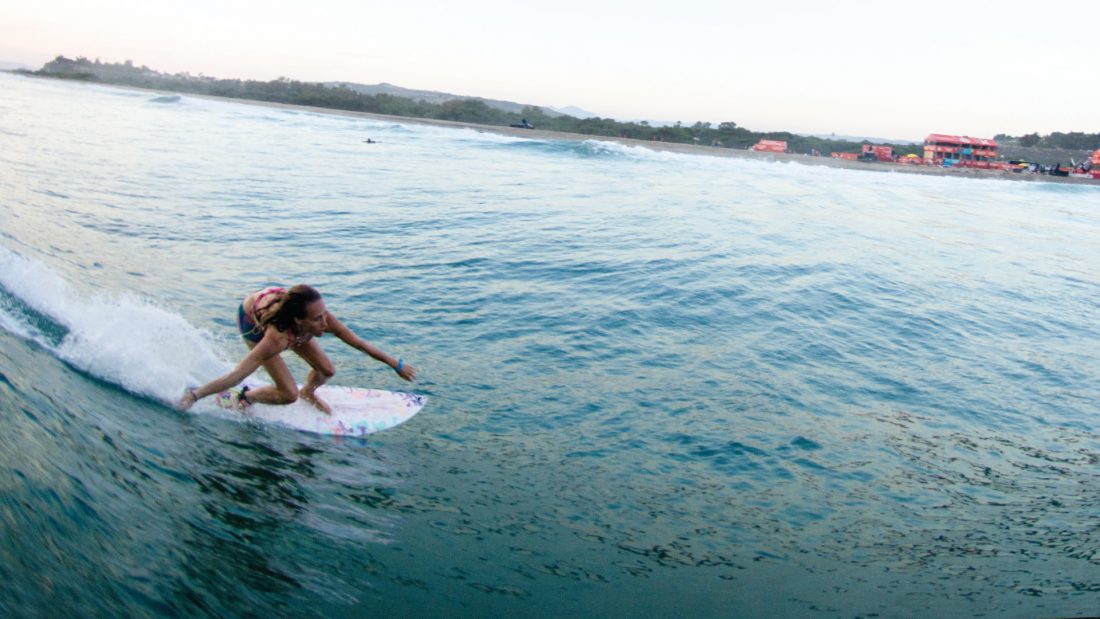 Shannon's roots begin in the cold waters of Northern California, where she learned to surf in uncomfortable fashion. "My Dad would get me out in the water with no hood, no booties and I thought it was a really uncomfortable sport," she says with a laugh, revealing a snow-white smile. "I remember it being so cold…Ocean Beach, it's a marathon of swimming and it takes so long to get to the lineup. I loved the first ride but I would always get one wave and come in because I couldn't feel my hands."
An action sports fan from then on, Shannon attended UCLA, and was injected into the epicenter of the industry. "Transworld Snowboarding was my first job, and I thought it was awesome that the editor was paying for helicopter flights to Alaska and doing amazing trips like that, getting paid and raising a family. I was inspired, knowing that I could do that myself."
After completing her undergraduate, she packed bare essentials and moved to Brazil, working on websites and as a surf photographer. There, she not only conquered learning new languages (Spanish and Portuguese); she also paddled out at unfamiliar breaks and reached the summit of windy mountain ranges.
Opportunity soon came knocking at her door. "I got a call from the company that was wanting to start the Surf Channel," Shannon says, her blue eyes glowing. "There I was, living in tropical paradise. And I was happy there, but the opportunity seemed right up my alley, so I decided it was time to move back to the mainland. I became the Editor in Chief of the Surf Channel, where we created so much content. I helped to really found the business. I was at the point in my life where I wanted to hustle; I was game to meet as many people as possible and be busy all the time."
It was during this time that she saw Mark Healey's famed wipeout live – free falling down a monster Mavericks wave – from the channel. "It was the first time I was in the channel, and there I was, reporting live on television," she says. "Those environments make me thrive, and I do my best work live because I know I can't screw it up. Being in that environment, that is what I wanted and still want to do with my career…Tell those kinds of stories."
For 3 years, she hustled, she shook hands, she was present at every industry gathering and she surfed during her days off.
Then came another offer she couldn't refuse: "When the WSL bought the Big Wave Tour, they had locked in production team," she says. "They offered me a job as Event Coordinator, which entails planning, permits, travel, accommodation, things like that."
This is how she describes her job: "Once we have an orange light, I start booking reservations at hotel, making sure the event manager on sight is ready to go. Once we have a green light, all athletes have my number, because if they need a new flight or their boards don't make it…basically, it's days without sleep. It's fun and exciting but a lot can always go wrong…there's always such mayhem surrounding these massive storms, so we prepare for the worst."
Within that role sits another: pushing for a Women's Big Wave Tour, along with vocalizing support for female Big Wave surfers.
"Even though women have been surfing big waves for so long, the format for putting a women's event together is only a couple years old," she says. "I was on the broadcast team for the Big Wave event in Oregon, and it was a men's event but they ran a women's heat. I mentioned on the live feed how there is no prize money for the girls, and a local brew company came down and presented $5,000 for the girls. I think it's about voicing that reality. Maybe people don't know how truly unsponsored these big wave girls are, how expensive their gear and last minute flights are."
She continued: "Most of the Big Wave women have jobs; they can't freesurf all day, because surfing isn't their main source of income, or their income at all. I also think it's only fair for women to get paid the same as the men. Since we're at the beginning of the sport, we have the ability to set the tune up now and make changes."
One of those changes is to "accept differences and be ok that maybe we're going to run a Big Wave event for the girls a different day, maybe even have a different format. If any of the girls get hurt, be excited that they're out there trying. They're the the ones who decided to be out there. I see the future as a way for women to not only empower themselves but inspire others, make money and potentially a career."
When Shannon isn't focusing on a Big Wave agenda or spending time in lineups around the world, she's wielding her entrepreneurial spirit, pitching and working on production and social media jobs, continuing to turn her passion into a profit.
"Have coffee with someone you're inspired by or want to learn from," she says when asked about advice to she'd give to those aspiring to be on surfing's frontlines. "Mentorship is really important; it's important to reach out and to learn from whoever it is that you're looking up to."