By Cash Lambert
It is Spring time on the North Shore and the salty air is quiet. The only noise is the soft whistle of the wind whipping up shoulder high swell at Pipeline, being surveyed by Tai Vandyke who is perched on the steps of the Volcom house.
"Mason and Burger…they've always been such solid groms," he says, a smile spreading across his face as we explain that the duo, serving as Guest Editors, wanted to feature him in the issue. "They learned from the best, Uncle Mike and Derek. They're respectful, both charge and rip and they've been partners for as long as I can remember. Burger is one of the best guys out here" – he points at windswept Pipeline – "and Mason has that bloodline, plus he's so positive and surfs so good. I can remember the first time I saw Burger here at the Volcom house, he was this tiny roly poly kid, and everyone would say 'look at this cute grom! He's Cheeseburger!' And even when he was young he had style. When Mason was young, everyone knew he was going to be the guy one day."
Tai's eyes turn back to the water, and the scene goes silent. Which is a strange contrast, because during the fall and winter seasons, the Volcom house is loud and crowded and is home to the party on the North Shore. Today though, the crowd has migrated with the World Tour elsewhere but the captain of the ship, Tai, remains.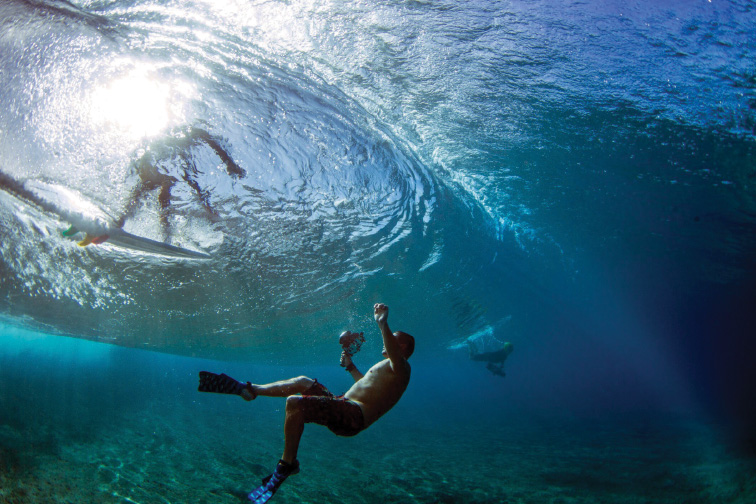 For nearly 25 years, Tai, has presided over the Volcom house, acting as the point man for helping out sponsored surfers, helping with retail and events, teaching respect when it is needed, along with putting his renowned power surfing on display for all to see in front of the house.
So how did it all begin for the Maui native?
"My earliest surfing memory is riding waves at Koki Beach in Hana," he says. " I would go to the beach and skimboard, boogie board."
And then Tai caught his first wave. "It was the first time people were hooting at me and I was thinking about how fun it was. It's definitely an addiction. Even nowadays, you can be having a terrible session but if you get one good wave, it can make your day."
After being hooked at age 12, Tai's first introduction to the North Shore came around age 14 from Mr. Pipeline himself: Gerry Lopez. As member of the Gerry Lopez Surf Team, Tai received a North Shore tour from the living legend.
"He showed us every spot on the North Shore in one drive," Tai says. "At the time, I didn't realize how priceless that was, and as I get older I realize how lucky we were to have that support. During that trip is when I met a lot of my good friends, like Jason Magallenes.
According to Tai, it's sometimes better to be lucky than good. That's how he explains what would unfold in the coming years: developing a relationship with Volcom that he would maintain for over two decades.
It all started when he was handed a box filled with Quiksilver clothes and stickers at a contest in Maui, thanks to Donald Pahia.
"I used to go to school with rags for clothes and the next day I showed up with these brand new Quiksilver clothes," Tai says. "I basically stumbled upon it, because I didn't surf better than 10 other guys who weren't sponsored. After that, I worked hard and tried to get photos to keep the sponsor happy."
Although he enjoyed freesurf sessions more, Tai surfed in local contests, and ventured to California to compete. There, one of his close friends – Magallenes – reintroduced him to the Volcom team.
"I met Wooly [Richard Woolcot] and those guys a year before and surfed with them, and when Jason took me to talk with them, Wooly asked me to ride for Volcom. They gave me some stickers and a t-shirt, and told me I was on Volcom. That was in 1993. So when I got back to Maui, I picked up an old magazine called Wave Action and I was on the back cover with Kaleo and [Dave] Wassel. I remember thinking 'this is crazy' and they used me in ads and video parts. I loved it, and I knew that only the best guys stay in the game for a long time, and that's what I wanted to do."
Then in 1996, Volcom landed its first house on the North Shore. Well, sort of.
"It was a condo at Turtle Bay, that was the first one. We had this big red station wagon that we called Big Red, and I met so many good friends like Gavin [Beschen] and [Shawn] Barney [Barron] there."
Fast forward into the early 2000s and the Volcom house, as it is known today, was born. "Wave Warriors had the house next door but it was mellow and tight," Tai says. "This place, this house, on the other hand, erupted. The doors were open, and we had 10 guys from Kauai, 10 from Maui, boys from the Big Island and the North Shore. It was nuts."
At this time, there weren't other team houses stretching up and down Kamehameha Highway. This placed the Volcom house and the Volcom logo at the epicenter of surfing, giving Tai a front row seat.
"That time was surf history, with Andy. It really was. He was a brother and good friend, and to watch him take out Kelly Slater and get those two 9s and win the World Title and Pipe Masters… the only way I can explain it is this" – Tai stopped to point at his arms – "straight chicken skin. From Bruce winning, even when Kalani made the Finals with Slater. I watched so many friends get the waves of their lives."
But the Wild West infiltrating the Volcom house wasn't meant to last forever. Rules were soon instituted to keep the exploits from spilling over into courtrooms, and that, combined with other team houses arriving, mellowed the scene dramatically.
"We still have our fair share of good times, though," Tai says. "It's just kept under wraps."
Today, Tai's job duties entail much of the same: taking care of the houses, getting surfers to and from the airport, helping with retail, events, all things Volcom.
hether he's behind the camera or watching from the steps of the fabled Volcom house, Tai has seen both the history and the evolution of modern surfing, and plans on continuing to watch it progress. The power surfer does have one critique, though.
"The talent level is insane today, and the state of surfing…I'd say people are starting to value on the face rail surfing a little bit more. The last couple of years there were too many airs and today you see surfers trying to work on their carve and rail game. I've seen guys do a million airs and I'm thinking brah just do a turn already!"