Documenting heavy Hawaiian shorebreaks from the water is definitely not for everyone. Sure, one might swim out to enjoy the energy with a GoPro or camera setup, but doing it when the ocean is out of control, flushing out to sea with the craziest of riptides, and heaping solid swell energy with everything detonating in only inches of sand… Now we're talking next level!
In this issue, we introduce you to some of the craziest and most creative humans out there who dedicate their lives to this unique water photography. This select group of individuals is always on the lookout for small windows with the right conditions, constantly analyzing wave forecasts, and committed to endless spot checks. The thing about Hawaiian shorebreak is that every day—truly every minute—conditions change dramatically. The shorebreak is a dynamic zone: very dangerous, violent, and crazy shallow.
Timing is everything when shooting mutant slabby shorebreaks. Reacting quickly and making the right decisions in split seconds is vital; if not on your A-game, then accidents, chaos, and carnage can occur in the blink of an eye. That's the precise moment when experience and expertise kicks in; knowing the rhythm of the ocean, understanding its energy pockets and how everything works sets the veterans apart from amateur shooters. There are varied strategies to approaching shorebreak madness, and these madmen have figured it out after years of sacrificing their blood, sweat, and tears—in addition to their fair share of shorebreak poundings which comes with the territory.
While this is a short list of the many respected shorebreak shooters, we know you'll enjoy the galleries and stories from some of the most impressive water-warriors out there. These guys have dedicated their free time (and often their entire career) to waiting for the heaviest of days to swim out with their cameras, documenting huge water caves in gnarly shorebreak. You will not be disappointed. Aloha.
TAI VANDYKE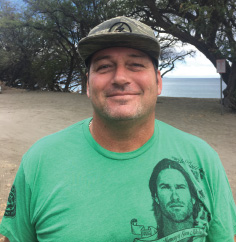 Years shooting shorebreak: 5
Favorite spots to shoot: I don't like to mention names or locations of spots out of respect for the locals… but, obviously, anywhere in Hawai'i that I have time to jump in and play.
Equipment and technique: Canon 1DX, 5DS, and CMT water housings. I don't really have a technique; I just like to spend time in the waves rolling around, getting pounded, and enjoying the power of the ocean.
Craziest incident while shooting shorebreak: While shooting long lens on a bigger day, I got crushed by the lip not realizing I needed to keep one eye on the waves at all times. Sometimes it's so beautiful that you don't realize how dangerous it can be. I have seen many inexperienced tourists get pulled out of the water by lifeguards, but luckily nothing super serious.
Advice for aspiring photogs: Always have respect and be aware of your surroundings. And don't expose secret zones. Aloha!
DANNY SEPKOWSKI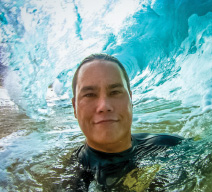 Years shooting shorebreak: 6
Favorite spots to shoot: Ke`iki and Sandy's. Pipeline when it's epic!
Equipment and technique: Canon 1DX with a 100mm lens. I am all about obtaining a different perspective so the 100mm lens allows me to get angles from almost anywhere. If you ever see me in the water, I am usually set up at a zone with no one around.
Craziest incident while shooting shorebreak: I have suffered numerous injuries during my career. I have torn my MCL, ruptured my eardrum, and have had a few concussions here and there. A scary moment that I went through was actually when my friend, Jacob Vandervelde, dislocated his hip at Keʻiki. To get a rider to safety in gnarly conditions is a humbling experience. My hat goes off to all of the water safety workers out there. The ocean is no joke!
Advice for aspiring photogs: My advice to the younger generation is to have fun and shoot as much as you can! If you want to get into big shorebreak and surf photography, I suggest you ride waves on a regular basis! This allows you to feel the power and learn the currents and hazards of each spot. Over time, you will develop your own style. Don't be afraid to be different!
TEDFORD MAHIKO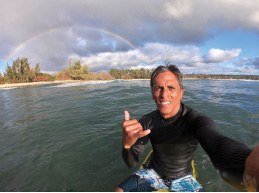 Years shooting shorebreak: I have been in the shorebreak my entire life (49 years) growing up on a boogie board back in the 80s. As life went on, I ended up riding all sorts of boards, from longboards to SUPs and even shortboards. Then when the GoPro came out, I grabbed one just to mess around with at Keʻiki's with Clark Little and some of my madmen friends. That ended up being one of my favorite things to do: shooting big, empty shorebreak or shooting my friends charging massive slabs.
Advice for aspiring photogs: My tip is to know your limits! Never go out if you have doubts, also never paddle out to heavy shorebreak alone.
Aloha from the North Shore of O'ahu.
GREGG DANIELS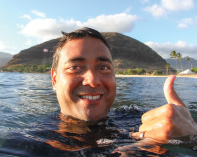 Years shooting shorebreak: 10
Favorite spots to shoot: Westside O`ahu
Equipment and technique: Canon 7D MKII w/ Canon 8-15mm Fisheye in SPL A-Series water housing
Craziest incident while shooting shorebreak: One afternoon a few years back, I was in some fun shorebreak on the Westside. I was ready to come in when a medium-sized wave broke in front of me near the shoreline. Normally I would swim forward and go under the wave, but since I was going in, I thought I could use its energy to help take me to shore. As the wave broke, I turned to the beach and let most of the energy pass over me. I gave one kick to ride the remaining energy behind the wave to shore, but underestimated its power; instead of being gently pushed to shore, the wave slammed me full-throttle, headfirst into the shallow sand bottom. I instantly felt my face smash into the sand and heard the loudest chiropractor crack ever. While underwater, I immediately went through the checklist to feel if I could still move my fingers and toes. Luckily, I wasn't paralyzed and only had a strained neck for a few days. That day, I learned a big lesson about slowing down and respecting the power of the ocean.
Advice for aspiring photographers: Put in your time, be respectful, and get to know the locals. Learn as much as you can about the interaction of swells, wind, and weather so you increase your chances of scoring epic waves. Most importantly, have fun in the water and enjoy the ride.
E mahalo kākou I ka mea loaʻa.
Let us be thankful for what we have.
ALIKA K LOPES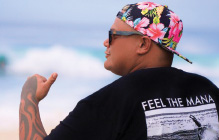 Years shooting shorebreak: 6
Favorite spots to shoot: Sandy Beach
Equipment and technique: I started off shooting with the GoPro and advanced to getting a DSLR; I chose the Sony Alpha a6000. Today I also work with a Sony A9 with CMT housing, mostly shooting 50mm.
Craziest incident while shooting shorebreak: [Laughs] There are too many to mention… I remember being out in the water the day before the 2016 Eddie Aikau at one of my favorite winter breaks on the Westside, and man, was it huge – so huge it touches your soul! I will never forget that day.
Advice for aspiring photogs: Love it, embrace it, be respectful to it, and the rest is simple: just enjoy.
JONAH MORGAN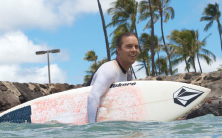 Years shooting shorebreak: 9
Favorite spots to shoot: Ke'iki Beach
Equipment: GoPro 4 Silver
Craziest incident while shooting shorebreak: Luckily, I have never been injured too badly while shooting photos, but there was this one time when I had a close call that landed me in Kahuku Hospital. While shooting, my GoPro trigger handle jerked back into my face and cut me open just above the lip; six stitches were needed, but it could have been worse.
Advice to aspiring photogs: First thing, always make sure you have fun, but most importantly, be safe. Be aware of others around you, and make sure that when someone else is in the water nearby that you give them enough space and show some aloha.