Men's QS 10,000 – Sunset Beach
Nov 25 – Dec 7, 2019
The second jewel of the Vans Triple Crown (VTCS) is the Vans World Cup of Surfing at iconic Sunset Beach—one of the most powerful and challenging waves on the planet. As a QS 10,000, and the last event of the 2019 WSL Qualifying Series (QS), the stakes couldn't be any higher for competitors on the brink of qualifying for the 2020 WSL Championship Tour (CT). As the rounds progress, the crowd of qualification hopefuls thins drastically. Be on the lookout for the competitors carrying over strong momentum from the Hawaiian Pro at Hale'iwa. With 20,000 QS points for the taking from the Hale'iwa and Sunset contests, plus a year-end points total earning a CT seat landing somewhere greater than 16,000 points, breakthrough performances by qualification 'dark horses' are almost the norm here. Think back to Sebastian Zietz in 2012 and Dusty Payne in 2014; both surfers shot up from deep in the ratings pack with dominant performances at these final, crucial events.
Long considered the epicenter of big wave power surfing, Sunset Beach's unparalleled history and influence reach back to the dawn of surfing's modern era. While big wave surfing has progressed dramatically from its early days through advances in equipment—and the pioneering of previously unfathomable waves like Jaws, Mavericks, and Nazare—Sunset Beach continues to demand a level of mastery that very few surfers in the world achieve. On the WSL QS schedule, the only venue to come close to Sunset in terms of challenge is stop number one of the VTCS – the Hawaiian Pro at Hale'iwa.
Features
128 Competitors
First Place Prize: $30,000
Qualifying Series Event
Points: QS 10,000
Defending Champion: Ezekiel Lau (HAW)
Wave Characteristics
A dominant right-hand breaking wave handling surf from 2-15 feet.
Sunset Beach has been an epicenter of big wave power surfing since the very beginning of the modern surfing era.
Breaking far out at sea, the wave zone stretches across several hundred yards, making it extremely challenging for surfers to find the regular takeoff zones.
Sunset is one of few venues in which a surfer's caddie can paddle out to the lineup and provide coaching and an extra board in the case of a broken leash or board.
The combo of powerful waves, strong currents, and gusty tradewinds make Sunset one of the most challenging lineups in the world, bringing about another level of respect to the surfers who master it.
Spectator Notes
Public restrooms and showers are available across the street from the beach.
Be mindful of coastline plants and restoration projects in progress.
There will be no competition on Thanksgiving Day, November 28th.
Do not approach the shorebreak. Be vigilant and watch for high washing waves, especially at high tides. Children and personal belongings could be swept away in the strong rip current. Ask the lifeguards on duty any ocean safety questions. Heed all warning signs and announcements.
Shade is limited, so pack reef-friendly sunscreen and a hat.
Binoculars are a good idea! The surf break at Sunset beach is well over 100 yards out.
Where to Park
Parking is limited at Sunset Beach. There are a few stalls along the beachside of Kamehameha Highway and a parking lot directly across the street. Additional parking is available further down along Kamehameha Highway. Be sure to heed all 'No Parking' signs and be respectful of neighborhood residents.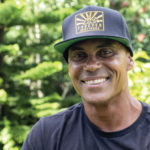 Coach's Corner
Rainos Hayes, North Shore local, Billabong Hawai'i Team Manager, Personal Coach to CT Competitors Courtney Conlogue and Seth Moniz-
"The tendency in surfing today is to ride as short of a board as possible, so guys are pretty much swimming themselves into waves and then figuring it out at the last second as they free fall in. At Sunset, that's probably a negative. I feel the wave is still kind of a three-turn wave, so whatever puts you on the right waves [in terms of equipment] to make the right type of turns, in the right three places, will probably net you a good-to-excellent score.
"Also, the competitors get to have a caddie in the channel, and that makes it my favorite venue to coach. With myself in the channel, I get a chance to keep the competitors both informed and upbeat, so they don't lose focus and enthusiasm for what's happening. One of the most consistent things I see happen there is competitors think they're losing and they don't realize they're not too far off. Generally, in today's standards at Sunset, unless you're getting smoked, you're always only one score off. That's just one wave, well surfed. There's enough space in the lineup; if you play it right, you can find what you need."
World Cup of Surfing Champions
2018 – Ezekiel Lau, Hawai'i
2017 – Conner Coffin, USA
2016 – Jordy Smith, South Africa
2015 – Mick Fanning, AUS
2014 – Michel Bourez, PYF
2013 – Ezekiel Lau, Hawai'i
2012 – Adam Melling, AUS
2011 – John John Florence, Hawai'i
2010 – Raoni Monteiro, Brazil
2009 – Joel Parkinson, AUS
2008 – C.J. Hobgood, USA
2007 – Makuakai Rothman, Hawa`i
2006 – Joel Parkinson, AUS
2005 – Jake Patterson, AUS
2004 – Andy Irons, Hawai'i
2003 – Jake Patterson, AUS
2002 – Joel Parkinson, AUS
2001 – Myles Padaca, Hawa`i
2000 – Sunny Garcia, Hawai'i
1999 – Zane Harrison, AUS
1998 – Shane Dorian, Hawai'i
1997 – Michael Rommelse, AUS
1996 – Paul Patterson, AUS
1995 – Shane Powell, AUS
1994 – Sunny Garcia, Hawai'i
1993 – John Gomes, Hawai'i
1992 – Martin Potter, United Kingdom
1991 – Fabio Gouveia, Brazil
1990 – Derek Ho, Hawai'i
1989 – Hans Hedemann, Hawai'i
1988 – Tom Carroll, AUS
1987 – Gary Elkerton, AUS
1986 – Hans Hedemann, Hawai'i