By Shannon Reporting
Being an ambassador for Hawai'i while traveling abroad means everything to 25-year-old Ezekiel "Zeke" Lau. Competing at the most elite level of performance surfing, the Hawaiian power-surfer spends the majority of the year chasing scores and putting on a show for the judges. So when November finally rolls around, Zeke gladly heads home to O'ahu for some bigger surf in the Vans Triple Crown. Surrounded by family and friends, Zeke never fails to wow the crowd of the Seven Mile Miracle.
There's no denying that Zeke Lau fits the epitome of a power-surfer: his sheer strength and athleticism are the results of years of several sports and dedicated training to his craft, which he claims developed in grom-hood at Kewalos. He was fresh out of high school at Kamehameha when he claimed his first Sunset Beach Pro win at only 19 years old, metaphorically tasting a champagne shower even before reaching the legal drinking age. Flash forward to 2018, with some World Tour experience under his belt, and Zeke was a force to be reckoned with: he went on to solidify his second win at Sunset last season, getting closer than ever to a Triple Crown title—a career goal for Zeke—which would also mean requalification for the WCT.
"A Vans Triple Crown victory would mean everything for me right now. I came so close last year; I think I only needed to make a couple more heats at Pipe." – Zeke Lau
We sat down with Lau in Europe as he prepared to head home to chase his dreams of cinching that coveted Triple Crown title, the one he almost tasted last season, making him hungrier than ever to secure it this time around. He's one of those surfers who's sure to push fellow competitors to step up to the plate and surf their best, because on his home turf of Hawai'i, no one wants to face a heat against Zeke Lau.
How were you introduced to competitive surfing?
I was competing at pretty much everything when I was younger. My dad had me playing soccer, basketball, baseball… but I loved to surf, so he entered me into the T&C Grom Contest and that was it; everything grew from there.
How did training at Kewalos help develop your surfing?
I call Kewalos my home break since it's where I grew up surfing pretty much the majority of my grom life. It always has waves no matter what and catches every little swell, so it was perfect. My dad loved it because there was no sand, an easy parking lot, and showers. We fell in love with it and I surfed there every day. I learned to do airs, turns, go left and go right, all there. It was everything I needed.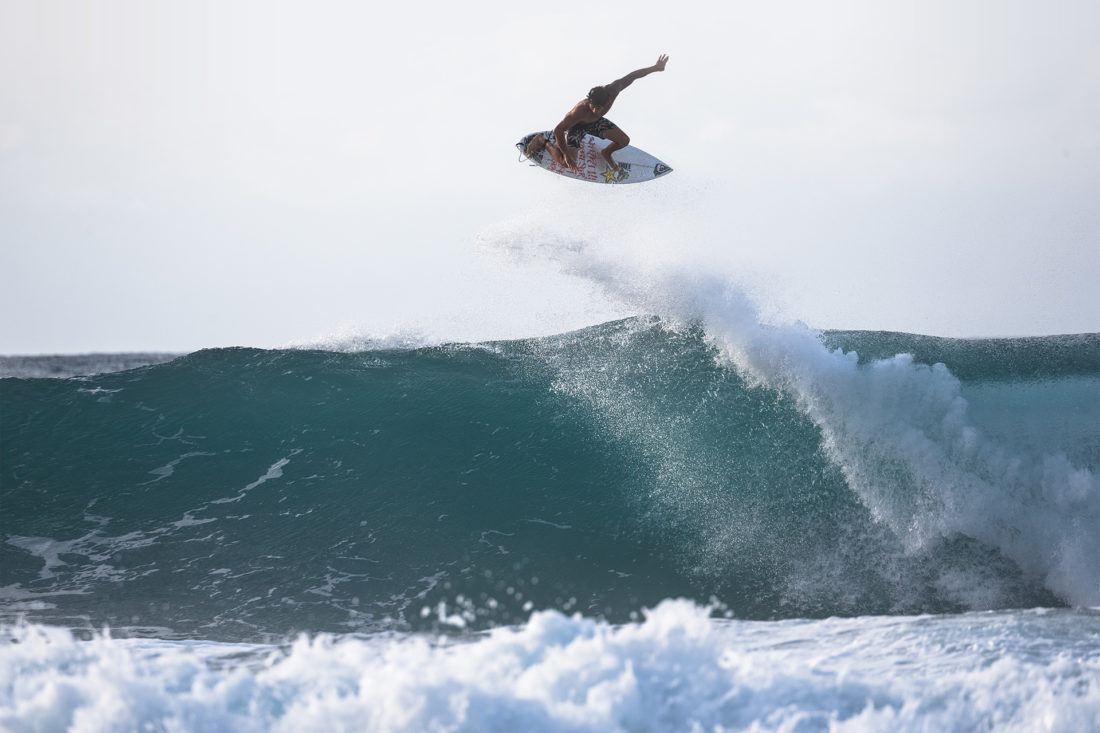 What does it mean to you to represent the Hawaiian Islands on a World Tour platform?
For me, representing Hawai'i is everything. It's what I've always wanted to do, and what I was taught to do since I was a young kid in Kamehameha Schools. We were taught to do that with everything we put our time into, and it feels good. Hawai'i is the place where I live and has made me who I am. I love it.
Favorite wave in the world:
I really love Jeffreys Bay. Going to South Africa is usually my favorite leg of the year. It always seems to have good waves, good vibes, and good food. It's one of those trips I really enjoy. J-Bay is an incredible wave and every year I try to get a little better at surfing it. It's a hard wave to figure out, but it's definitely one of my favorites.
Where is your headspace going into the Triple Crown?
I'm really looking forward to the Triple Crown; I always do. Being able to go home and sleep in your own bed while competing in front of the people you love is an amazing feeling. I definitely want to do well there. It's been hard to find a good rhythm anywhere else on Tour and on the QS, so I'm probably going to need some pretty good results. I'm hoping to do well.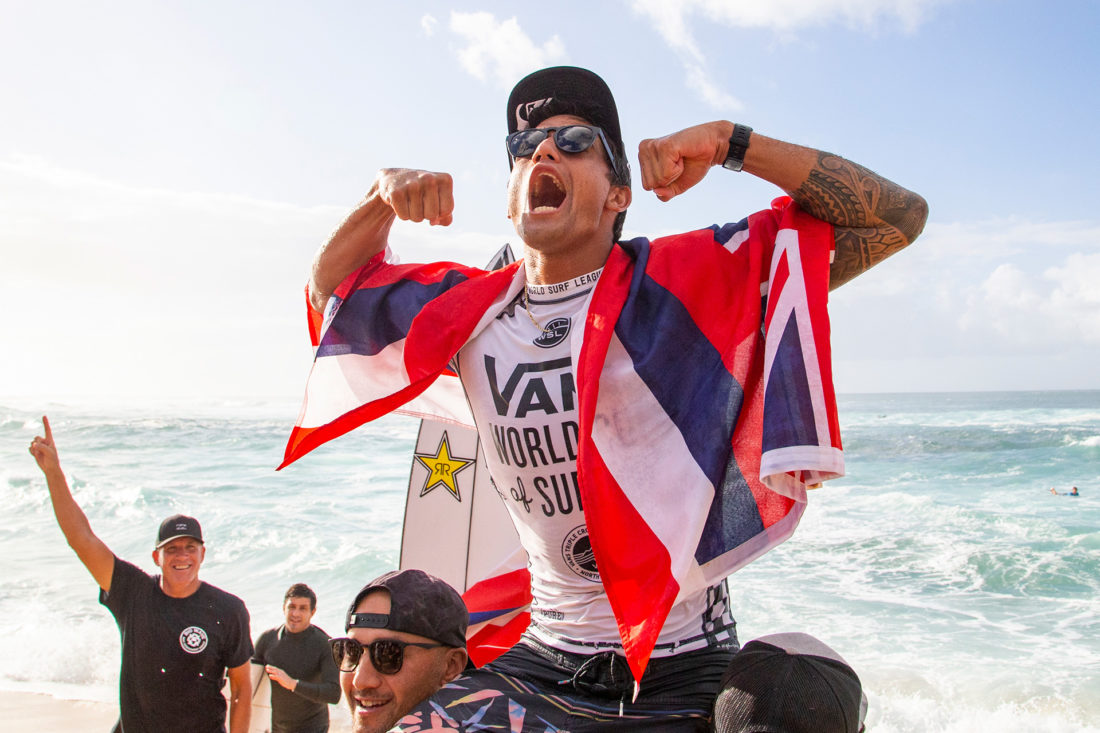 Does your support crew at home help you relax?
Yeah, a little bit. They help me feel more comfortable, definitely in the off-time. But it almost feels like I put a little more pressure on myself knowing that they are there watching and supporting me, so I want to do well for them. It's a good type of pressure though that I welcome.
"For me, representing Hawai'i is everything. It's what I've always wanted to do." – Zeke Lau
What makes Hal'eiwa a great spot to kick off the VTCS?
It's such a high-performance wave. The ride is fairly short, but it packs a lot of power. It offers a combination of high-performance surfing with barrels, airs, and big turns. Hale'iwa is a really fun wave, and one of my favorites on the Tour. I seem to struggle during the comps, but hopefully this will be the year it all comes together.
Pre-heat warm-up routine:
Before I go out to compete, I try to do whatever makes me feel comfortable. I want my body to feel good and have good energy—not tense. It's not a set formula, but I take it day by day. Before the comp, I always like a warm-up surf. That helps me stay calm. I watch the waves and try to figure out a game plan, then execute.
How did it feel to win at Sunset Beach (twice) in front of your home crowd?
The first time I won at Sunset was pretty insane! I was having a rough time on the QS; it was my first full year doing it right out of high school. So when I got to Sunset, I really wanted to perform and make myself feel good. Next thing you know, I built rhythm and focused the entire time to put on a performance. I found myself in the final and was pretty much on autopilot. It felt like things were just clicking. I wasn't trying to control anything; everything just played out how it as supposed to. It was crazy because I was only 19 at the time, so to win a contest like that was huge. I was pretty stoked.
Winning [at Sunset Beach] again last year was really sick to come around full circle after having been on Tour. I used everything I learned on Tour to win that contest, and it felt pretty good.
What is it about Sunset that makes it the best spot to display your surfing?
There are not many other waves where you can get that much speed, space, and room to really draw your turns. It's a really different pace from most other waves. Other spots seem quicker and you have to adjust really fast through turns. But at Sunset, you can really lay it down and draw it out, kind of exaggerating your turns. It's a totally different feeling. It seems to work for me.
Would you say that Pipe is the best wave in the world?
Yea, for sure! I love surfing Pipe. I've grown up trying to keep up with John [Florence] and the boys, and now I'm surfing it with Seth and Josh Moniz. It's a really fun wave, and I look forward to getting better there every year. To be able to compete there at the highest level is pretty insane, and something that I always look forward to.
What's the recipe for success at the Vans Triple Crown of Surfing?
I think it's important not to have too many expectations, because if the waves aren't the best it can make it harder. So I'm going into without any expectations, ready for anything to just make it happen. Triple Crown can be the hardest competitions because it's at the end of the year, everyone's tired and has been on the road for the entire year coming off the Europe leg and going straight into Hawai'i. Luckily for us, we get to go home while everyone else has to travel one more time. Everything feels more intense.
Were you motivated by Sebastian Zietz's breakthrough performance during the 2012 Triple Crown?
Yeah, the breakthrough performances that happen in Hawai'i are pretty crazy. It's always something that was really glamorized for me. My coach, Dave Riddle, always put an emphasis on doing really good at home in Hawai'i and how big of a deal it was, so I've always had that as a big goal of mine—to have a good performance in the wintertime.
I remember watching Seabass win Haleiwa. I made the Quarters that year and ended up watching the rest of the day. It was cool to see him step up and win. Next thing you know he was on Tour. Kaiborg [Garcia] said that he had spent all his money on a new quiver from Channel Islands and that's why he won the Triple Crown. After I heard that I was like, 'Wow, I need some Channel Islands Surfboards.' That inspired my desire to ride for Channel Islands. I ended up on the team and I think that was the best thing that ever happened in my career [thus far]. Performances like his really inspire me. I've always wanted to have a breakthrough year in the Triple Crown, so hopefully this will be my year!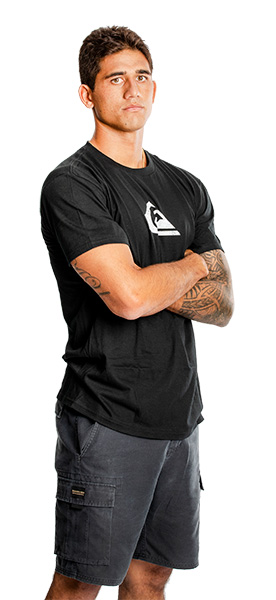 What does your quiver look like for the Hawai'i leg?
It's usually a 10-15 board quiver, depending on how many I need. I usually get anything from 6'2'' to 7'0''s. Right now, I'm riding all "Happy" models from Channel Islands by Britt Merrick, so hopefully they dial in some magic.
What would a Vans Triple Crown victory mean to you?
That would mean everything for me right now. I came so close last year; I think I only needed to make a couple more heats at Pipe. I lost to Jesse Mendes, and he went on to win the Triple Crown. I got pretty close, so this year I'm looking to get another shot to finish it off. We'll see! It's always a goal of mine to win the Triple Crown and have a really good showing at home. Hopefully I can pull off a Triple Crown title.