By Kyveli Diener
If you're wondering who the next brother and sister duo will be, look no further than 10-year-old Stone Suitt and his little sister Skai, age 8. These North Shore groms have been riding waves since the age of two and are already sweeping contests, drawing the attention of sponsors like Patagonia, and developing individual styles at a level most adults hope to achieve someday — and they're both still in the early grades of Sunset Elementary.
Stone and Skai are both driven, soft-spoken, and extremely polite, due in part to their Japanese schooling and upbringing under dad Spencer and mom Hiromi, both notable rippers at the North Shore's most radical spots. But there are differences between them: Skai hates to miss school and is always the first to class, whereas Stone was stoked their dad let them skip to go across the street and watch John John clinch his second world title in December. Skai is fiercely independent and remembers every detail of every event ever, while Stone needs to be reminded of most things. "Basically, she takes after her mom and he's more like me," their dad Spencer said with a laugh.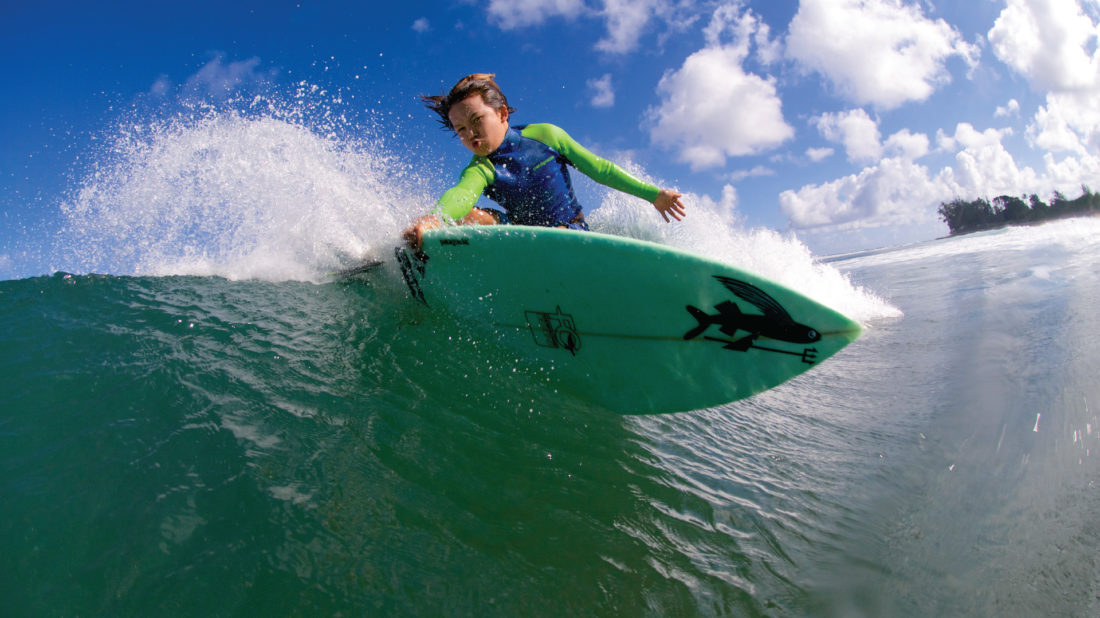 Differences are also beginning to emerge in their surfing styles. Stone is a tried and true old-school power surfer, loving nothing more than laying into a gouging grab-rail carve and wants to get a barrel like Seabass' 10-point ride at Margaret River last year. Skai, true to her name, is hungry to take to the air and improve her progressive surfing, inspired by the aerials she sees Carissa Moore throwing at Kewalo's. (The unique spelling of her name is an ode to the sea with the inclusion of "kai.")
With such nature-based names, it's only fitting that both Stone and Skai love the environment and are very concerned with the amount of trash people leave on their beloved beaches. Using a sand-sifter built by the dad and their own hands, the kids can be seen doing impromptu beach cleanups after most surf sessions, a habit which landed them their most recent sponsor, Organic Amazon Açai To-Go (who join Patagonia, FCD surfboards, Dakine, and Vertra Sunscreen in supporting the siblings).
"Just look at the trash can: it's right there, put your trash in there," Stone said in a stern message to litter bugs.
"Yeah, and turtles think plastic bags are jellyfish and they eat them!" Skai added.
Both kids have won Menehune contests and Town & Country grom comps, and in early April Skai joined her brother as a winner of the Rell Sunn contest in Makaha. While they occasionally keep the surfboards they win at such events — like the sweet 4'2 Akila Aipa fish Stone won at Rell Sunn last year which both kids love to ride — they're way more likely to give the swag away as gifts to friends and family. Stone just started competing in NSSA contests this year and will begin the HASA series in Haleiwa in mid-April, and Skai is looking forward to competing in HASA events in two years time.
But for now, the Suitt kids are enjoying the dreamy North Shore childhood of school, surfing, connecting with their community, and learning to jam on ukulele. Stone has been playing for about a year and Skai just got her first uke for Christmas and, like in the waves, watches her brother closely to learn how to do it right (and Stone's always stoked to teach things to Skai, both in and out of the water). Currently, the classic rock-loving kids can play mean versions of "Paint It Black" by the Rolling Stones, "Smoke on the Water" by Deep Purple, and Ozzy Ozbourne's "Crazy Train."
With a strong family and community behind them and clear, focused minds, the Suitt siblings are groms that can inspire surfers in their rapidly progressing abilities on the board and in their sustainable practices on land. The North Shore is only the beginning for these two: they're regular visitors to California and love ripping Trestles and Rincon. And watch out, Kelly Slater: Skai has her heart set and surfing your wave pool.
FIVE SUITT-ABLE QUESTIONS FOR STONE & SKAI:
What grade are you in and what's your favorite subject?
Skai: I'm in second grade and Stone is in fourth.
Stone: My favorite subject is Math.
Skai: Me too. I know my multiplication tables in Japanese.
Who's your favorite surfer?
Stone: John John Florence because he makes his surfing look super easy and he can do everything.
Skai: Coco Ho because she surfs really smooth and is always nice to me when I see her.
Do either of you hope to surf big waves someday?
Stone: How big is big? I like watching guys surf big waves at Jaws and places like that, but up to six feet is good for me.
Skai: I like small performance waves since I'm only four feet tall.
What are your goals as a surfer?
Stone: I want to make it to the WCT one day and win a few Championships.
Skai: Just to share the stoke of surfing. I want to help encourage more young girls to surf.
What would you be if you weren't a surfer?
Stone: I would like to work for a company like Patagonia and do good things for the environment.
Skai: If I wasn't a pro surfer, I want to be…me.