Creator of The World's Largest Surf Mural
By Taylor Phelps
Meet Hilton Alves, an artist living in Kahuku, O'ahu who is well-known for his vibrant surf street art murals shrouding buildings all over the island. The spark for Alves to become an artist was ignited as a 20-year-old in his hometown of Guarujá, Brazil. He worked at a local surf shop and—on the slow days—would daydream of swell, sketching waves in his notebook. One day, a customer looked over his shoulder while he doodled and asked if he ever painted the waves on canvas. Alves had never considered his doodles "paint-worthy" and was hesitant to take the next step. Yet, the next day that same customer brought Alves a brand new art kit, which encouraged him to continue creating using materials and techniques new to him.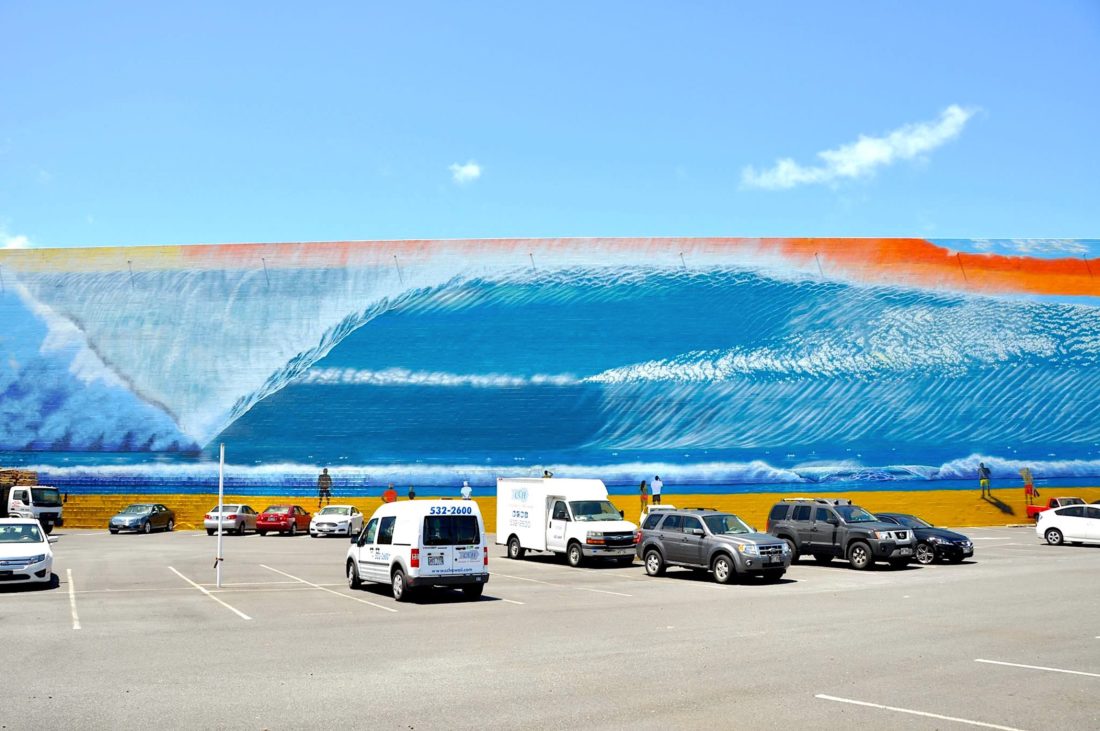 Growing up on the island of Santos, Alves was constantly influenced by his surroundings. In his youth he learned a lot about the ocean, marine life, and culture. It was a no-brainer to weave his interests into his creative expression.
Alves is particularly fond of what he calls "a surreal style," especially when applying it to painting big waves. This was the first approach he used to develop as an artist. As a self-taught painter, Alves believed it was imperative to explore multiple methods and expressions so he could learn to appreciate them all in their own way.
Most recently, Alves created a collection of paintings called "Surf Street Art" reminiscent of graffiti culture perpetuated by his participation in street art festivals, such as the Miami Art Basel and the HUE Mural Festival in Houston. This visual art series is composed of mixed-media: spray paint, stencils, collage, and silk-screen. To top it all off, he will often paint a wave or other marine life over these surfaces.
When Alves first began his journey as an artist, it took him two months to complete his first piece, as he was trailing his process with oil paints. He calls this piece Bom Dia Guaiuba, after the calm waters of a Guarujá beach where his father used to run a kiosk. It depicts a large wave, somehow fitting the entirety of a small canvas. Upon attending his first art show, Alves brought along his piece.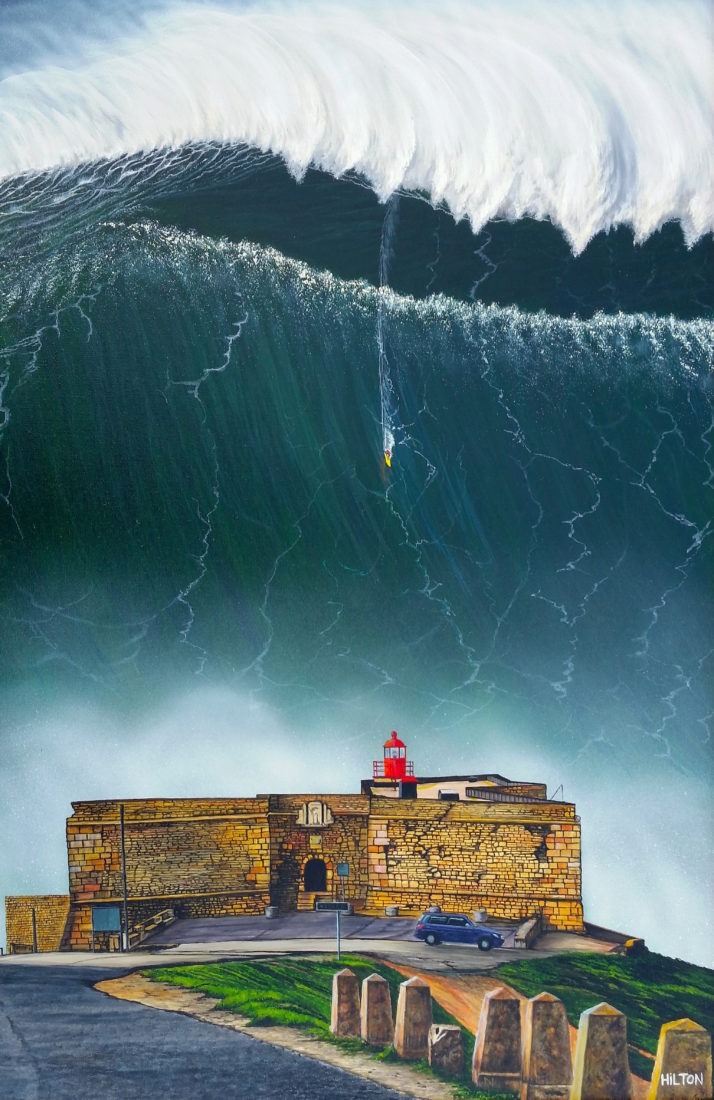 "On the last day [of the show], I saw Tom Carroll and Ross Clark-Jones signing autographs at the Quiksilver booth," recalls Alves, "so I asked them to sign their names on it. I still have this special painting hanging on the wall here in my art studio in Kahuku." Today, Alves's art is comprised of canvas paintings and strikingly dynamic street art murals. When asked which style he preferred, Alves responded that he felt categorizing his art compromises his creativity. Staying true to his roots as a self-taught artist, Alves continues to keep an open mind when it comes to his creative identity.
Alves reflects on his experiences with both mediums, commenting that while "painting on canvas, usually I am by myself, quiet, and everything is more technical. Painting big buildings is the opposite. I always have people watching and I can share my passion with a bigger crowd." One of the common themes Alves communicates with his ocean street art is to remind bystanders of nature's beauty and elicit active preservation. He calls his murals "tools for people to study, to get inspired by, to appreciate, and to preserve our planet."
In August 2013, Alves was working with his good friend Brian Wyland, owner of Wy's Galleries in Haleiwa, and came up with the concept to create the world's largest surf mural right here in Hawai'i: "I always wanted to paint a big mural featuring a perfect wave like Pipeline. One time, I was stuck in traffic driving to Honolulu at Waiakamilo Road and suddenly, I looked to the left and saw a huge blank wall. I instantly knew that this was the spot."
It took several months to get everything solidified, from permits to support from sponsors, plus 150 gallons of paint! Despite the challenges, that October, Alves began painting the wall on Waiakamilo Road: "In the beginning, there was only one mural planned, but throughout the week while painting the wave I changed my mind and decided to call it Mural #1 of 101 Perfect Waves." The mural was projected to take two months to paint, however, Alves finished the entire 14,080-square-foot mural in just eight days. "I painted the mural by myself, but without Brian driving the 65′ boom lift for me, plus the help of lots of volunteers, family, friends, and sponsors, this mural would have never happened."
Upon completion, the mural was donated to Hawai'i to kick off the 101 Perfect Waves – International Mural Project. Since then, Alves has painted 35 wave murals in cities all over the U.S. including: Miami, Orlando, Houston, Los Angeles, and Hawai'i, as well as multiple countries including: Singapore, Brazil, and Israel. Alves aims to influence others to deepen their connection with the ocean and art, which he hopes will lead to advocating for environmental preservation.
"As a muralist, my goal is to share the inspiration from the sea and waves with people and cities all around the world, and to include the world's largest surf mural as part of my 101 Perfect Waves – International Mural Project."
So what's next for Hilton Alves? He revealed to Freesurf Magazine that he plans to paint the largest mural in history in hopes of securing a spot in the Guinness Book of World Records. We wish him luck and are looking forward to enjoying more of his giant creations.