By Alexandra Kahn
Different styles of art appeal to people; some might prefer the classic painting and sculpture styles of the past, while others look towards the oddities of the future, while others still prefer digital or even interactive pieces. The term used to define art has grown exponentially and is up to interpretation. Each artist finds their own source of inspiration. Throughout history on the Hawaiian islands, the ocean, land, and creatures have had a sizable impact on the art produced on the island or by those who have lived here. From the orange and pink sunsets to the turquoise waters, from the steep green peaks to the banyan trees and tropical flowers. Jeff Albrecht is inspired by famous artists like Picasso, but his environmental inspirations are clear with the subjects of his work. He also finds inspiration in the people he meets, the relationships he builds, and the experiences he has with the people in his life.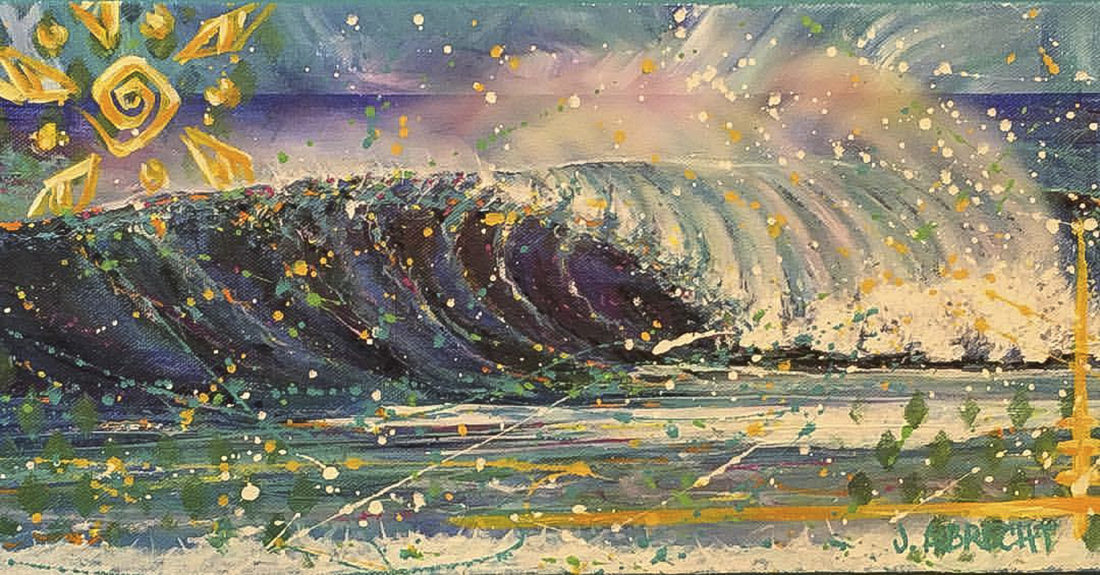 Albrecht primarily works in acrylics on canvas. He pursued a degree in painting but sold his first piece at the age of 16. With an entrepreneurial spirit, Albrecht took on jobs as an airbrush artist, a sign painter, a logo designer, or any other kind of freelance gig that would come his way. "When someone asked if I could do something for them, I'd just say "yes," and figure out the details as I moved along." Despite choosing art as his degree, his first real job was in sales in Silicon Valley. This hustle and bustle environment helped him to learn what was necessary to be a profitable artist. Working in sales also helped him with the physical process of parting with and selling his own pieces, "I've never had a problem watching my art find a permanent home." Jeff tells us, "I feel like I get what I need out of the process. I pour my heart and soul into my work. When someone feels compelled enough, or connected to a piece enough to make it their own, that's a meaningful experience."

Although a California resident, he was raised by a native Kauai mother and spent much of his life traveling between California and Hawai'i. Hawaii is his "home away from home," and his attachment to the islands shines through his colors, strokes, and subjects. While he has a large Hawaiian Ohana, back in California, he returns home to a loving wife and two teenagers. Jeff has spent enough time on the islands to maintain the ability to live life to the fullest. "I don't take for granted the fact that I'm able to make a living by focusing on my passions and spending time with the people that I love…I feel like the luckiest man alive," Albrecht writes on his website. In an interview, he tells Freesurf, "So many people don't follow their dreams for fear of failure, and feeling like they can't make a living doing what they are passionate about." Continually pushing his creativity, he says, "I'm always experimenting, researching, exploring. I don't want to keep painting the same thing, in the same way, using the same tools. I want to paint in a direction that stretches me, teaches me." Four to five nights per week Albrecht paints in his studio, balancing his time between building his business, teaching high school ceramics and spending time with his wife and two teenagers. While a struggle, his multiple passions make the balancing act worthwhile.
To see some of Jeff's art in Oahu, check out Wy's Galleries.